Aspect Ratio: 2.35:1

Video Codec: AVC/MPEG-4
Resolution: 1080p/24

Audio Codec: English Dolby TrueHD 5.1 (48kHz/24-bit), French Dolby Digital 5.1, Spanish Dolby Digital 5.1

Subtitles: English, English SDH, French, Spanish

Region: A

Discs: 1

Studio: Paramount

Release Date: August 4, 2009

List Price: $39.99
[amazon-product align="right"]B002C39SQU[/amazon-product]


Purchase The Soloist from CD Universe

Best Buy: The Soloist



Overall

The Film

Video Quality

Audio Quality

Supplemental Materials



Click thumbnails for high-resolution 1920X1080p screen captures 

More Screen Captures (11 Total)

(Screen captures are lightly compressed with lossy JPEG and thus are meant as a general representation of the content and do not fully reveal the capabilities of the Blu-ray format)

The Film





I went into viewing The Soloist hoping for something as inspirational and moving as 1996's Shine, which earned Geoffrey Rush a much-deserved Oscar for Best Actor. But, what Shine had that The Soloist did not was a clear sense of focus. In the real-life story The Soloist, Jamie Foxx stars as a one-time musical child prodigy and Julliard student Nathaniel Ayers whose schizophrenia has landed him on the streets playing a two-stringed violin. Downey plays the Los Angeles Times human interests journalist Steve Lopez who discovers Ayers playing on the street and decides to write a column about the down and out Julliard musician.

Lopez' column garners him awards and even a book deal, but he becomes more involved in the life of Ayers than he bargained for, determining to get Ayers off the streets and to try to find him help for his mental illness. The Soloist only briefly deals with the conflict that Lopez is confronted with within himself; is he exploiting Ayers to his own benefit, or does he truly care about this man?

The film falters on every level. Susannah Grant's screenplay (based on Lopez' book) is scattershot. Why exactly this story is supposed to be moving is out of focus. In some instances it turns into an exposé on the plight of the homeless and less fortunate in the United States, in others it is an exploration of mental illness.

The two protagonists in this film are also not granted the attention they deserve. Is The Soloist a film about Lopez' journey towards finding himself through his friendship with Ayers, or is it about Ayers' struggles? It is a difficult question to answer as each branch is explored so lightly. There are some flashbacks into Ayers past as a child and the beginnings of his mental illness during his time at Julliard, but most of his character development is left up to audience exposition. The same treatment is given to Lopez' character as we are told he has had a failed marriage with a child and is now struggling with the mundaneness of his column, but beyond that we have no real motivation for Lopez.

Thankfully, Downey and Foxx offer up superb acting performances with the less-than-spectacular material they are given.  Downey's usual edginess is tempered with a quiet and thoughtful approach while Foxx takes on the challenging task of playing someone with mental illness, occasionally coming dangerously close to the edge of overacting, but reeling in the ticks and incessant, nonsensical babbling just enough to make it believable.

British director Joe Wright's (Sense & Sensibility; Atonement) stylish approach sometimes feels a little heavy-handed and inappropriate to the material, yet the look he provides is nice to watch, even if it detracts from the core of the story, whatever that may be here.

Video Quality

 The Soloist arrives in a 2.35:1 1080p/24 high definition AVC/MPEG-4 encoding from Paramount. The film, drenched in glowing ambers and warm oranges, conveys the sunny warmth of Southern California. There's a hyperrealism that lends a feeling of timelessness and space. Detail is sometimes purposely softened a tad, but not as a consequence of the encoding. The transfer looks superbly pristine, as to be expected, with no hints of compression artifacts or processing issues like edge enhance or DNR (Digital Noise Reduction). Black levels are stable and consistent, with absolutely brilliant shadow details. Check out the level of detail that can be seen when Jamie Foxx and Robert Downey, Jr. settle in for the night on the street as Foxx lays his head on Downey's lap. The artistic choices keep this film from dazzling on the screen, but it's an obviously solid transfer.

Audio Quality

 

 The Soloist is provided with an English Dolby TrueHD 5.1 (48kHz/24-bit) lossless mix from Paramount Home Entertainment.  The mix is surprisingly aggressive for such a dialogue-heavy film, with quite a bit of front-to-back action. There are usually discrete sound effects populating the surround channels certainly ample amounts of ambience and atmospheric sound effects, such as the din of L.A. traffic, in the rear channels as well. The classical score is imbued with a great amount of breath and dynamics with good air around the instruments, lively reverberation, and distinct instrumental separation. Dialogue is also well recorded and mixed, with a good balance in the overall mix and no signs of clipping.

There are also French and Spanish Dolby Digital 5.1 (640kbps) dubbed options and English, English SDH, French, and Spanish subtitles available.

Supplemental Materials

 

 In a move that seems to be becoming increasingly more common for new releases on Blu-ray, Paramount has provided the majority of the video bonus features on The Soloist in high definition. It is certainly welcome, but whether the supplements are worth more than a quick "once over" is another question entirely.

The supplements available on this release are:
Commentary by Director Joe Wright
An Unlikely Friendship: Making The Soloist (1.78:1; 1080i/60)
Kindness, Courtesy, and Respect: Mr. Ayers + Mr. Lopez (1.78:1; 1080i/60) — The two men briefly discuss their friendship.
One Size Does Not Fit All: Addressing Homelessness in Los Angeles (1.78:1; 1080i/60)
Julliard: The Education of Nathaniel Ayers (1.78:1; 1080i/60) — A brief discussion of Nathaniel Ayers' time at Julliard and his 2005 backstage reunion with his Julliard classmate Yo-Yo Ma.
Beth's Story (1.78:1; 1080p/24) — An animated short about a young woman who ends up homeless.
Deleted Scenes (1.33:1; 480i/60):

Hospital Questions
Audition
I'm No Good
Some Life
I Want the Concert to Go On

Theatrical Trailer (2.35:1; 1080p/24; Dolby Digital 5.1)
The Definitive Word
Overall: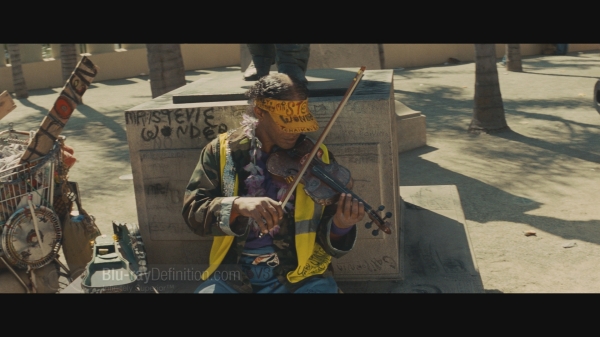 If you're looking for a great biopic or a film about triumph over an immeasurable amount of difficult circumstances, or even a film about the curative powers of music and art, you find here. In fact, you find much of anything in The Soloist beyond two wasted strong performances from its two lead actors. Not even the visual queues of director Joe Wright can save this one from being no more than a middling true-life story that begs you to feel moved, but never explains to you why you should even be interested.
Thankfully, the Blu-ray Disc delivers a than competent picture and sound that will be pleasing to the eyes and ears as well as a decent, if not staggering, amount of high definition supplements.