– –
The Film
[Rating:5/5]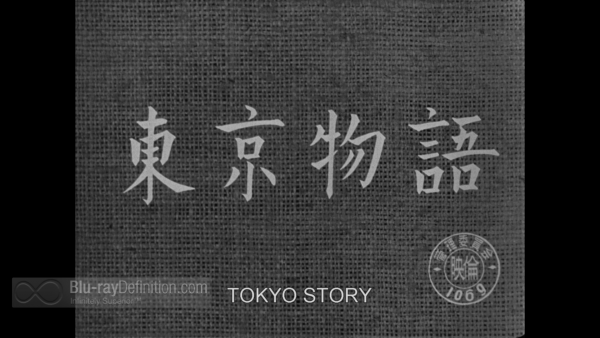 Tokyo Story is the late Japanese filmmaker Ozu Yasujiro's view of a post World War II Japan, its changing social structures, and the effect that had on the familial relationship, one of Ozu's most favored subjects from the 1930's on.
An elderly couple, Shukichi (Riyu Chishu) and Tomi (Higashiyama Chieko), goes to visit their successful sons and daughter in a burgeoning new Tokyo. When they arrive, the couple finds their children too busy to spend time with them and not as successful as they'd assumed them to be.
Their son, Koichi (So Yamamura) is really only a small neighborhood doctor and his wife Fumiko (Miyake Kumiko) must run a hairdressing business out of their home in order to help support the family.
Despite all outward appearances of politeness, Shukichi and Tomi's family are not pleased at their arrival and shuttle them off all over the place, shirking their filial responsibilities. First they are sent to Noriko (Hara Setsuko), the couple's daughter-in-law and widow to their son who died in the war. Surprisingly, she is kinder to the elderly couple than their own children. Then their children cook up a scheme to send them to a hot springs resort in Atami, where at first they are rested by the peaceful surroundings, but then disrupted by the nightlife of the youthful patrons.
Shukichi and Tomi return to their children's home early, resolved to return home to their fishing village, realizing they have become a burden on their children. They split apart for the night with Tomi heading to Noriko and Shukichi heading out for a night of drinking with old friends, that leads to a night of drunken revelations of regrets.
Ozu's Tokyo Story is, indeed, a quiet film that turns the lens on the Japanese culture and reserve and how it changed so suddenly for many in the years after the war.
Video Quality
[Rating:4/5]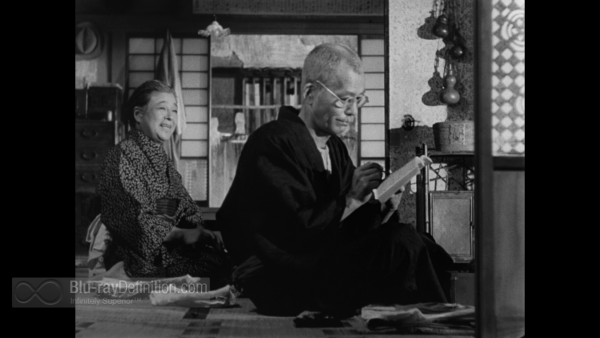 I previously reviewed the 2010 UK Blu-ray release of Tokyo Story by the BFI, which was taken from a master provided by the Criterion Collection. Here in this Criterion Collection Blu-ray release, Tokyo Story gets an upgraded, 4K digital restoration encoded in AVC/MPEG-4 at 1080p that definitely steps up in quality over the BFI. While at times Criterion's transfer looks a little bit softer, there is definitely far less grain and noise, and the contrast is better as well. Blacks are still deep and inky, but shadow detail has been extended, showing that there has perhaps been a little boost to overall gamma levels. Scratches in the source can still be seen, but these are unavoidable. Still, they somehow seemed to have been cleaned up a little bit more here. While this transfer is by no means perfect, it is still very good given the age and quality of the original source.
Audio Quality
[Rating:3/5]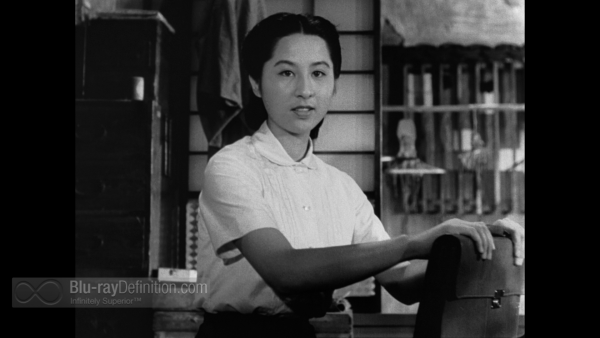 A LPCM 1.0 (48kHz/24-bit) track of the original Japanese mix has been provided along with English subtitles by the Criterion Collection. Versus the previous BFI LPCM 2.0 (48kHz/24-bit), there isn't much difference and I wouldn't expect there to be. The audio is still a bit boxy and scratchy at times, but it works for the material at hand.
Supplemental Materials
[Rating:4.5/5]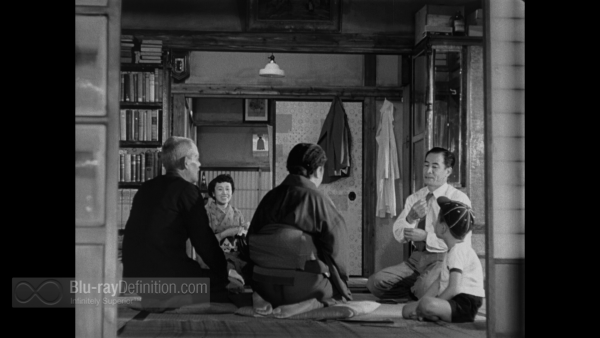 While we don't get the additional film, Brothers and Sisters of the Toda, was included by the BFI, there is certainly more than enough extra material included here pertaining to the film and the filmmaker to placate any cinephile.
The supplements:
Commentary recorded by the Criterion Collection in 2003 featuring David Desser, editor of Ozu's "Tokyo Story."
Talking with Ozu (1.78:1; 1080i/60/upscaled; 00:39:33)– Created by Shochiku to commemorate the ninetieth anniversary of director Ozu Yasujiro's birth, this 1993 documentary features filmmakers Stanley Kwan, Kaurismäki, Claire Denis, Lindsay Anderson, Wim Wenders, and Hou Hsiao-hsien
I Lived, But… (1.33:1; 1080p/24; 02:02:48) – Directed by Inoue Kazuo, the 1983 documentary I Lived, But… features interviews with actors Ryu Chisu, Okada Mariko, and Sugimura Haruko; filmmaker Imamura Shohei, director Ozu Yasujiro's former assistant; critics Donald Richie, and Sato Tadao; and many others on whom Ozu had a profound influence
Chisu Ryu and Shochiku's Ofuna Studio (1080p/24; 00:45:09) – This forty-five-minute documentary from 1988 looks at actor Ryu Chisu's sixty-year career with Shochiku and the work he did at its Ofuna Studio, including his many celebrated roles in the films of Ozu Yasujiro
Trailer (1.37:1; 1080p/24; 00:04:20)
Booklet featuring an essay by critic David Russell
The Definitive Word
Overall:
[Rating:4/5]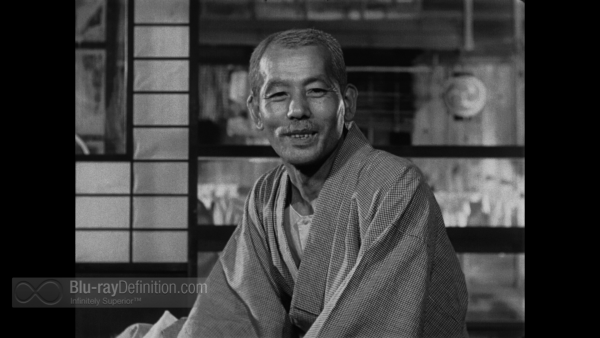 Tokyo Story yields more pleasure with each viewing session, as does much of Ozu's canon, and here he is at close to, if not, his best. Criterion Collection works wonders with what is not the best source material and brings this classic out on Blu-ray and DVD in a fine offering.
Additional Screen Captures
[amazon-product]B00EO2I6W4[/amazon-product]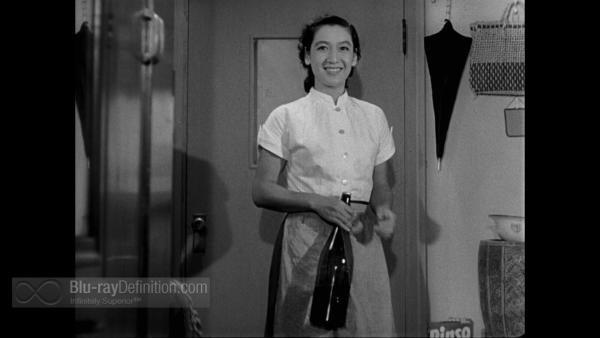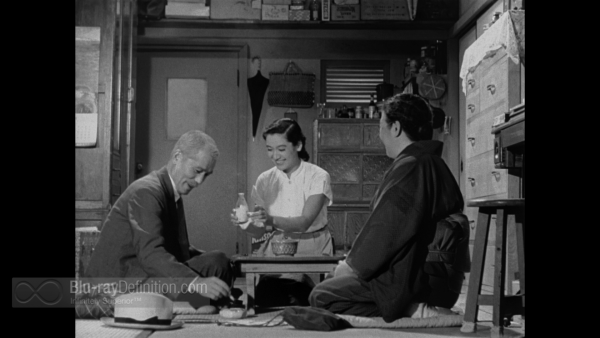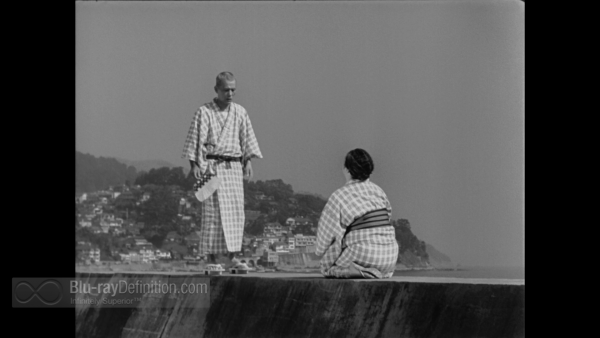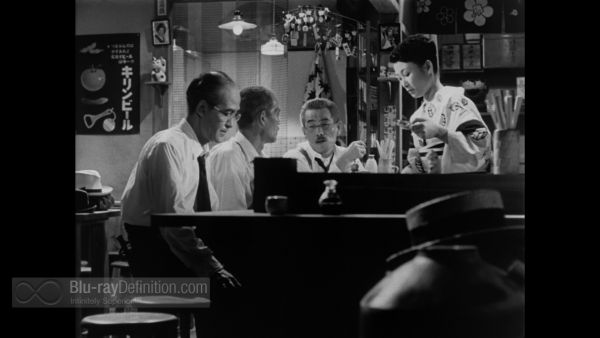 [amazon-product]B00EO2I6W4[/amazon-product]