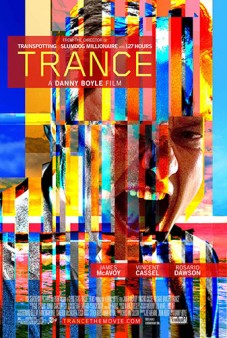 Danny Boyle has never been satisfied as a filmmaker with just giving his audiences a straight narrative, be it the surreal, psychotropic visions of Trainspotting or the delirious tangents in the survival film 127 Hours. In his latest effort, Trance, Boyle has taken his heavily stylized, non-linear form of filmmaking into overdrive.A neo-noir psychological crime drama revolving around a high-end art robbery, the film is superbly cast with a multilayered script from writers Joe Ahearne and John Hodge.
James McAvoy (X-Men: First Class; Gnomeo & Juliet; The Conspirator; Wanted) stars as Simon, an art auctioneer who tells the story we are thrust into from his perspective. We immediately know something is off with Simon, but we're never really sure just what. Simon finds himself the inside man an art heist with a group of gangsters led by the intimidating Franck (Vincent Cassel; A Dangerous Method; Black Swan). A bad knock on the head leads to Simon forgetting where he left the pricey piece of art, and in order to save his hide, he heads to hypnotherapist Elizabeth (Rosario Dawson; Grindhouse: Death Proof; Men in Black II) to help him recover his memories. It may seem like a tried and true plot device in a crime thriller, but in the hands of Danny Boyle and co. it is anything but. Elizabeth's entry into the little crime cadre is immediately unsettling, and we are certain that there is something untoward underlying Elizabeth's motivations for helping Simon, but we don't know exactly what either. The casting of Rosario Dawson is a revelation here, in more ways than I care to elaborate on. She becomes the character of the hypnotherapist, and as the story unfolds, turns in on itself, writhes, ebbs, flows, and pulsates, her part as the central hub of this gang of thieves is crucial. She plays it to a tee, and eventually we come to realize just how important she may have been to the whole story to begin with.
Soon we are thrust into a world where the lines of reality, memories, present and past begin to seamlessly blur and the story we believed we were watching unfold before us at the outset takes turns and twists, ending up so many different places we get a head rush or whiplash by the time we reach the end.
Boyle's signatures are all on full display throughout the film – there are plenty of shocking, gasp-worthy moments that may seem entirely unnecessary at first, but in the greater scheme of the film, become shockingly relevant. The imagery, courtesy of cinematographer Anthony Dod Mantle and editor Jon Harris is often hypnotic, in keeping with the film's theme. Drenched in reds, blues, and blacks, and beautiful silhouettes of characters, this film screams modern, and "Danny Boyle."
If there is an issue to be concerned with in Trance, it is that from beginning to end, there is a sense of detachment from the subjects. A cold, icy veneer, as if the filmmakers are purposely keeping us a layer removed in order to play with us and keep us guessing. The fact that there are so many false endings once we hit the second half (you have to see it; there are too many twists in this film to spoil) makes it all the more difficult to ever be fully engrossed in the outcomes of these people.
Still, there is much more good than bad to be witnessed in Boyle's work here. Trance more than lives up to its name, and will have you spellbound by its imagery and acting for the majority of the film. It's a wild ride indeed.
The Film
[Rating:3.5/5]