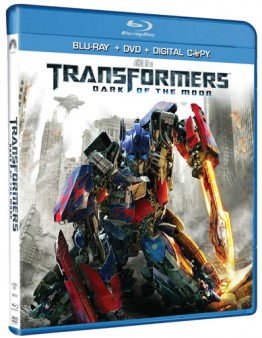 Aspect Ratio: 2:35:1
Video Codec: AVC/MPEG-4
Resolution: 1080p/24 (23.976Hz)
Audio Codec: English Dolby TrueHD 7.1

Subtitles: English SDH, French, Spanish
Region: ABC (Region-Free)
Rating: PG-13
Run Time: 150 Mins.
Discs: 2 (1 x Blu-ray + 1 x DVD)
Studio: Paramount Home Entertainment
Blu-ray Release Date: September 30, 2011
List Price: $39.99
[amazon-product]B005G4TJI4[/amazon-product]
Purchase Transformers: Dark of the Moon on Blu-ray/DVD/Digital Copy Combo Pack at CD Universe
Shop for more Blu-ray titles at Amazon.com
Also Available:
Overall
[Rating:4/5]
The Film
[Rating:3.5/5]
Video Quality
[Rating:5/5]
Audio Quality
[Rating:5/5]
Supplemental Materials
[Rating:0.5/5]
Click thumbnails for high-resolution 1920X1080p screen captures
(Screen captures are lightly compressed with lossy JPEG  thus are meant as a general representation of the content and do not fully reveal the capabilities of the Blu-ray format)
–
The Film
[Rating:3.5/5]
Transformers: Dark of the Moon continues the over-the-top action we've come to expect from Michael Bay. This time around it's discovered that the original moon race during the 60's was in fact a mission to investigate a mysterious alien vessel. Many years later, Optimus Prime (Peter Cullen) and the Autobots return to Chernobyl, where they discover an ancient Cybertronian vessel called the "Ark." The Ark's main purpose was to transport both Sentinel Prime, the former Autobot leader, and electronic pillars capable of carrying Prime and cargo from Cybertron to elsewhere. Traveling to the moon, Optimus and the Autobots succeed in recovering both the pillars and the Ark. Seems like everything is progressing smoothly right? Well, this wouldn't be a movie then if something wasn't churning in the background. Turns out the Decepticons, lead by Megatron (Hugo Weaving), have been waiting for this moment all in the hopes of trying to again…..wait for it….take over the planet and enslave humanity. Meanwhile Sam Witwicky (Shia LaBeouf) has a new lady in Carly (Rosie Huntington-Whiteley), but can't seem to land a job despite having saved the world in Revenge of the Fallen. Lucky Carly's boss Dylan Gould (Patrick Dempsey) is all but willing to employ Sam, only at a cost of which may surprise Sam. Such begins the action-fest known as a film directed by Michael Bay.
As is the case with any Michael Bay film, critical reception was mixed at best for his latest action-fest. Some called it a bloated, over-the-top action mess while others praised its state of the art effects, whether 2D or 3D. Where do I lie? More in the latter realm. Let's begin this with simple facts. None of the Transformers films (or really any Bay film) will ever come up as an answer to "What are some of the best pictures ever made?" That's not the man's goal in creating films. While I clearly can't read exactly what is on his mind, one may assume that Bay understands how to make a blockbuster. Whether it be any of the Transformers, Bad Boys I/II, Pearl Harbor or any other, he knows how to direct action. Whether it be the monumental action finale or some of the smaller moments, all of this is purely entertaining.
Entertainment and action aside, is there a story to be told here? Yes the runtime is a bit long after the second viewing, but I found the background story (ie the first hour) to be necessary. All the explanation of what Sam was doing after the events of Fallen needed to be explained. Would the film have made much sense if it just suddenly began with action? Some may criticize Bay and company for how he mixes in action and story, but I've never really had an issue with this in any of his films (well with the exception of the PG-13 cut of Pearl Harbor, which was fixed with the much preferred Director's Cut). Yes he's known for his action but at the end of the day, Bay can tell a story. If you need any evidence outside of this series, simply watch The Rock, perhaps one of the greatest action films ever made, and get back to me.
Video Quality
[Rating:5/5]
Shot using a wide variety of cameras including the infamous Red One, Transformers: Dark of the Moon makes a stunning debut on Blu-ray. Balancing out both material shot digitally and on film, each sequence blends together in one seamless, gorgeous transfer. Film sequences look as real as their digital counterparts. Colors are spot on, featuring vibrant reds and yellows and deep, dark blacks. Flesh tones are accurate as are contrast levels. There's no real evidence of these levels being overly adjusted although our characters, particularly of that of Carly, do have a very 'tan' look to them. This is more Michael Bay being Michael Bay though, as he likes his characters to look this way (one glance at his film library would indicate this). Depth is top notch with background locales coming alive holding an immense amount of detail. I could go on forever labeling this transfer with endless praise, but I'll just end this simply stating that this transfer is one that needs to be seen.
Audio Quality
[Rating:5/5]
Just like the video transfer, the provided English 7.1 Dolby TrueHD is an absolute stunner. I'm not going to say just about every aspect of this is amazing…no….EVERY aspect of this track is downright impressive. Dialogue is well reproduced with no instance of drop out or any real sequence (well minus those action scenes that you want to crank just to crank) where you need to adjust the volume. LFE is deep, immersive and an absolute stunner. Take in point the final action between Optimus Prime, Sentinel Prime and Megatron. This 5-10 minute scene shall hereby be referred to as 'demo-worthy' in this reviewers book. Here clarity, precision, depth, LFE, etc all are perfectly balanced. Surround usage is seamless, especially between rears. Steve Jablonsky's score, as it was with its predecessors, handles both the quieter (as few as their are) and ramped up adrenaline rushing scenes perfectly. Some may feel I may be exaggerating when I say this but trust me….I'm not. Transformers: Dark of the Moon is THE soundtrack to beat in this ever expanding high-definition format. Yes, the experience is THAT good.
Supplemental Materials
[Rating:0.5/5]

The supplements provided with this release include a Digital Copy as well as a $10 coupon towards the purchase of the forthcoming 3D release and a standard definition DVD of the film.
The Definitive Word
Overall:
[Rating:4/5]
Regardless of your opinion of Dark of the Moon, one thing stands true at the end of the day. Michael Bay knows how to direct action. Paramount Home Entertainment continues their winning ways with another perfect video and audio demo disc. Despite this release containing no real features, I still must recommend this title solely on the video and audio…oh and that this is a highly entertaining film.
Additional Screen Captures
–
[amazon-product]B005G4TJI4[/amazon-product]
Purchase Transformers: Dark of the Moon on Blu-ray/DVD/Digital Copy Combo Pack at CD Universe
Shop for more Blu-ray titles at Amazon.com
Also Available:
Overall
[Rating:4/5]
The Film
[Rating:3.5/5]
Video Quality
[Rating:5/5]
Audio Quality
[Rating:5/5]
Supplemental Materials
[Rating:0.5/5]
–