Aspect Ratio: 1.78:1

Video Codec: AVC/MPEG-4

Resolution: 1080p/24

Audio Codec: Japanese Dolby TrueHD 2.0, English Dolby TrueHD 5.1

Subtitles: English

Rating: TV-14

Region: AB

Discs: 1

Studio: Funimation

Blu-ray Release Date: January 4th, 2011

List Price: $34.98
[amazon-product align="right"]B00477VLYG[/amazon-product]
BestBuy.com:
Purchase Tsubasa: The Complete OVA Collection on Blu-ray at CD Universe
Shop for more Blu-ray titles at Amazon.com
Overall
[Rating:4/5]
The Series
[Rating:4.5/5]
Video Quality
[Rating:3/5]
Audio Quality
[Rating:3.5/5]
Supplemental Materials
[Rating:3.5/5]
Click thumbnails for high-resolution 1920X1080p screen captures
(Screen captures are lightly compressed with lossy JPEG  thus are meant as a general representation of the content and do not fully reveal the capabilities of the Blu-ray format)
The Series
[Rating:4.5/5]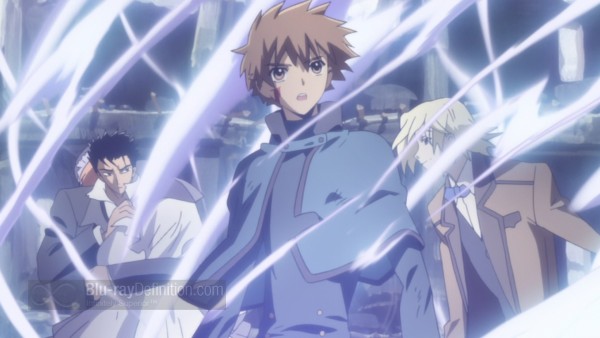 If you are familiar with the Tsubasa: Resevoir Chronicle anime, then prepare yourself for a big change with these two OVAs (Original Video Animation) based on the series. For those unfamiliar with the world of Tsubasa, Tsubasa Reservoir Chronicle is based on the Tsubasa fantasy manga (comic book) series by Clamp in the shōnen style. For those unfamiliar with the anime terminology, shōnen manga are comics that are geared towards a young male audience, roughly 10 to 18. They usually focus on the camaraderie of young males in sports or battle and have highly feminized periphery female characters, if any at all. Other popular anime titles that fall into the genre are Dragon Ball, One Piece, and Fullmetal Alchemist.
Tsubasa begins in the land known as Clow Country where a young archeologist, Syaoran, has made an unusual discovery at a site of ruins. Sakura, the princess of Clow Country and Syaoran's closest friend from childhood, goes to investigate a strange symbol that Syaoran has uncovered at the dig the next day. When she stands on the symbol, she sprouts a set of glowing wings and begins to be pulled into the wall. Syaoran runs to save her, but the wings turn into feathers and scatter across multiple dimensions. Yukito, the high priest of Clow, realizes that the wings were the manifestation of Sakura's soul and that she must regain all of her feathers in order to regain her memories and to live. He sends the two young adults off to see the Dimensional Witch, Yūko so that she can help Syaoran on his quest to save Sakura and regain her feathers.
Once there Syaoran meets two other travelers, a ninja, Kurogane, seeking to return to his home after being banished from his world by Princess Tomoyo so that he can learn the meaning of true strength and Fay D. Flourite, a wizard who fled his home to avoid having to kill the king of his home world. Yūko then exacts a price from each of the travelers in order to grant them the ability to travel between dimensions. They must each pay her with something they value the most. Kurogane offers his family heirloom, the sword Ginryū. Fay pays with the tattoo on his back that suppresses his magical power. The witch, however, will not accept an object from Syaoran and Sakura. Seeing the importance of the unspoken love between Syaoran and Sakura, she makes Syaoran pay with his relationship with Sakura. No matter how many memories Sakura is able to retrieve, she will never remember him; he will always remain a stranger to her. Yūko presents them with a creature, Mokona Modoki, which has the power to travel across dimensions and also to sense the energy of Sakura's feathers. The party travels together through different dimensions to many strange worlds seeking Sakura's feathers to make her whole again.
The OVAs pick up where the anime leaves off. Tokyo Revelations picks up from the end of the Reservoir Chronicles anime, with the group landing in a post-apocalyptic version of Tokyo where water is scarce and a very precious commodity. It's not called "Tokyo Revelations" for nothing. In this OVA, not only does the series take a pensive, melancholy turn, but many secrets from throughout the series are revealed. Syaoran is faced with a doppleganger he must battle and Fai stares down death. Spring Thunder Chronicles continues the darker theme as the friends return to Seresu, still seeking a way to replace Sakura's soul, and coming across characters they crossed paths with from other worlds, including Syaoran's clone.
This is truly where it all changes for Tsubasa, and the OVA's up the ante on the entire series, taking it from a mere childish journey to one where everything, even life itself, is on the line. Absolutely brilliant.
Video Quality
[Rating:3/5]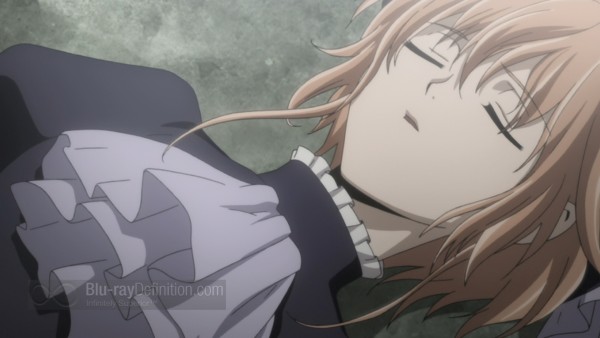 The AVC/MPEG-4 transfer for these OVAs is certainly nothing spectacular. The upscaled to high definition image is soft overall, shows lots of aliasing, and has colors that never really "pop."
Audio Quality
[Rating:3.5/5]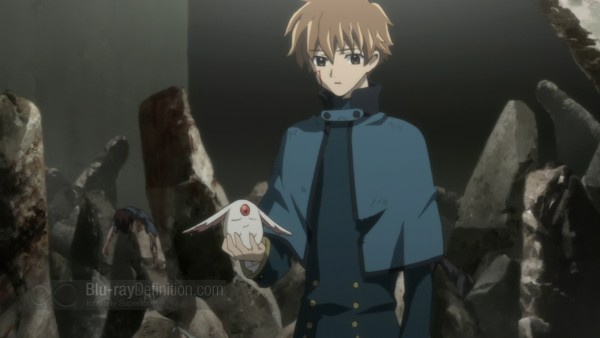 Both the Japanese 2.0 and English 5.1 mixes are provided in lossless Dolby TrueHD. The Japanese mix will be the one true aficionados will want to listen to and it provides strong stereo panning with clean dialogue and decent dynamic range. The English 5.1 mix is an aggressive one with lots of discrete panning through the surrounds and relatively deep, but not boomy, low frequencies. The dialogue is a bit more forward in the mix than in the Japanese 2.0, but it also seems to be a but more tweaked in the high end.
Supplemental Materials
[Rating:3.5/5]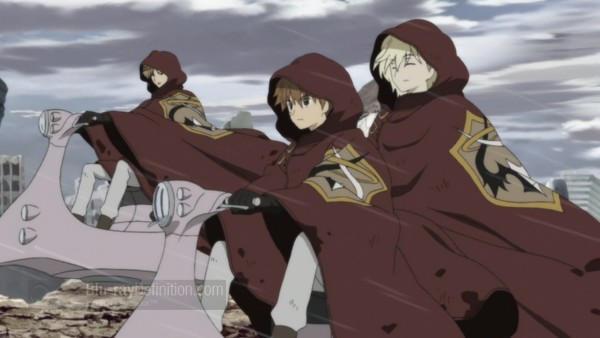 The English cast commentaries are the strongest supplements offered up on this release and there is one provided for each episode. Other than that, nothing else is really worth multiple viewings and everything else is promotional.
The supplements provided with this release are:
Tokyo Revelations:

OVA 1 Cast Commentary
OVA 2 Cast Commentary
OVA 3 Cast Commentary
Textless Opening Song – "Synchronicity"
Textless Closing Song – "Saigo no Kajitsu"

Spring Thunder Chronicle:

Part 1 Cast Commentary
Part 2 Cast Commentary
Textless Opening Song – "Sonic Boom"
Textless Opening Song – "Kioku no Mori"
The Definitive Word
Overall:
[Rating:4/5]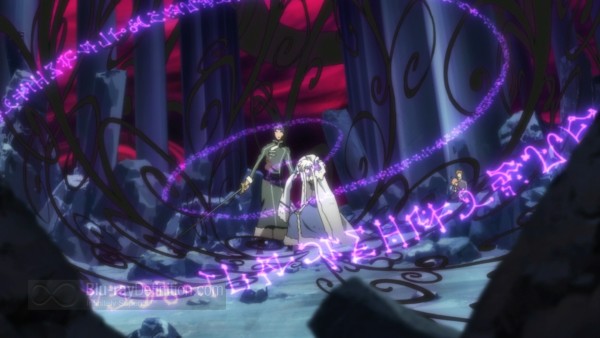 For fans of Tsubasa: Reservoir Chronicles or the original manga upon which the anime franchise is based, these OVA are a must have. Each successive episode here is better than the other and adds a level of depth tot he characters that was missing before. Recommended.
Additional Screen Captures: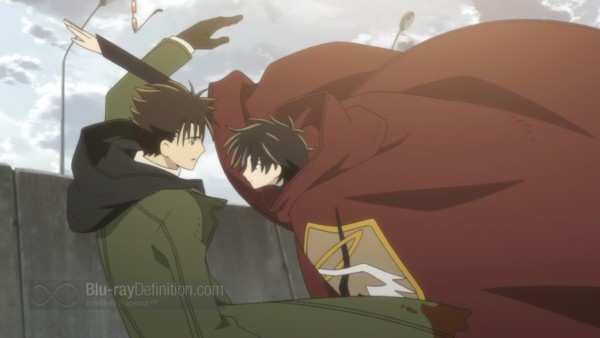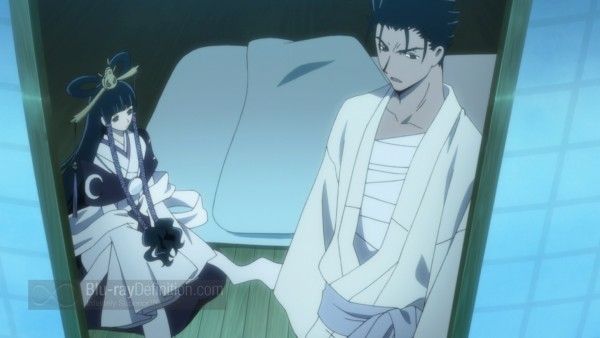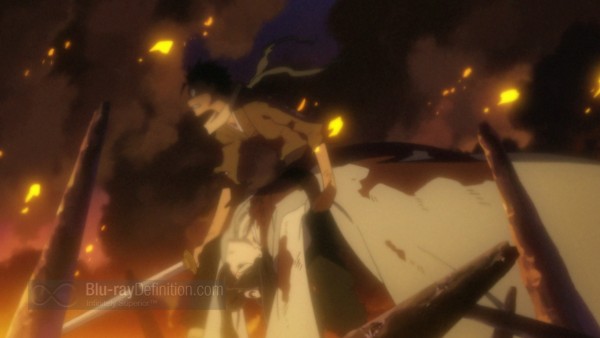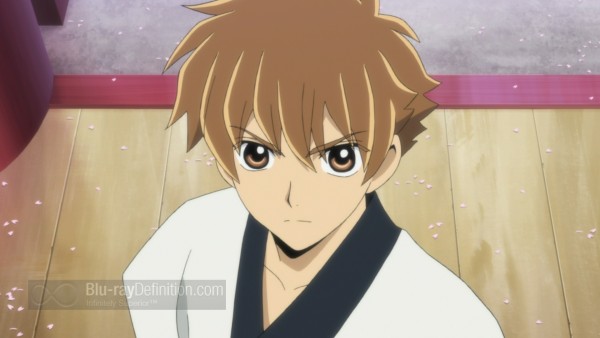 [amazon-product align="right"]B00477VLYG[/amazon-product]
BestBuy.com:
Purchase Tsubasa: The Complete OVA Collection on Blu-ray at CD Universe
Shop for more Blu-ray titles at Amazon.com
Overall
[Rating:4/5]
The Series
[Rating:4.5/5]
Video Quality
[Rating:3/5]
Audio Quality
[Rating:3.5/5]
Supplemental Materials
[Rating:3.5/5]