Aspect Ratio: 1.78:1

Video Codec: AVC/MPEG-4

Resolution: 1080p/24

Audio Codec: English Dolby TrueHD 5.1, Japanese Dolby TrueHD 2.0

Subtitles: English

Region: AB

Rating: Not Rated

Discs: 1
Studio: Funimation

Blu-ray Release Date: May 4, 2010

List Price: $29.98
[amazon-product align="right"]B0016PWMJU[/amazon-product]
Shop for more Blu-ray titles at Amazon.com
Overall
[Rating:3.5/5]
The Films
[Rating:4/5]
Video Quality
[Rating:3.5/5]
Audio Quality
[Rating:4/5]
Supplemental Materials
[Rating:2.5/5]
Click thumbnails for high-resolution 1920X1080p screen captures
(Screen captures are lightly compressed with lossy JPEG  thus are meant as a general representation of the content and do not fully reveal the capabilities of the Blu-ray format)
The Films
[Rating:4/5]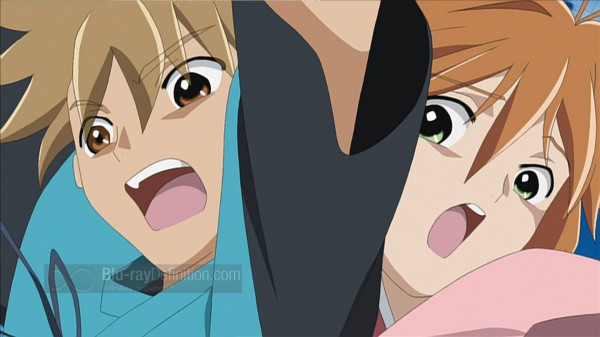 Funimation has put together a double feature of two movies of their popular anime series from Clamp, Tsubasa and xxxHolic. These two stand-alone stories loosely intersect, tied together by one character, the Dimensional Witch.
Tsubasa: The Movie  — The Princess in the Birdcage Kingdom:
[Rating:3.5/5]
In Tsubasa: The Movie  — The Princess in the Birdcage Kingdom, the characters from Tsubasa: Reservoir Chronicle find themselves in yet another strange alternate universe having to help out an oppressed population and save that world's alternate version of Princess Tomoyo. For those unfamiliar with the series, here is a quick rundown: a young archeologist named Syaoran must save his lifelong friend and love, the Princess Sakura after her memories are scattered across different dimensions by a strange artifact he uncovers. Seeking help from the Dimensional Witch Yûko, she grants him the ability to travel between dimensions to seek Sakura's memories, which have taken the form of feathers, but at a price; even if Sakura regains all her memories, she will never remember Syaoran and their friendship. Syaoran is also accompanied on his journey by two travelers he meets while seeking help from Yûko, a ninja, Kurogane, seeking to return to his home after being banished from his world by Princess Tomoyo so that he can learn the meaning of true strength and Fay D. Flourite, a wizard who fled his home to avoid having to kill the king of his home world.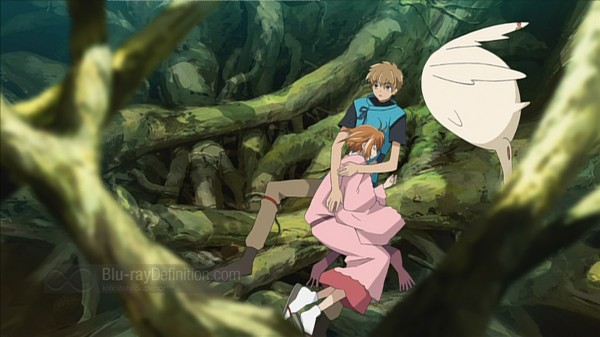 The Princess in the Birdcage Kingdom is a brief, 36-minute "movie" that feels pulled right out of the Tsubasa series. Syaoran and company, whilst seeking Sakura's feather come across a strange world where an evil king has imprisoned that world's Princess Tomoyo and encircled the world in a birdcage. His plan is to use Princess Tomoyo in a ceremony in which he will block out the light covering the world in eternal darkness and reign over it as its dark lord. Syaoran, Kurogane, Fay, and Sakura must help save Princess Tomoyo and stop him before he can compete his evil plan.
I won't say that The Princess in the Birdcage Kingdom is a great stand-alone anime movie, but it certainly works as a bonus episode of the series.
xxxHolic: The Movie — A Midsummer Night's Dream:
[Rating:4/5]
The xxxHolic anime storyline intersects with Tsubasa's and there is some character crossover. It's story focuses on the character Kimihiro Watanuki, a high school student who is plagued by spirits, called "holics" that are drawn to him. Only he can see them and he seeks a way to stop them from harassing them. He comes to a shop owned by Yûko, the Dimensional Witch, and she agrees to help him rid himself of the spirits hounding him, but at her traditional cost of a price equal in value.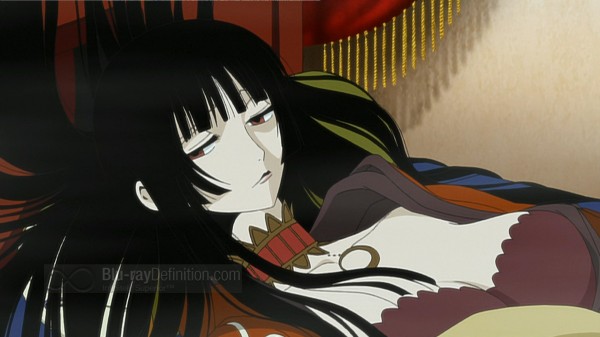 xxxHolic: The Movie — A Midsummer Night's Dream finds the characters of the anime involved in a mysterious auction at a strange mansion when Yûko drags Watanuki and Domeki, Watanuki's high school friend and only shield from the spirits that plague him, along with her after being invited. When they arrive, they find other guests, all collectors of some sort, who start disappearing one by one. There Watanuki is overwhelmed by the holics of greed, vanity and pride and the three "guests" must make there way through the dark, ever-changing halls of the odd mansion to solve the mystery that it conceals, lest they become one of the missing guests themselves.
A Midsummer Night's Dream, clocking in at just over an hour, is definitely the stronger of the two stand-alone movie on this Clamp double feature. It has a darker, more gothic feel to it. With its longer running time, it feels more like a separate work and less like an orphaned episode from a series.
Video Quality
[Rating:3.5/5]
Tsubasa: The Movie [Rating:4/5]
xxxHolic: The Movie [Rating:3/5]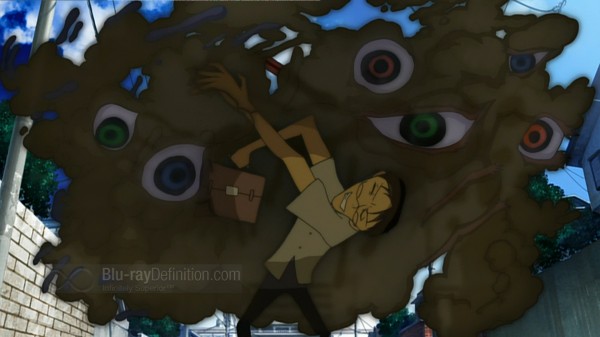 When it comes to the color reproduction, the Clamp double feature from Funimation looks splendid, however when one looks closer at the overall encoding, the 1.78:1 AVC/MPEG-4 1080p transfer suffers from quite a few compression artifacts. There is noticeable haloing and jaggies around the line art and definite mosquito effects present. Tsubasa looks a bit better than xxxHolic, suffering less from the artifacting and it also has a more vibrant color palette that allows it to "pop" more on screen.
Audio Quality
[Rating:4/5]
Tsubasa: The Movie [Rating:4/5]
xxxHolic: The Movie [Rating:4/5]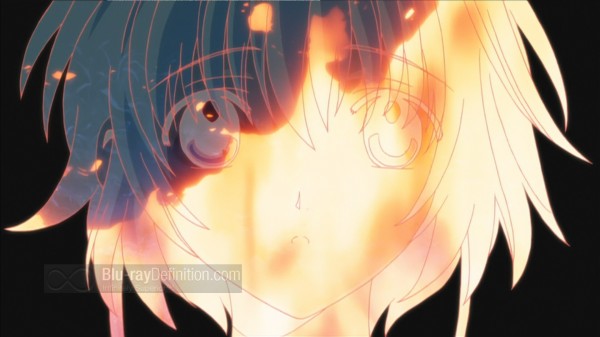 Soundtracks for both movies offer up exactly what one would expect from a Funimation title. There's big bass, lots of discrete activity in the surround channels, and plenty ouf sound effects to keep the ears occupied. English Dolby TrueHD 5.1 soundtracks are offered for both movies, but the original Japanese language soundtracks are only available in Dolby TrueHD 2.0. I appreciate these Japanese tracks finally being available in something other than only lossy Dolby Digital, but do miss them being available in 5.1. Still, for anyone wishing to listen to the original soundtracks they offer a quality option. They are much more subtle than the English versions; less in your face. They do provide good, clean dialogue and spacious panning across the stereo field, a wide dynamic range, and less edgy high frequencies.
Supplemental Materials
[Rating:2.5/5]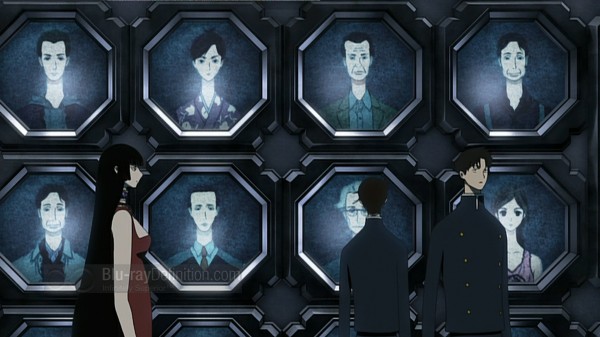 There's a decent amount of supplements on this release, but everything is in standard definition, unfortunately. Still, the wealth of production sketches and slideshows of the background artwork is well worth having.
The supplements provided on this release are:
Tsubasa: The Movie:
2005 Premiere in Ikebukuro (1.33:1; 480i/60; 0:08.15) — The cast and filmmakers appear at the premiere in Ikebukuro.
2005 Movie Event in Shibuya (1.33:1; 480i/60; 0:08.20)
Recording Session Montage (1.33:1; 480i/60; 0:01.59) — A brief montage of the Japanese cast recording sessions.
Japanese Staff and Cast Commentary
Additional Movie Event Coverage (1.33:1; 480i/60; 0:00.40)
Production Artwork (1.33:1; 480i/60; 0:06.14) — A montage of production artwork.
Background Slides (1.33:1; 480i/60; 0:01.44) — A slideshow of the background artwork.
Origin of Birdcage Kingdom (1.33:1; 480i/60; 0:01.46)
Funimation Trailers:

Dragon Ball Z Kai
Heroic Age
One Piece
Initial D
Kenichi
S.A.V.E.
xxxHOLiC
Soul Eater
xxxHOLiC: The Movie:
Opening Day at Shinguku Milano (1.33:1; 480i/60; 0:08.11)
Recording Session Montage (1.33:1; 480i/60; 0:01.15)
Japanese Staff and Cast Commentary
Character Design Slides (1.33:1; 480i/60; 0:03.05)
Background Plates (1.33:1; 480i/60; 0:02.10)
Original Trailers (1.33:1; 480i/60)
FUNimation Trailers
The Definitive Word
Overall:
[Rating:3.5/5]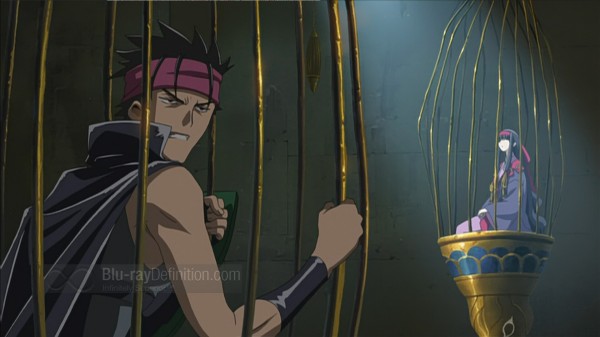 These two intertwining tales from the Clamp universe work well as a pair on disc held together by the sultry Dimensional Witch and solid writing that maintains each series' key elements without losing anyone unfamiliar with either show. The Blu-rays offer up vivid colors and thoroughly enjoyable soundtracks that anime fans are sure to love.
Additional Screen Captures: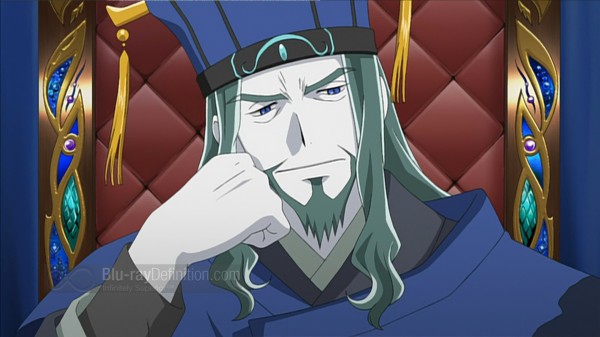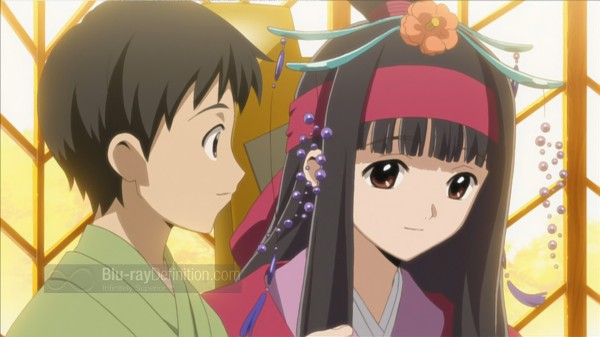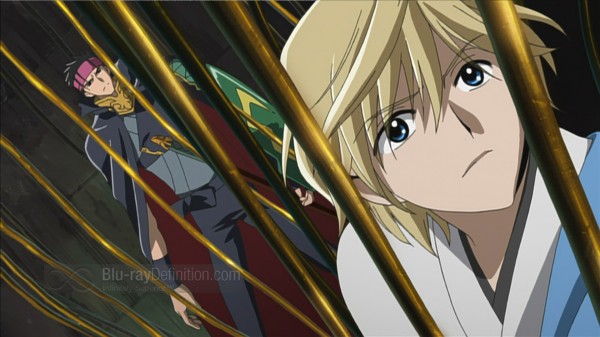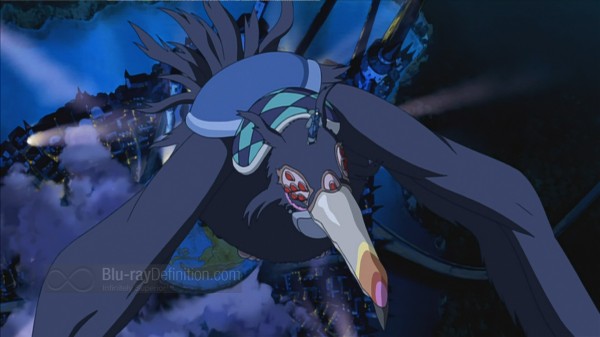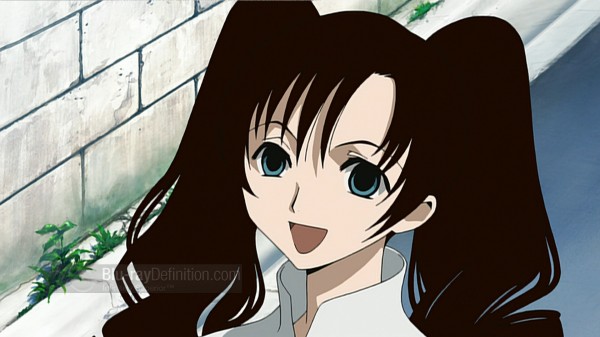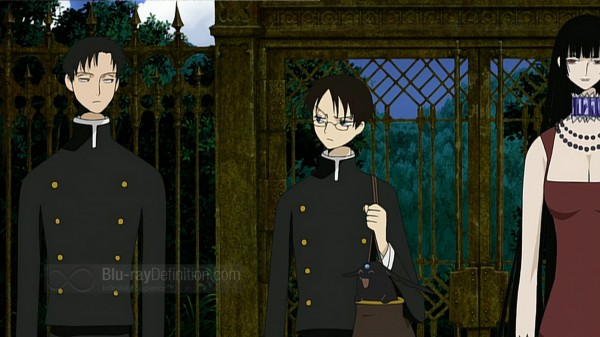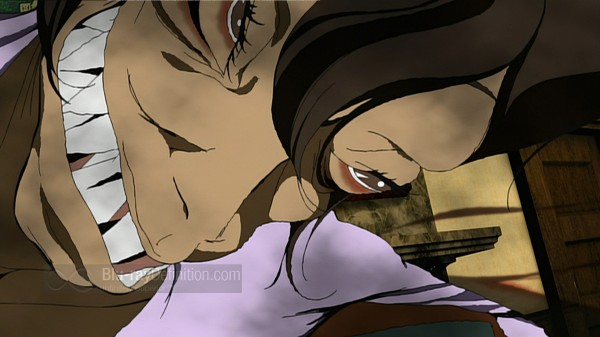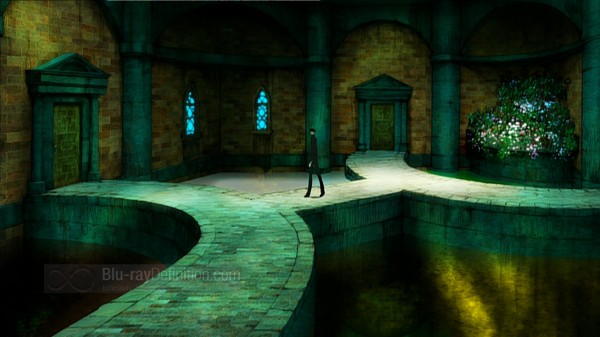 Shop for more Blu-ray titles at Amazon.com