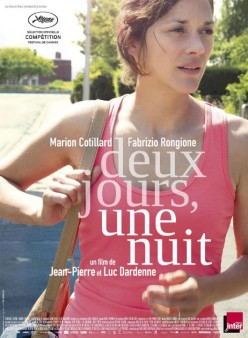 – –
The Film
Marion Cotillard plays Sandra in Two Days, One Night (Deux jours, une nuit), a story about a woman who suffers from depression and is about to lose her job.
Sandra has two days and one night (a weekend) to convince her work colleagues to sacrifice their bonuses so that she can keep her job at a solar panel company called Solwal. If this wasn't enough, Sandra has previously been hospitalized for depression but still suffers from it. She has a hard time coping with life in general, but with the anxiety of losing her job and perhaps losing her home and going back into social housing, Sandra's depression accelerates over the course of the weekend.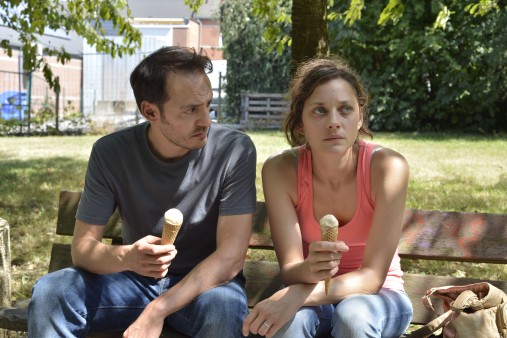 Two Days, One Night starts out with Sandra and her co-worker Juliette (Catherine Salée) convincing their manager Mr. Dumont (Baptiste Sornin) to allow a secret ballot of the company's employees whether they are willing to forgo their €1000 bonuses to allow Sandra to keep her job as her colleagues had previously voted for a staff reduction and her redundancy in exchange for a bonus. He agrees that on the following Monday morning the workers can vote in a secret ballot for either them to receive their bonuses and have Sandra go or for her to keep her job. There are 16 employees and Sandra needs to convince 9 of them to vote in her favor (and to forgo their bonuses). So Sandra, with the help of her dedicated and loving husband Manu (Fabrizio Rongione), travels around town to her co-workers homes to try to convince them to vote for her. But she faces an uphill battle as co-worker Jean-Marc (Olivier Gourmet) has been spreading rumours to the rest of the employees saying that if she weren't the one to go then they would be. So it's up to Sandra to win them over, however, for some of the employees the bonus is desperately needed for them to pay bills, their rent – some of in dire financial straits.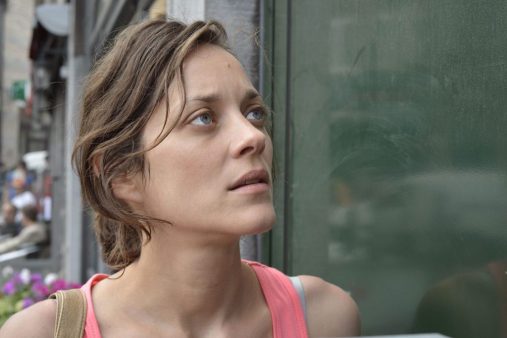 Sandra has two children, but she has a hard time dealing with the job situation, and life in general. She gets so depressed that at times she just breaks down, and she even feels like going to bed at 7pm. But she's got a fight on her hands that weekend and she's got to convince her co-workers to vote in her favor. One co-worker, however, needs the bonus for a new patio, while another won't vote in her favor because he just doesn't like her, or another who happens to be the only breadwinner in the household. Then there are those co-workers who support her, and it's them and the scenes between them and Sandra that we hope will encourage her to continue lobbying for her job and to help her in her depressed state.
Cotillard gives a spectacular performance. Her acting is emotional and physical — her character is struggling and having a hard time of life and we can see this pain in Cotillard's facial expressions, the sadness in her eyes, and even when she crosses the street — her body language is not that of a confident woman. And when she breaks down, whether in her car or in the company of her husband at home, Cotillard is far from glamorous, and then at the end of the film, she has to make a decision that would affect someone else's life, we continue cheering for her.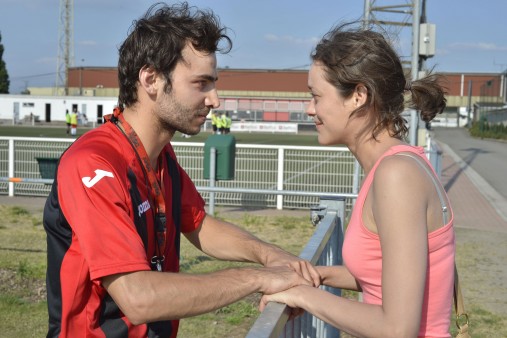 In one scene Cotillard's character says: "I am nothing", and we can quite understand where she is coming from, even after Sandra attempts suicide in one scene by trying to overdose on her antidepressant pills. Rongione as her husband Manu is strong as well. Even though him and Sandra haven't had sex in 4 months, he conveys his love for her and supports her and even strongly encourages her to fight for her job. Written and Directed by brothers Jean-Pierre and Luc Dardenne, they have produced a film where one can feel the urgency of time in which Sandra has to accomplish something so humiliating over the course of a weekend, something she's never done before. There is no holding back on the main character — Sandra is depressed and the filmmakers do a good job of bringing this to the screen. But the film is Cottilard's, expect her name to be coming up in lots of envelopes during awards season. Two Days, One Night is French with English subtitles.
Our Movie Rating:
[Rating:4/5]