Mouse-over Cover Art for Details
Click thumbnails for high-resolution 1920X1080p screen captures
(The below TheaterByte screen captures were taken directly from the Blu-ray Disc and losslessly compressed in the PNG format. There should be no loss of picture quality with this format. All screen captures should be regarded only as an approximation of the full capabilities of the Blu-ray format.
The Film
[Rating:2.5/5]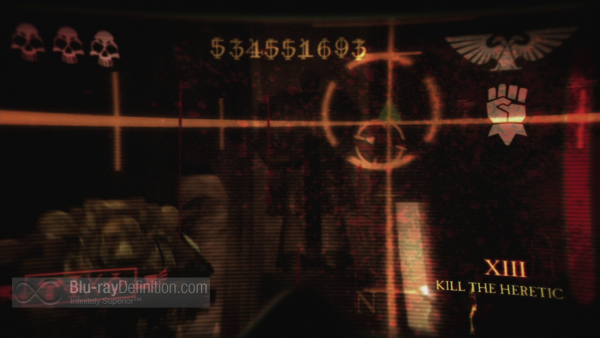 I can't say that I was familiar with the game Warhammer or its light novels at all before heading into the review of this disc. That was probably a bad thing, because this film tosses one into the video game universe of Warhammer 40,000 head first without a life raft. From what I could gather early on, we are in the very distant future, the 41st millennium, and a group of elite, power-armor-wearing Space Marines known as the Ultramarines are all that stand between humanity and marines infected by "chaos," turned into demon-like creatures. A distress beacon from a far a far off planet sends a squadron of these elite marines – a motley crew of grizzled veterans and green recruits – off to investigate, and horrific evils are uncovered.
From a production standpoint, I suppose Ultramarines looks the part of a video game. It opens with a FPS scene, complete with HUD. The graphics are somewhat disappointing for a feature-film, however. The character designs vary between reasonably realistic on close-up shots to looking like 1980s He-Man action figures in long distance shots. There is something terribly off about the perspectives in this film. What are meant to look like grand mountains look like miniature props from a toy train set. It's off-putting when combined with what is reasonably effective sound design that places us in cavernous caves and wide open spaces.
The real treat in Ultramarines is the surprising quality of the voice acting. The standout is the always enjoyable John Hurt (TV's Merlin; Immortals) as Brother Carnak, but fellow veteran actor Terrence Stamp (The Adjustment Bureau) is also quite charismatic and believable as a Space Marine  here. It's unusual to here such believable voices coupled with such video game-quality CGI work.
Video Quality
[Rating:2.5/5]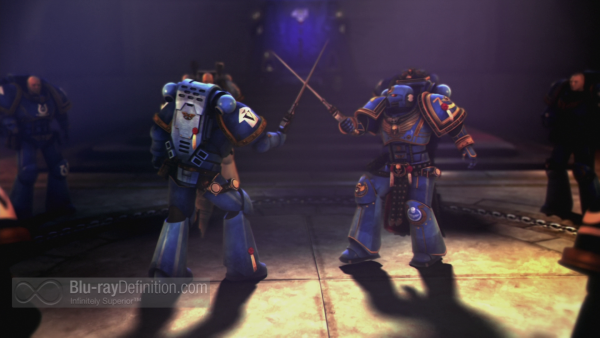 I previously reviewed this film in its US release on Blu-ray, also from Anchor Bay, and nothing has changed in the transfer that I can see, at least as far as I can tell. You can look at the screen captures I have included here of the same frames (with slight unavoidable variations in the exact timing) as a confirmation.
I can't say this Blu-ray looked very good at all to my eyes. Being a CGI animated film, one would expect great detail and a pristine quality, but it seems the creators went for a gritty appearance, and the CG work also shows some aliasing at times. The end result is an image that is soft, has lots of video noise, and never really jumps out at you. The AVC/MPEG-4 1080p encodement from Anchor Bay peaks at rather high bitrates on this BD-50 disc, so the transfer can't really be too much at fault here.
Audio Quality
[Rating:3.5/5]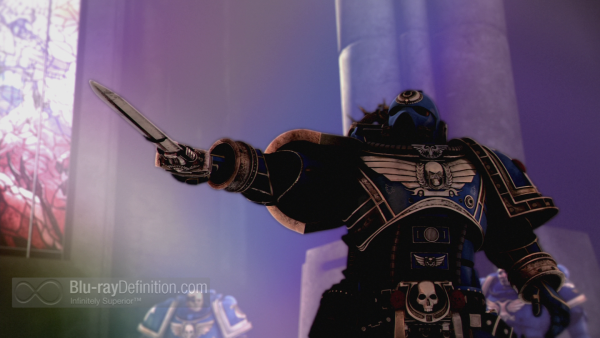 The audio between this release and the UK release also remains the same. Audio is offered in a Dolby TrueHD 5.1 (48kHz/24-bit) mix and is better than the video, although I have heard better for material like this. The high frequencies sound a bit grating to my ears and during the most active scenes dialogue seems to get a bit lost. That said, there is really deep low end and good use of the surrounds for discrete effects and atmospherics.
Supplemental Materials
[Rating:3/5]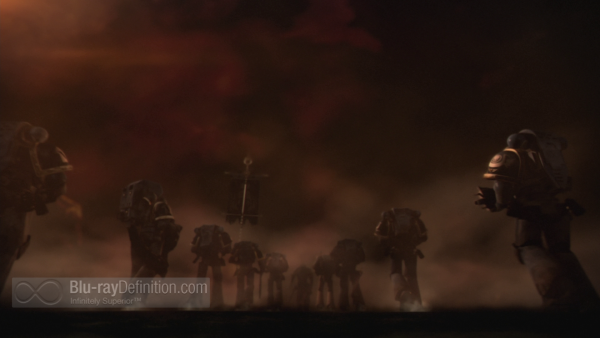 Supplements on this UK release remain the same as the US release as well, even retaining the Region A frame rates. About forty-minutes of bonus materials are included, including a "prequel" graphic novel and making of featurettes.
The supplements:
Into the Void: Making Utramarines (1.781; SD; 00:30:40)
Between Chaos and Darkness: The World of the Space Marines
Creating the Dæmon (1.78:1; SD; 00:05:37)
Animated Graphic Novel – Ultramarines "Prequel" (1.78:1; 1080p/24; 00:12:10)
Trailer (1.78:1; 1080p/24)
The Definitive Word
Overall:
[Rating:2.5/5]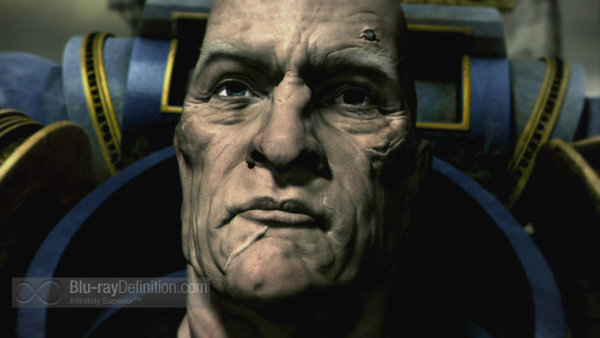 Ultramarines may not succeed entirely, but gamers will probably find it a worthy effort. Having no background in the 40K universe, I honestly cannot offer an opinion on whether this is a successful entry in that franchise. I can say that for me, this feature left me cold, both visually and dramatically.
Additional Screen Captures
[amazon-product region="uk" tracking_id="bluraydefinit-21″]B00BFDAI26[/amazon-product]