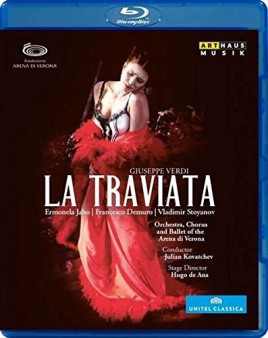 – –

The Film
[Rating:3/5]
This is now the fourth Blu-ray version of La Traviata to come my way in the past four years and denotes this opera's perennial popularity on the world's stages. While Giuseppe Verdi lived and composed for three more decades, this 1853 melodrama has always touched the audience's heartstrings like no other of the Maestro's many works largely due to the simple but sad Alexandre Dumas story on which it is based. This 2011 Arena di Verona production by Hugo De Ana places this most intimate work on a series of picture frames on a stage much larger than that to which we are accustomed. Period costumes abound in sharp contrast to the huge and starkly bare stage.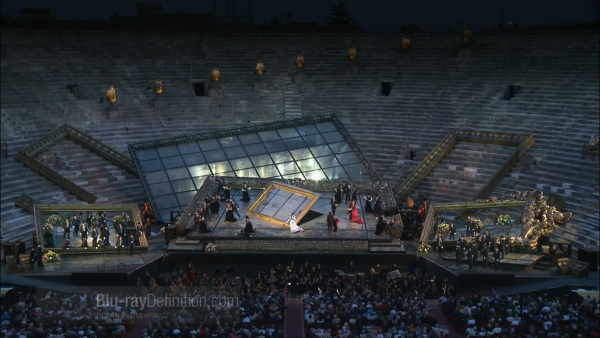 A cocktail party complete with glasses of champagne is underway in the home of young courtesan Violetta Valery (Ermanela Jaho). Alfredo Germont (Framcesco Demuro) arrives and confesses his love to her and the famous "toast" scene heats up the proceedings. In this production, it is obvious during the prelude that Violetta is sick with frequent and uncontrolled coughing.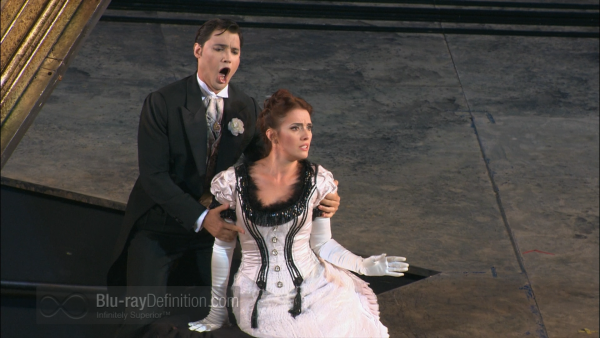 We next find the lovers enjoying life in the country. Alfredo's father, Giorgio Germont (Vladimir Stoyanov) comes to plead with Violetta to break off their affair. His daughter is about to get married and having his son living with a woman of "easy virtue" would be a ruinous scandal. When Violetta finally agrees to Pere Germont's request, she reluctantly leaves Alfredo a note of farewell.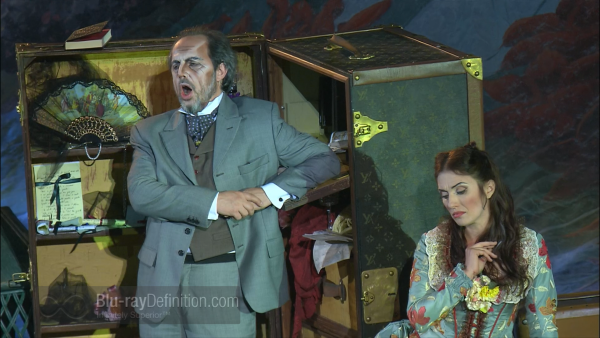 Later, we find Alfredo with Violetta at Mme. Flora's (Chiara Fracasso) apartment. A big party is underway and there is gambling. Alfredo wins big and throws his money at Violetta in disgust. Her current escort Barone Douphol (Nicolo Ceriani) plans to defend her honor by challenging Alfredo to a duel.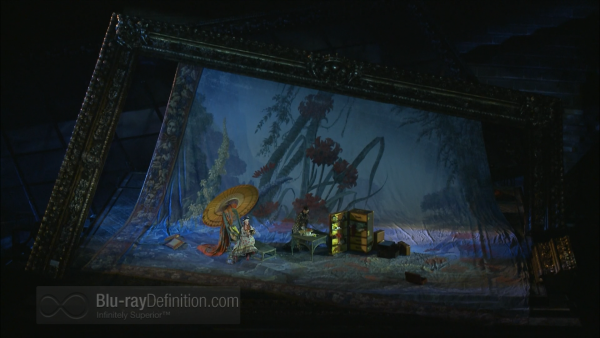 The scene returns to Violetta's apartment now stripped bare as she has sold all of her possessions. She is dying and hopeless until Alfredo suddenly returns from self-imposed exile resulting from his having wounded the Baron. Violetta begins to rally in Alfredo's company only to die in his arms.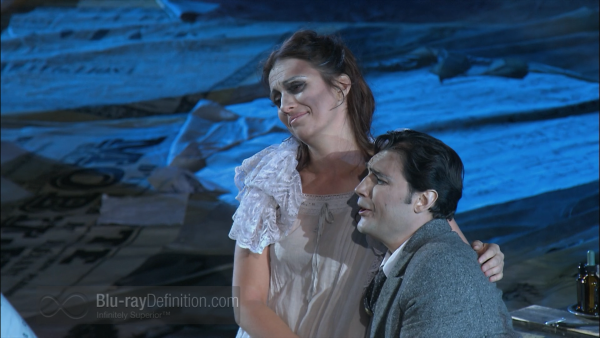 It was a pleasure to re-encounter soprano Jaho whom I last saw as Suor Angelica in a 2011 Covent Garden production of Puccini's Il Trittico (Opus Arte Blu-ray). She was the star of that show and is a consummate singing actress who sells her roles most convincingly. Jaho judiciously eschews the final high E-flat of "Sempre libera, " while she is being elevated on the large picture frame to which she is clinging for dear life. I last saw tenor Demuro as the lecherous Duke of Mantua in a Blu-ray of the 2008 Teatro Reggio di Parma Rigoletto. He has a smallish voice that he must frequently push and his performance suffers greatly in comparison with his co-star. Baritone Stoyanov reprises his role from the Parma Traviata and once again delivers a splendid "Di Provenza il mar, il suol." The Veronese orchestra and chorus are provided solid if unexceptional leadership by conductor Julian Kovatchev.
Video Quality
[Rating:4/5]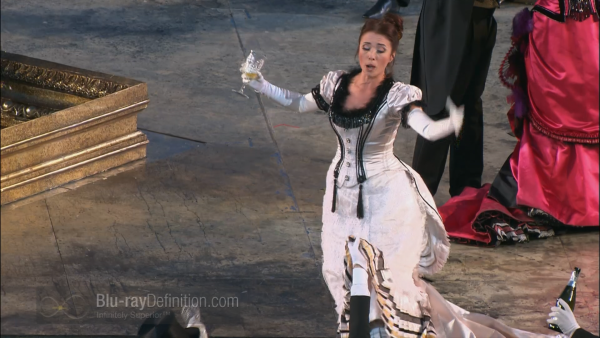 Typical of the numerous Arena di Verona performances that I have reviewed, the opera begins in near sun-set lighting that soon becomes dark as the evening progresses. The lighting technicians do a very creditable job in keeping the stage reasonably bright with excellent coverage of the color palette. However, some of the make-up jobs, particularly Demuro's near-white face and Stoyanov's (and Jaho's final act) shades of brown do not hold up well in close-ups.  There is also a tendency for the camera work to be overhead, a perspective that is not what one would see in the house.
Audio Quality
[Rating:3.5/5]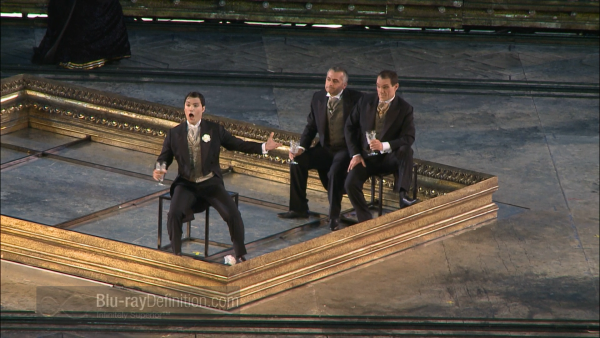 As outdoor (and miked) performances go, there is more prominence to the voices than would be heard in the opera house while the orchestra is distant and somewhat muddy at times. Not much to choose between the surround and stereo versions, as there is little rear channel ambience.
Supplemental Materials
[Rating:1/5]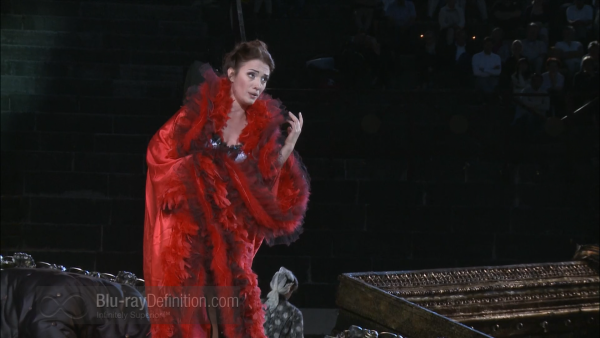 There is a slim program booklet with a cast, credits, and musical tracks as well as background essay on this opera by Angela Beuerle. Arthaus Musik trailers complete the extras
The Definitive Word
Overall:
[Rating:3/5]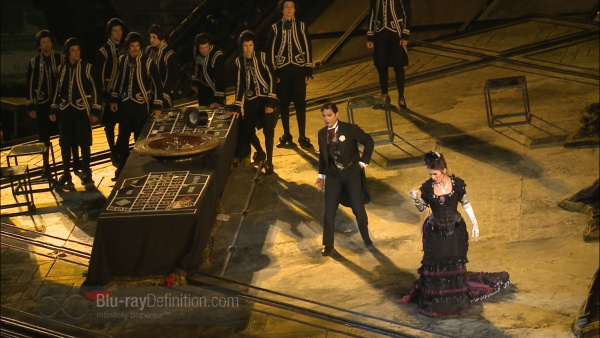 The La Traviata Blu-ray sweepstakes includes two Renee Fleming performances (one a Covent Garden production reviewed here), and a "budget-priced" La Scala version with Angela Gheorghiu. The current release does not displace any of its predecessors, but is worth considering primarily for the deeply committed performance of Albanian soprano Ermonela Jaho. However, Traviata is a three-principal opera and the performance turned in by Italian tenor Francesco Demuro poses its major disappointment. De Ana's staging will also be a turn off for opera fans who want to see Traviata as a more intimate work. For those who desire to see a Violetta stripped down to her absolute core, the venerable Zeffirelli DVD with Teresa Stratas, partnered by no less than Placido Domingo, although seriously cut, remains my go-to version.
Additional Screen Captures
[amazon-product region="uk" tracking_id="bluraydefinit-21″]B00L5J4PSS[/amazon-product]
[amazon-product region="ca" tracking_id="B00L5J4PSS"]B00L5J4PSS[/amazon-product]
[amazon-product]B00L5J4PSS[/amazon-product]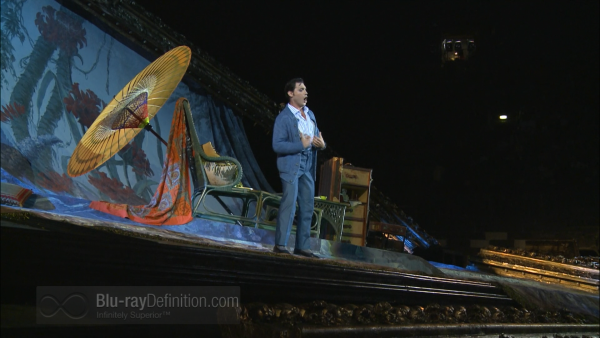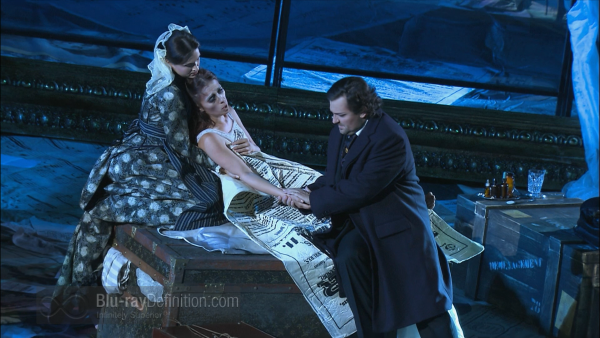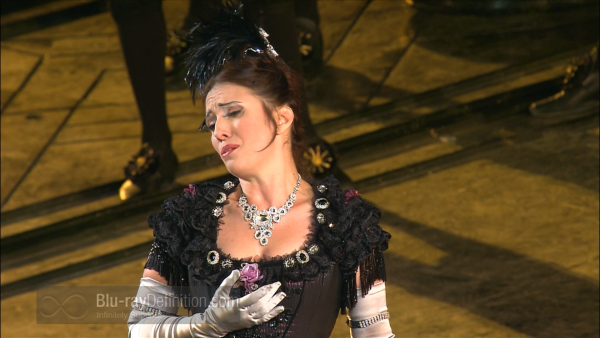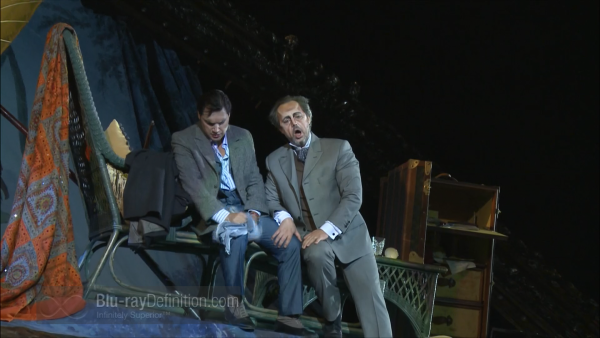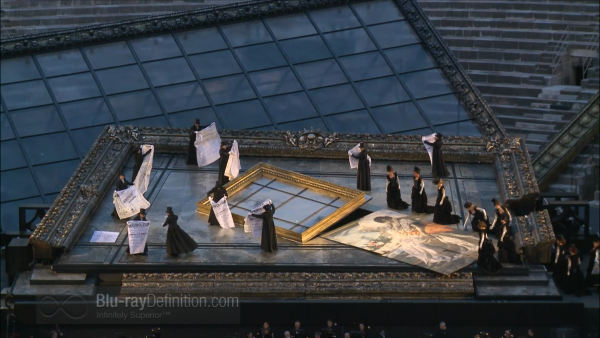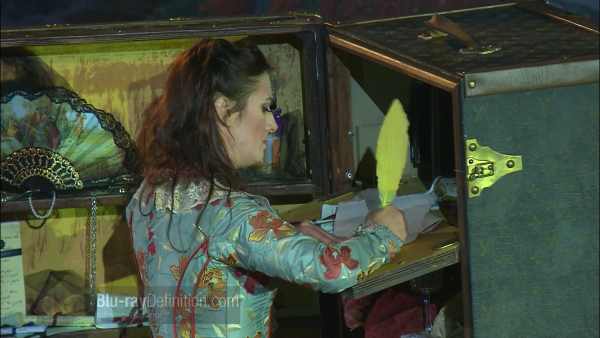 [amazon-product region="uk" tracking_id="bluraydefinit-21″]B00L5J4PSS[/amazon-product]
[amazon-product region="ca" tracking_id="B00L5J4PSS"]B00L5J4PSS[/amazon-product]
[amazon-product]B00L5J4PSS[/amazon-product]