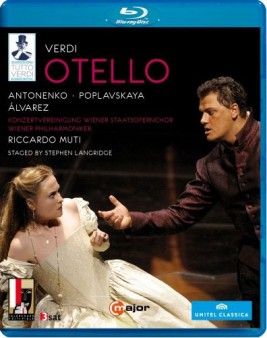 Mouse-over Cover Art for Details (scroll to bottom of page if using mobile OS)
Click thumbnails for high-resolution 1920X1080p screen captures
(The below TheaterByte screen captures were taken directly from the Blu-ray Disc and losslessly compressed in the PNG format. There should be no loss of picture quality with this format. All screen captures should be regarded only as an approximation of the full capabilities of the Blu-ray format.)
The Film
[Rating:3.5/5]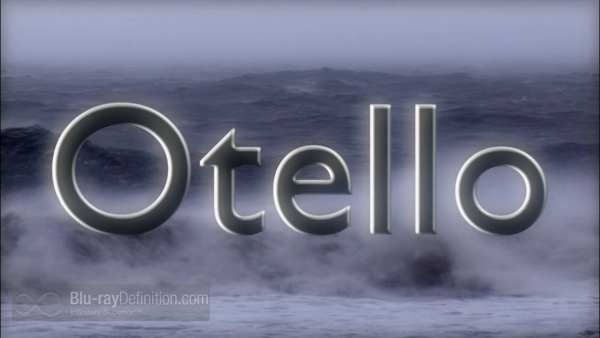 Otello is at the pinnacle of Giuseppe Verdi's operatic output in every sense of the word. Based on the Shakespeare play of the same name, Otello is the ultimate story of love and jealousy. Otello (Alexandrs Antonenko), a Moor, has married the lily-white Desdemona (Marina Poplavskaya) and now returns to govern Cyprus. Otello's lieutenant Iago (Carlos Alvarez) plots to avenge his demotion by making Otello believe that Desdemona is having an affair with rival Cassio (Stephen Costello) who was promoted in his place. As the story unfolds, Otello eventually buys into Desdemona's fabricated infidelity. Our hero enters a downward spiral, finally losing his grip on reality much to the delight of the villainous Iago.  In a jealous rage, Otello kills his faithful spouse and finally, realizing what he has done, stabs himself to death.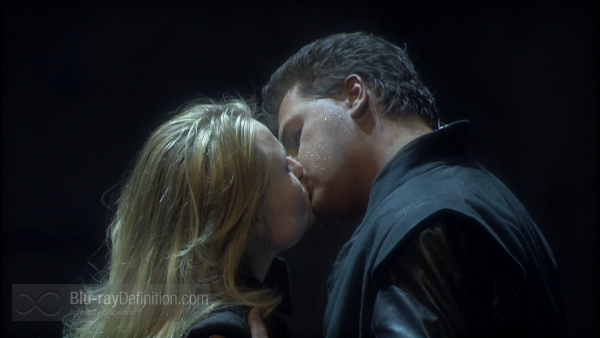 A rare non-Parma entry in the Tutto Verdi series, this 2008 Salzburg Festival production gives us some very bare staging with Shakespearean era costumes. Perhaps as a cautionary note for the future, Otello does need some stage atmosphere, not merely moveable boxes.
A saving grace for this performance is the top-flight musical direction of Riccardo Muti, one of the best Verdi conductors in today's orchestra pits, and the heroic if one-dimensional portrayal of the lead role by Russian tenor Antonenko. The other two principals, Poplavskaya and Alvarez, turn in decent if not distinguished performances.
Video Quality
[Rating:4/5]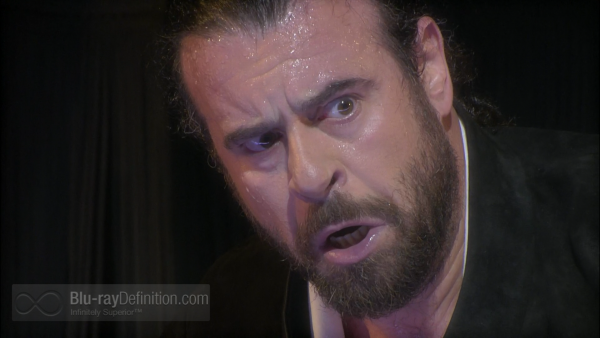 George Souglides's monochromatic sets leave viewers with a glass half full impression of this production. A frequently bare stage exposes the creative barrenness of director Stephen Langridge's underlying concepts. There is excessive use of close ups that portray some heavily perspiring singers. I felt somewhat sorry for baritone Alvarez during his big Act II moment "Credo in un Dio crudel" when he gets placed in front of the curtain, while the cameras continuously give us his face dripping with sweat.
Audio Quality
[Rating:3.5/5]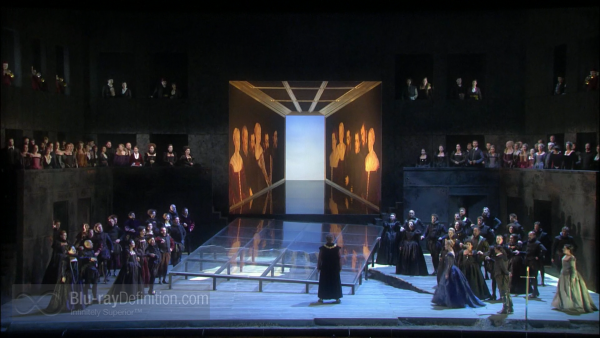 The soundstage presentation is rather flat. There are occasional balance problems with singers (including full chorus) being drowned out by the orchestra. The surround track is better than the two-channel alternative but not by much.
Supplemental Materials
[Rating:2/5]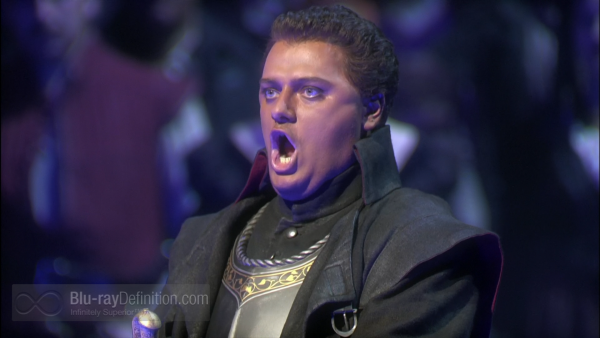 Tutto Verdi gives us a nice synopsis (with on-site videos), a booklet with background on Otello, and C Major trailers.
The Definitive Word
Overall:
[Rating:3.5/5]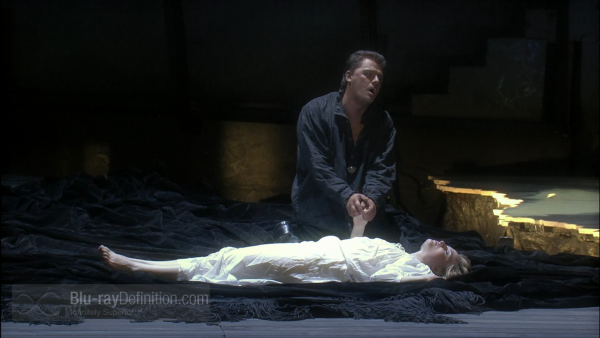 Full disclosure requires that I place this Blu-ray Disc in the category of nice tries but no prize. My Otello magic moment is the Act I duet between Otello and Desdemona. No magic happens here, no chemistry (even the couple's kiss looks more like brother-sister than husband-wife), nothing even close. Tenor Antonenko has the vocal goods for Otello but he delivers the role's drama pretty much in a single high volume dimension. Soprano Poplavskaya, only 31 at the time of this production, has since carved out a major career with some of the big Verdi roles. Her voice does have occasional shimmer with some nice mezza voce touches. However, the inner complexities of Desdemona largely elude her. In many respects, Carlo Alvarez gives the most convincing portrayal of the evening, delivering Iago's pure evil albeit with some rough vocal passages. Maestro Muti does his usual job masterful job with this towering score, conveying its power and intimacy.
The Otello sweepstakes is limited on Blu-ray but there is a more compelling alternative from Barcelona featuring the titanic tenor Jose Cura. However, for me, Placido Domingo in either the Met Opera performance with James Levine or the Covent Garden staging led by Sir Georg Solti is the Otello of the last half-century. The supporting casts and production values on these DVDs are at a level well above that of the current offering. For an alternative and equally thrilling voyage into the Moor's madness, there are two performances on DVD by Jon Vickers (one at the Met again with Levine and another, a Berlin Philharmonic version led by von Karajan). In sum, Otello requires a larger than life presentation and with this one, we just get smaller.
Additional Screen Captures
[amazon-product region="uk" tracking_id="bluraydefinit-21″]B0094AH39S[/amazon-product]
[amazon-product region="ca" tracking_id="bluraydefinit-20″]B0094AH39S[/amazon-product]
[amazon-product]B0094AH39S[/amazon-product]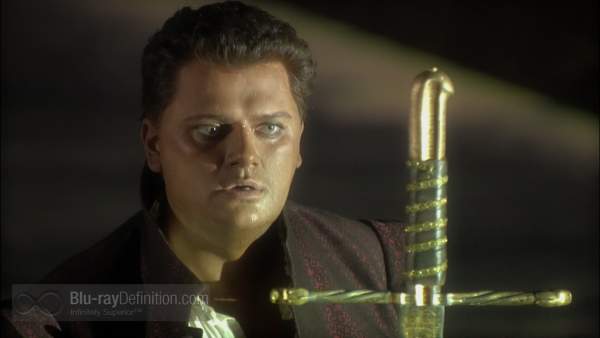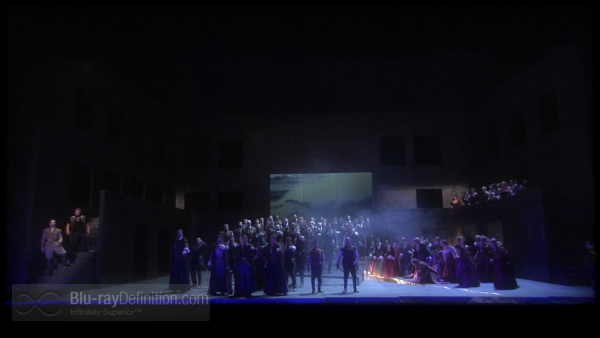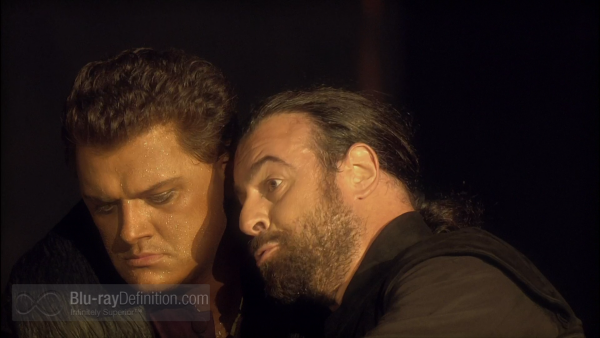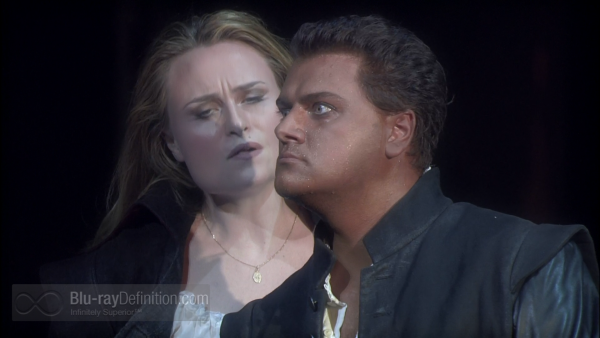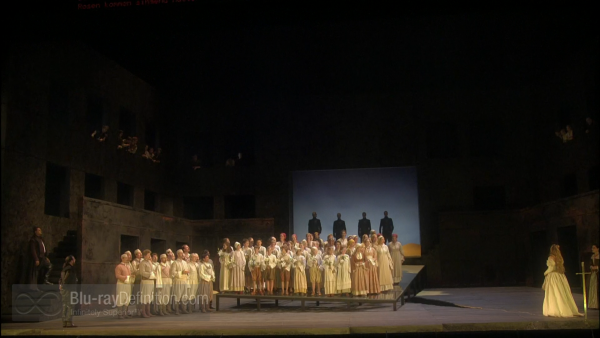 [amazon-product region="uk" tracking_id="bluraydefinit-21″]B0094AH39S[/amazon-product]
[amazon-product region="ca" tracking_id="bluraydefinit-20″]B0094AH39S[/amazon-product]
[amazon-product]B0094AH39S[/amazon-product]