–

Click thumbnails for high-resolution 1920X1080p screen captures
(Screen captures are lightly compressed with lossy JPEG  thus are meant as a general representation of the content and do not fully reveal the capabilities of the Blu-ray format)
The Film
[Rating:4.5/5]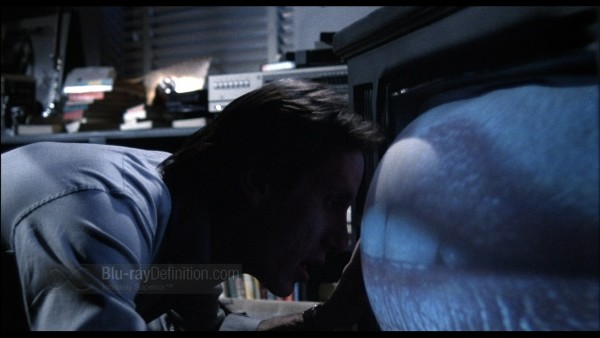 A master of psychological horror that teeters on the verge of sci-fi, Canadian filmmaker David Cronenberg's 1983 feature, Videodrome, was to be a turning point in his filmmaking career. It marked a new maturity in his work that would lead to some of his later landmark visions, like The Fly (1986), Dead Ringers (1988) and Naked Lunch (1991). But in 1983, Videodrome set the tone for a seemingly new era in horror. It used the latest in cutting edge digital visual effects in combination with the very best makeup effects to tell an almost surreal story of losing control to a technological juggernaut.
Remember when your parents (or grandparents) would warn you how television would rot your brain? Well Videodrome seized upon those fears and, more and today, so far removed from its release, it seems more visionary than ever, in this oversaturated media-driven world we live in dominated by 24-hour cable and satellite networks, the internet, and the new 3D televisions and Blu-ray players in our homes that actually DO send images right out of the television at us — just like in Videodrome — complete with their own health warnings in fine print.
At the core of Videodrome's story is Max Renn (James Woods), a cable TV programmer constantly looking to push the boundaries of programming on his channel with edgy material. Through his dealings with a TV pirate, Max comes across a shocking broadcast out of Pittsburgh known simply as Videodrome, filled with images of sex, torture, and murder, and little else. Intrigued, Max decides he must acquire this for his station, but Videodrome has a secret that becomes dangerous — it's real, or is it? The boundaries of reality and television begin to break down for Max and his acquaintances in one of the most creepy, visual effects-laden films you will ever see out of the early 80's.
Populated by character types we can all recognize as media staples today, like Nicki Brand (Deborha Harry), the radio self-help guru of sorts, and Brian O'Blivion (Jack Creley) a popular media character who exists only on-screen and videocassettes, Videodrome is a prophetic look at the hysteria the media can create and the dangers of media oversaturation. It is just the sort of "horror" film that is always the most frightening, the kind that examines the human psyche. A true classic all around.
Video Quality
[Rating:4/5]
Supervised by director of photography Mark Irwin and approved by director David Cronenberg, this transfer of Videodrome was created on a Spirit Datacine from a 35mm interpositive. Thousands of instances of dirt, debris, scratches splices, warps, jitter, and flicker were manually removed using MTI's DRS system and Pixel Farm's PFClean system, while Digital Vision's DVNR system was used for small dirt, grain, and noise reduction.
The film appears on this Blu-ray release in its original theatrical aspect ratio of 1.85:1 encoded in AVC/MPEG-4 1t 1080p. Originally released in 1983, the twenty-eight-year-old film doesn't look a day over fifteen in this new Criterion release. But in all seriousness, the source has been nicely cleaned up, yet it retains a film-like appearance with a natural, sharp layer of grain. Shadow detail is well extended, however blacks do seem just a bit greyish in areas. Flesh tones are spot on and compression issues seem not to be a problem at all.
Audio Quality
[Rating:4/5]
The monaural soundtrack was remastered from the 35mm magnetic tracks. Clicks, thumps, hiss, and hum were manually removed using Pro Tools HD. Crackle was attenuated using AudioCube's integrated audio workstation.
The audio is provided on disc in a LPCM 1.0 (48kHz/24-bit) configuration. What much can one say about a 1-channel audio mix other than it sounds relatively clean and balanced and offers intelligible dialogue with a surprising amount of depth in the midrange and lower frequencies?
Supplemental Materials
[Rating:4/5]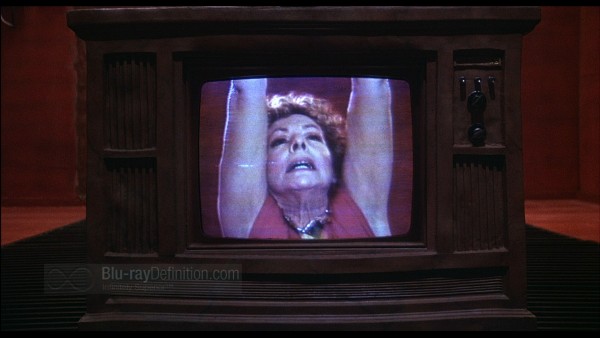 Videodrome's supplements are given the typically deluxe Criterion treatment, right down to its packaging, meant to mimic those old 80's-era videocassettes (remember those?). On disc there are two audio commentaries, recorded in 2004, one featuring Cronenberg and cinematographer Mark Irwin, the other brings in James Woods and Deborah Harry. In addition, there are numerous featurettes delving into the making of the film and classic Cronenberg short fans will be happy to see.
The supplements provided with this release are:
Commentaries:

David Cronenberg and Mark Irwin — This commentary features director David Cronenberg and director photography Mark Irwin, and was recorded for the Criterion Collection in Toronto and Los Angeles in 2004.
James Woods and Deborah Harry — This commentary features James Woods and Deborah Harry, and was recorded for the Criterion Collection in Los Angeles in 2004.

Camera (1080i/60) — This short film stars Videodrome's Les Carlson and was written and directed by David Cronenberg in 2000. It was part of a series of short films by Canadian filmmakers — called Preludes — commissioned by the Toronto International Film Festival, which was then celebrating its twenty-fifth anniversary. Camera was photographed on digital video, except for the final shot, which was done on 35mm, using the camera featured on-screen. Many of Cronenberg's regular collaborators — including composer Howard Shore, production designer Carol Spier, and editor Ronald Sanders — worked on the film.
Videodrome: Forging the New Flesh (1.33:1; 1080i/60; 0:27.41) — This documentary, created for the Criterion Collection in 2004 by Toronto-area filmmaker and Videodrome special video effects supervisor Michael Lennick, details the painstaking production process required to create the breakthrough effects seen in the film. Some of the footage is available only from work tapes and includes on-screen time codes.
Effects Men (0:19.28) — In this audio piece, recorded for the Criterion Collection in 2004, Rick Baker, creator of Videodrome's special makeup effects, and Michael Lennick, responsible for the film's many video effects, share their thoughts ion working with director David Cronenberg and their careers in general.
Bootleg Video (1.33:1; 1080i/60) — Early on in the production of Videodrome, David  Cronenberg and his crew shot several short video sequences that were later excerpted in the film. Here, the sequences are presented in their entirety.:

Samurai Dreams
Transmissions from "Videodrome"
Helmet-Cam Test

Effects Visual Essay (1080p/24) — In December 1981 and March 1982, journalist Tim Lucas spent a combined nine days in Toronto covering the production of Videodrome for Cinefantastique magazine, Donna Lucas and Robert Uth accompanied Tim, in December and March, respectively, as photographers for the assignment. This is a selection of rare images from Tim and Donna Lucas' collection, played as a montage.
Fear on Film (1.33:1; 1080i/60; 0:25.40) — In 1982, while working at Universal Studios as a publicity ad marketing specialist for horror and science-fiction films, Mick Garris produced and hosted this twenty-six-minute roundtable discussion wit directors David Cronenberg, John Landis, and John Carpenter. All three were working on projects at Universal at the time, and the piece was created for studio promotional purposes. Garris has since gone on to direct films himself, including the television miniseries of Stephen King's The Stand and The Shining and the feature film Riding the Bullet.
Marketing:

Trailer 1 (1.33:1; 1080i/60)
Trailer 2 (1.33:1; 1080i/60)
Trailer 3 (1.33:1; 1080i/60)
The Making of Videodrome (1.33:1; 1080i/60; 0:07.49) — This featurette, produced by filmmaker Mick Garris in 1982 for Universal publicity, includes excerpts of interviews with David Cronenberg, James Woods, Deborah Harry, and Rick Baker, as well as behind-the-scenes glimpses of Videodrome in production.

Gallery (1080p) — A gallery of promotional materials including ads, posters, lobby cards, sweepstakes, and more as well as production stills.
Booklet: The wonderfully in-depth booklet offers up three essays, including a 1983 Village Voice entry from Carrie Ricky, and new essays from film critics Tim Lucas and Gary Indiana. The Ricky piece is marvelous for its historical context, but Lucas' entry must be read for its breadth alone.
The Definitive Word
Overall:
[Rating:4/5]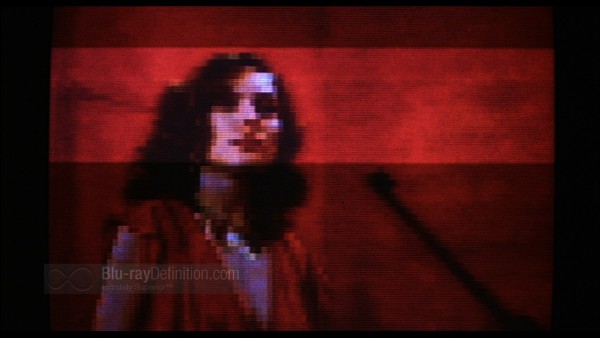 Criterion has another winner on their hands with this breakthrough horror classic from David Cronenberg. It looks great in this new Blu-ray edition and comes highly recommended from this reviewer.
Additional Screen Captures
[amazon-product]B008TDB7W0[/amazon-product]
[amazon-product align="right"]B003KGBIRK[/amazon-product]
Purchase Videodrome [Criterion Collection] on Blu-ray at CD Universe
Shop for more Blu-ray titles at Amazon.com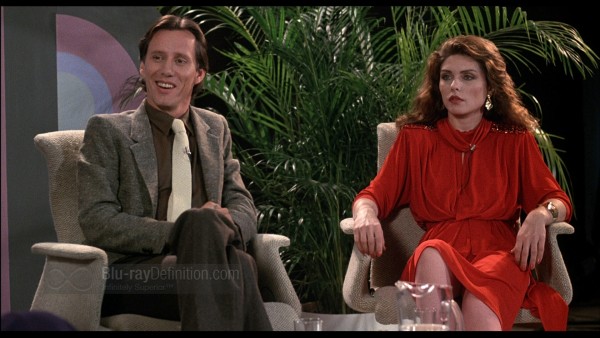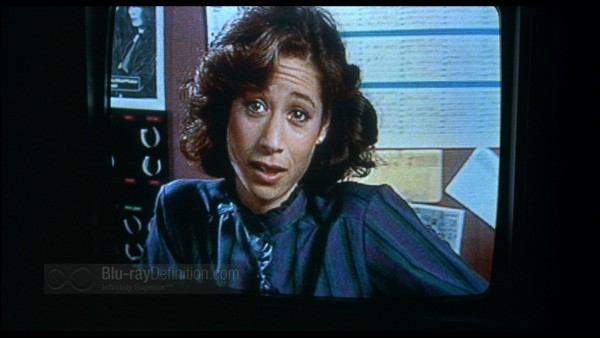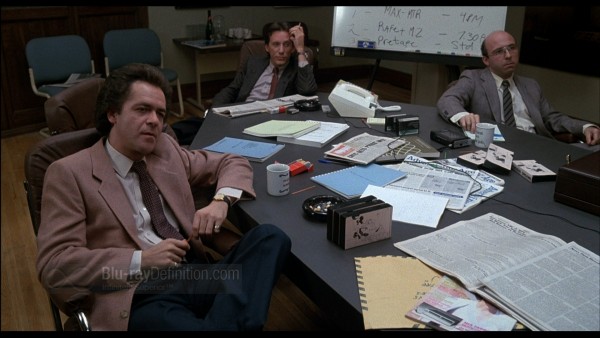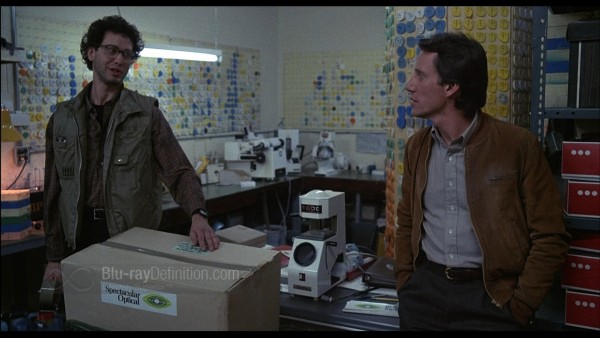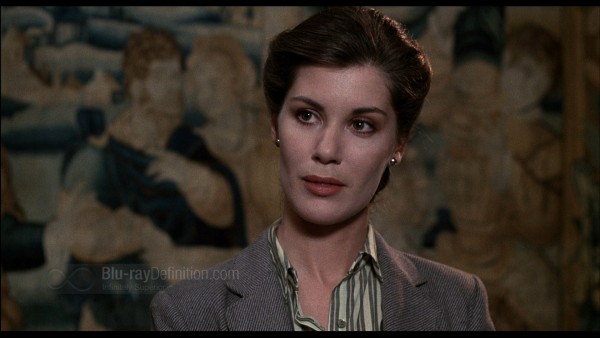 [amazon-product]B008TDB7W0[/amazon-product]
[amazon-product align="right"]B003KGBIRK[/amazon-product]
Purchase Videodrome [Criterion Collection] on Blu-ray at CD Universe
Shop for more Blu-ray titles at Amazon.com