– (scroll to bottom if using mobile os)
The Film
[Rating:3.5/5]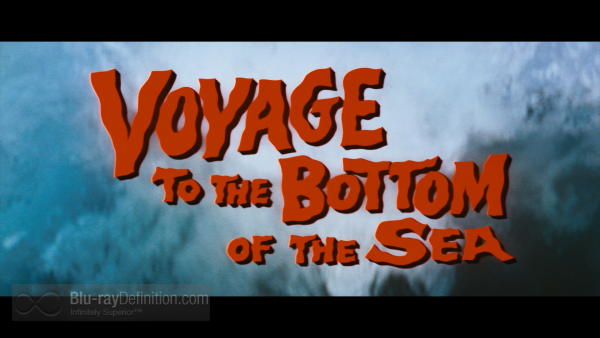 Summer films are aimed at the young and restless who frequented the movie theaters and drive-ins of their respective eras. Voyage to the Bottom of the Sea captured the national excitement of the nuclear submarine program. While the special effects departments of most Hollywood studios were in their infancy, this film goes to the limit of what was then available. The submarine Seaview is undergoing some trial dives. The sub's designer Admiral Harriman Nelson (Walter Pidgeon) and the commanding officer of the Seaview, Captain Lee Crane (Robert Sterling) accommodate a psychologist Dr. Susan Hiller (Joan Fontaine) and scientist Commodore Lucius Emery (Peter Lorre). There is a background love story between Crane and the only other woman on board, Lt. Cathy Connors (Barbara Eden). The teen appeal factor is provided by pop singer Frankie Avalon (Lt.jg Frankie Romano).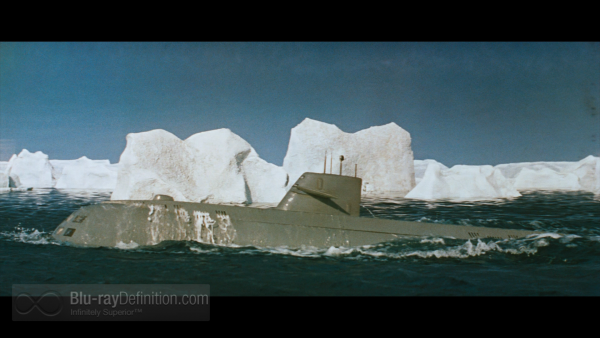 A global warning crisis is in effect caused by the van Allen belt (sound familiar?) and the Seaview crew must come up with a salvation plan that involves firing a nuclear missle at the burning belt when they reach the Marianas.  Along the way, they rescue the hyper-religious scientist (Michael Ansara) from Ice Floe Delta.  While the submarine remains underwater and cut off from surface communication, tensions mount among the crew.  The monotony of life in cramped quarters is broken by a series of hazards including an attack on the divers by a giant squid and the sub's inadvertent entry into a huge minefield. Further problems surface as the crew becomes increasingly restless, resulting in apparent sabotage and possible mutiny.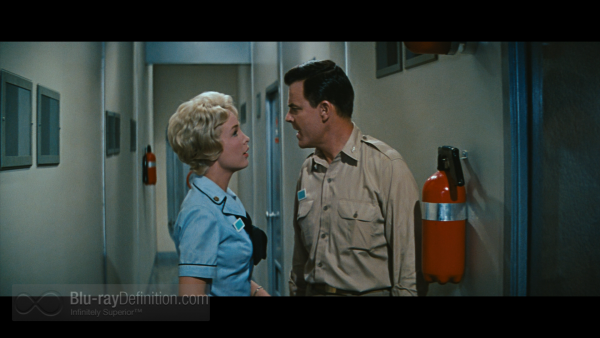 As apocalyptic pictures go, there is enough tension to keep viewers engaged to what, for some, might be a foregone (and most welcome) conclusion that surmounts a rather hokey script.
Video Quality
[Rating:3.5/5]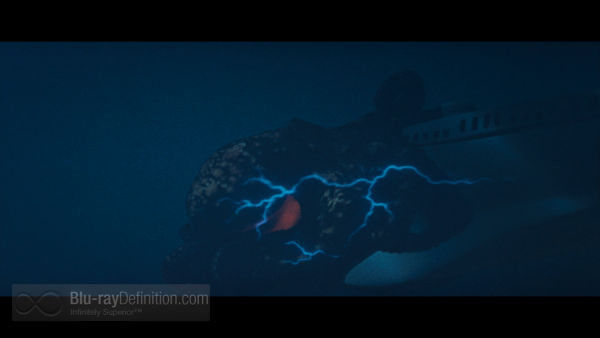 Special effects are essential to the credibility of this submarine adventure and, given what studios had 50 years ago, these are mostly well conveyed. Okay, the giant squid is a bit of schlock but there are far more hits than misses. Close-ups are pretty crisp (some etching is evident) and the colors are beautiful. While no amount of remastering will make Voyage look like a 2013 release, the studio magicians certainly are to be commended for the final product.
Audio Quality
[Rating:3.5/5]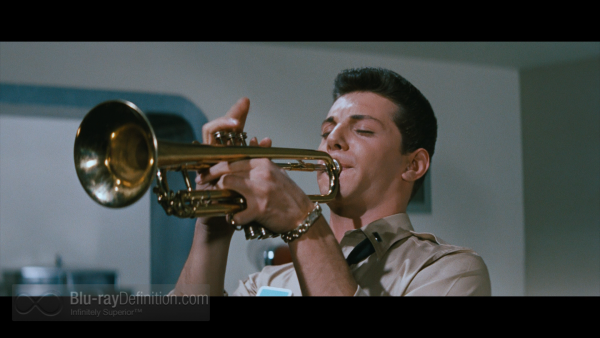 The DTS-HD Master Audio 4.0 soundtrack is reasonably free of boxiness and distortion in the louder passages. The atmospheric score by Paul Sawtell and Bert Shelter receives its due.
Supplemental Materials
[Rating:3/5]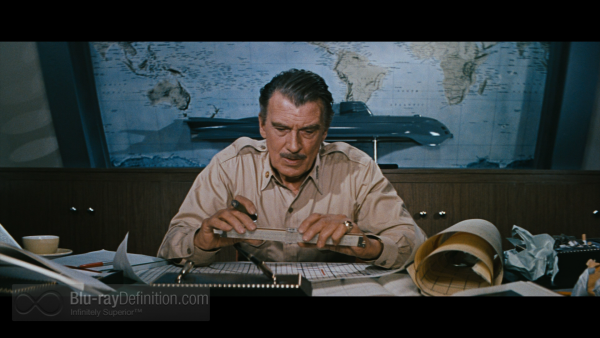 Commentary by author Tim Colliver
Science Fiction Fantasy to Reality Documentary: 16:50 (English Dolby Digital Stereo 48kHz/16-bit). A mini-feature on the impact of science fiction on popular culture that is intelligent and informative.
Interview with Barbara Eden: 5:57 (English Dolby Digital Stereo 48kHz1/16-bit). A fond remembrance of director Allen and this film by one of its stars
Isolated Score Track
Original Theatrical Trailer: 3:12 (English Dolby Digital Stereo 48kHz/16-bit)
The Definitive Word
Overall:
[Rating:3.5/5]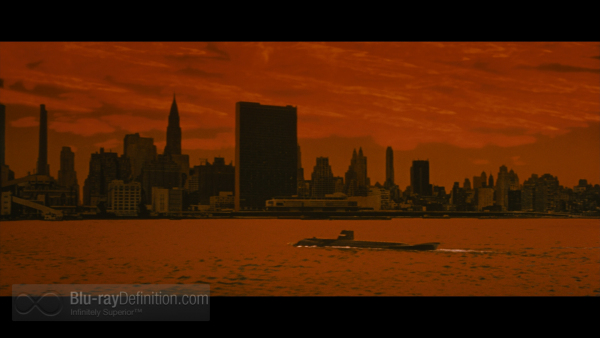 The summer season often brings out the best in the science fiction/fantasy adventure film world, and Voyage to the Bottom of the Sea certainly scores on that front. Director/Producer Irwin Allen eventually parlayed this film into a very popular TV series. Overlooking a raft of rather trite dialogue and some formulaic plot twists, this remains, a half century later, an entertaining movie that will appeal to all audiences.
Additional Screen Captures
[amazon-product]B00E9ZAU02[/amazon-product]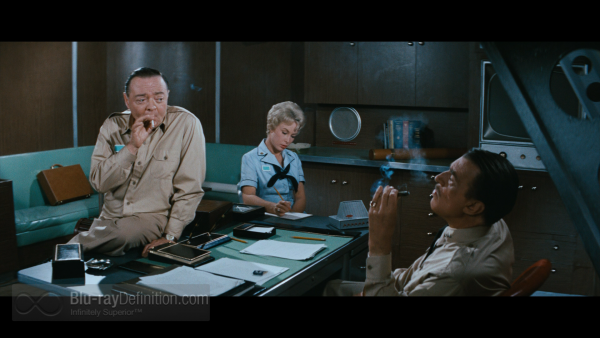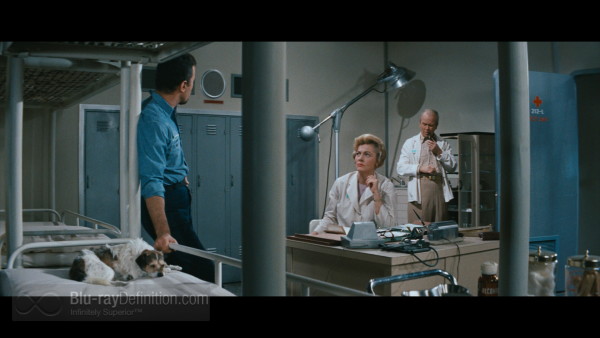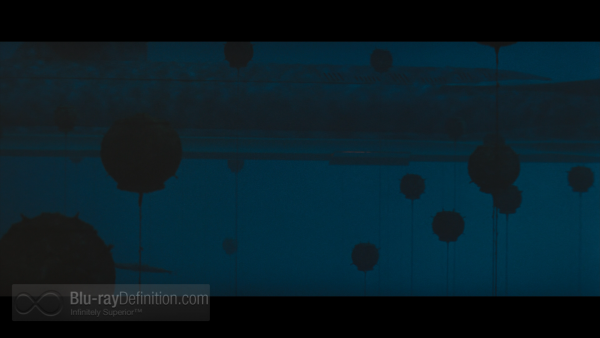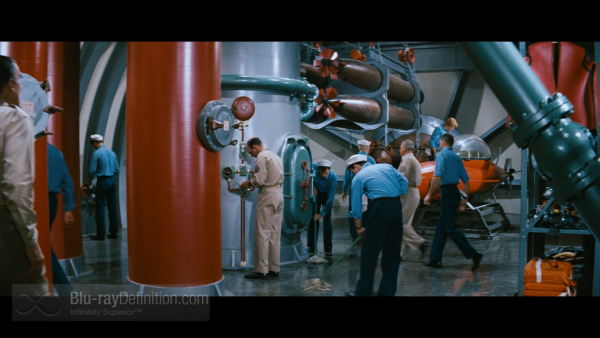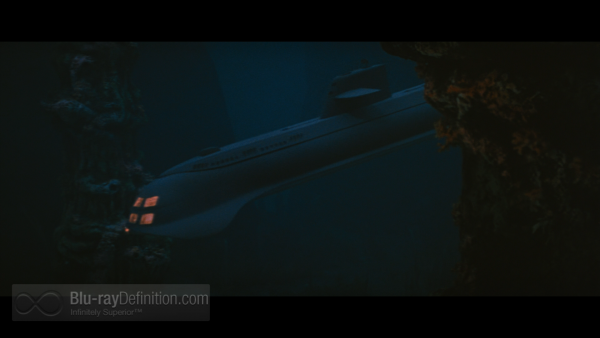 [amazon-product]B00E9ZAU02[/amazon-product]