– –

The Series
[Rating:5/5]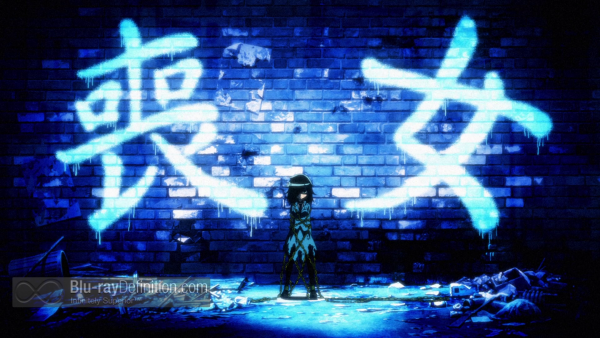 WataMote (ワタモテ), the abbreviated title for No Matter How I Look at It, It's You Guys' Fault I'm Not Popular! (私がモテないのはどう考えてもお前らが悪い!) is one of the greatest most depressing anime series to ever come along. Based on a manga series written and illustrated by Tanigawa Nico, the series is a grab bag of anxiety, neurosis, and social satire, that, oh yeah, also is a nonstop parody of almost every anime genre and popular anime production you can think of.
The main protagonist is first year high school student Kuroki Tomoko. Tomoko is a socially inept girl who is a shut-in, barely gets along with her parents or her younger brother Tomoki, and has only one friend from her days in middle school, Naruse Yū. Tomoko believed that her life would change once she entered high school, that her time spent playing otome games (dating sims) would help her win a boyfriend and gain popularity, but it doesn't work out that way. Instead, her inability to talk to people and her odd behavior continues to make her a loner. So she does nothing but spend her time alone, fantasizing, dreaming up elaborate ways to get a boyfriend and become popular (mostly based on how it works in games, manga, and anime) and hating all her classmates for having social lives. Making her even more miserable and disheartened is how her once dorky best friend Yu, attending a different high school, has blossomed into a kawaii first-year high school student, with lots of friends, and a boyfriend.
WataMote is absolutely simmering with anger, teen angst, and neuroses. From the jaw dropping graphics and angry heavy metal song that make up the opening sequence to Tomoko's inner thoughts where she rambles on about all the girls in her school being 'sluts' who wear short skirts and have boyfriends, this cuts to the bone. She even drops a comment about how she'd like to bomb a whole fireworks fair. This is some dark material, the kind that plays it very close to the line. And voicing it to near perfection is Kitta Izumi (do yourself a favor and give the English dub a pass on this one) who carries the series almost entirely by herself. She embodies all the raw emotions of Tomoko with ease, from anger to sadness to rage to despair.
Perhaps the touchiness of the subject, someone's social ineptitude and neuroses, may be a bit too controversial or depressing for some to take, but perhaps that is why they also chose to break up some of the dark comedy (if you could really call it 'comedy') in WatMote with so many references to or parodies of many other anime or manga. You could practically play name that allusion with this series, to take your mind off of some of the depressing moments. Everything from Whisper of the Heart to Akira to Ghost in the Shell to Neon Genesis Evangelion is referenced, sometimes frame for frame. The creators even wedge in other Japanese pop culture references (reality shows) and some Western influences (a parody of The X-Files theme song).
Video Quality
[Rating:3.5/5]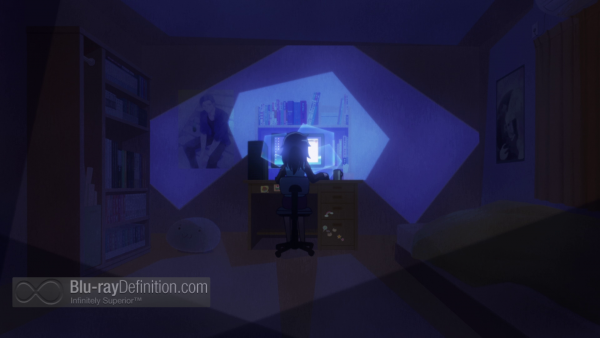 Capturing the unique and often groundbreaking animation of WataMote is an AVC 1080p encodement on Blu-ray from Sentai Filmworks. There are times when the digital animation here looks just a little faded and also displays a lot of color banding. Some of it may be artistic choice and some may not be, the end result is still something that looks a bit inconsistent and veiled, rather than really crisp and clear. Alternately, there are moments where WataMote does look really colorful. It's not the best of the reference releases, but it's not the worst looking anime release on Blu-ray either.
Audio Quality
[Rating:4/5]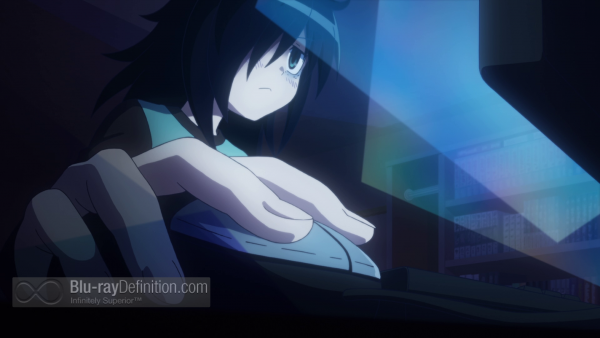 The original Japanese soundtrack and English dub come in DTS-HD Master Audio 2.0 stereo (48kHz/24-bit). In the case of this series, there is truly no doubt that the Japanese voice cast is vastly superior to the English cast, especially in the case of the actors voicing Tomoko. Kitta Izumi captures more of the neuroses and anger in the character than Monica Rial. Meanwhile, the rest of the English voice cast sound rather flat to my ears, almost like they are simply reading off the script. Otherwise, from an audio quality perspective, the mixes are good, given they are only in stereo.
Supplemental Materials
[Rating:2/5]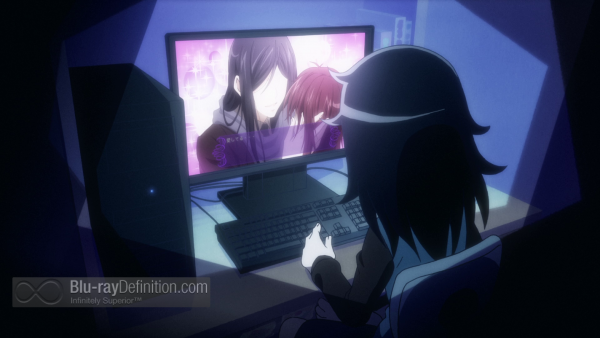 Disc 1:
Clean Opening Animation
Clean Closing Animation
Disc 2:
Clean Closing Animations
Sentai Filmworks Trailers
Disc Credits
The Definitive Word
Overall:
[Rating:4/5]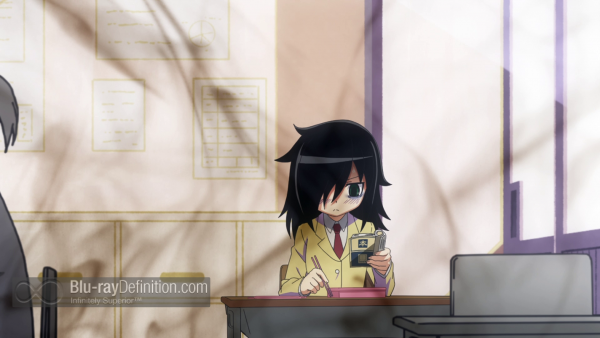 It's a touchy subject to dwell on a social pariah or, more succinctly, someone suffering depression, anxiety, and even suppressed rage. WataMote gets is right, however, with a wonderful balance of insight, great acting, and groundbreaking animation sequences.
Additional Screen Captures
[amazon-product]B00JXBLM72[/amazon-product]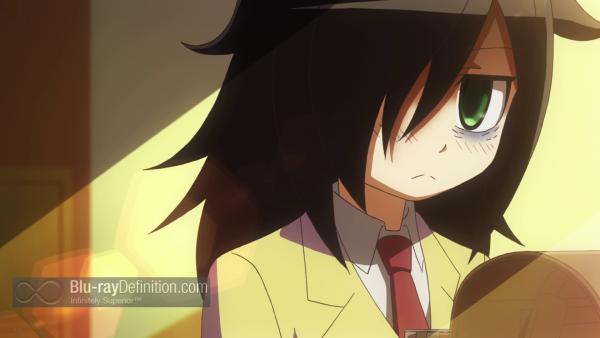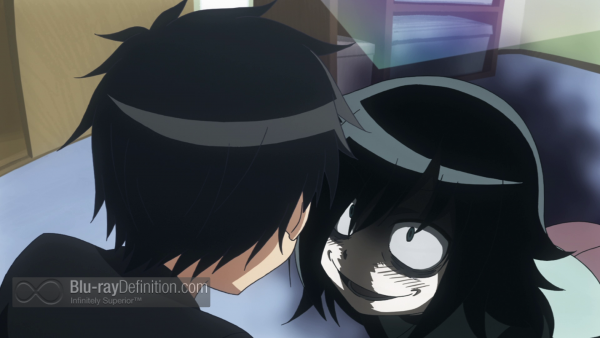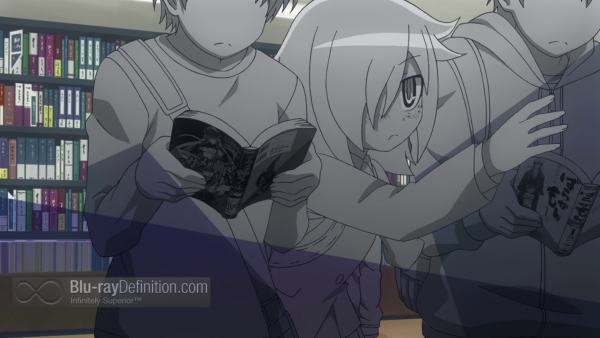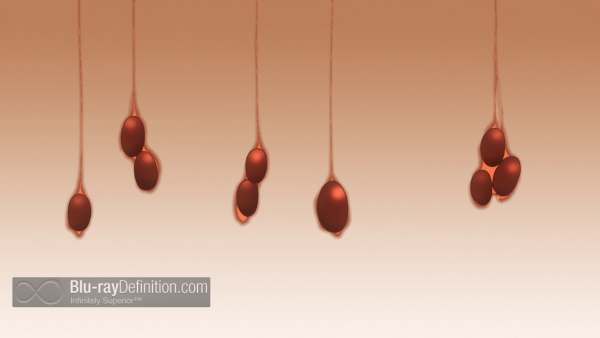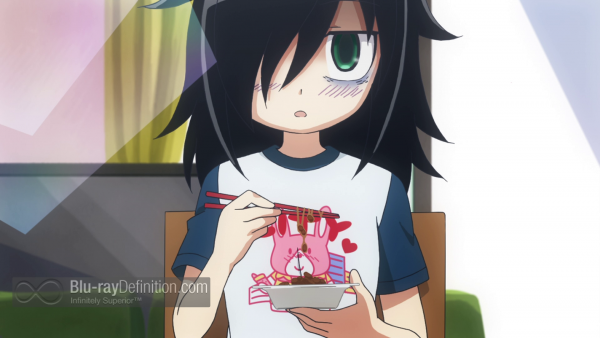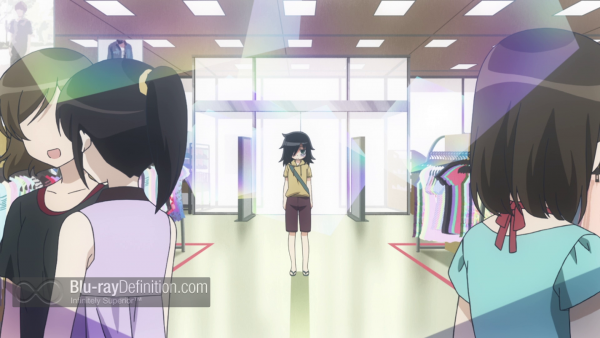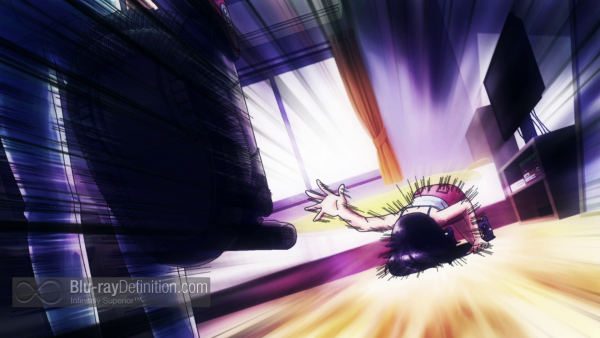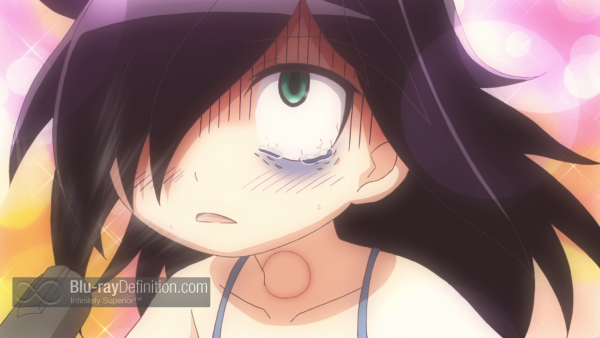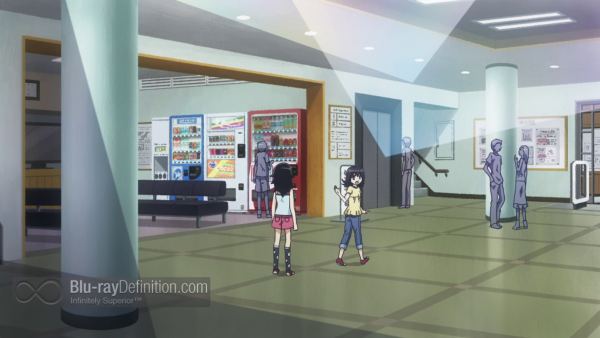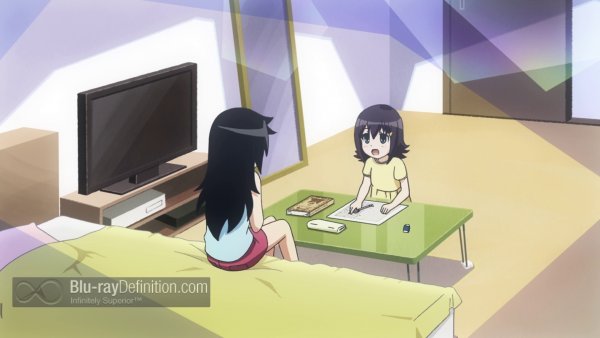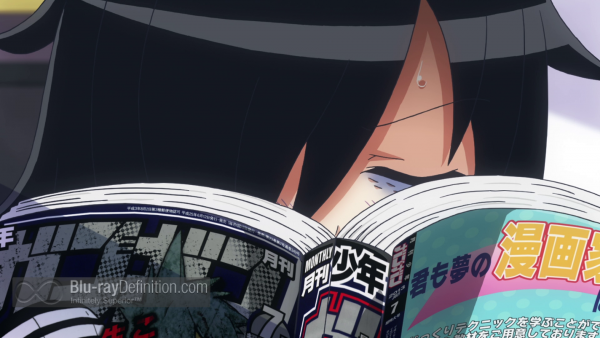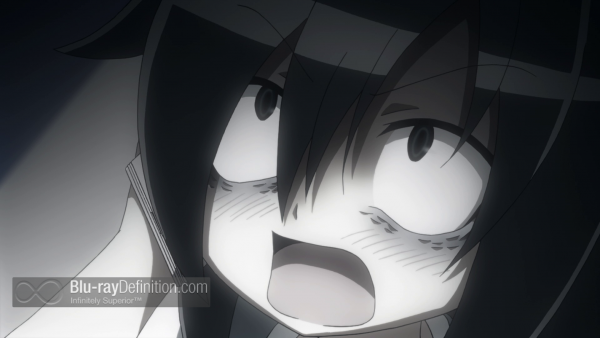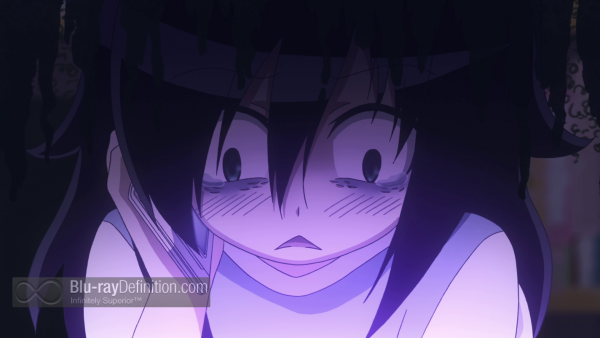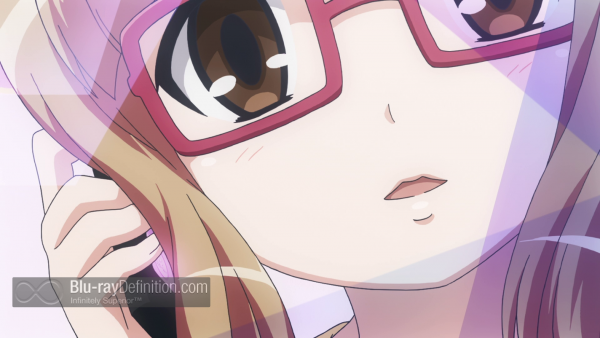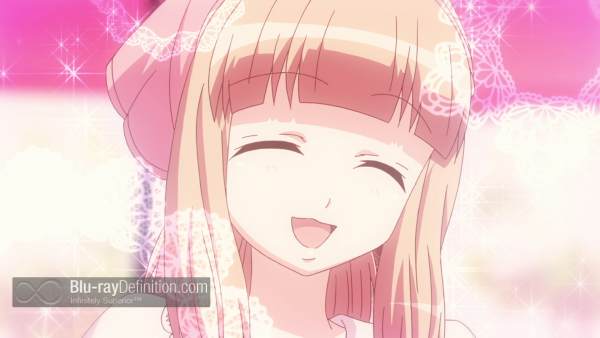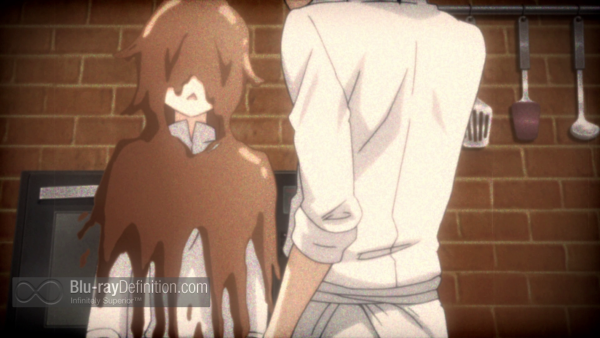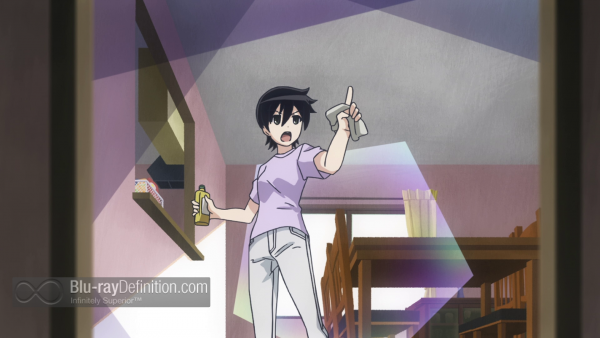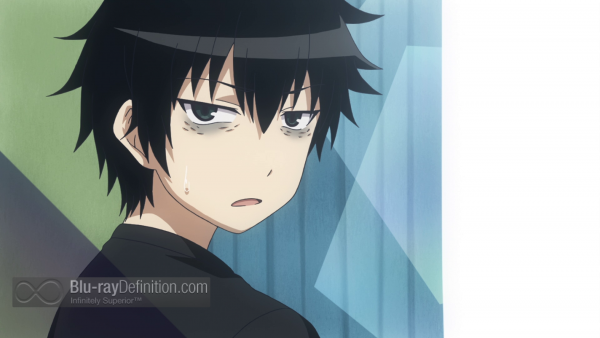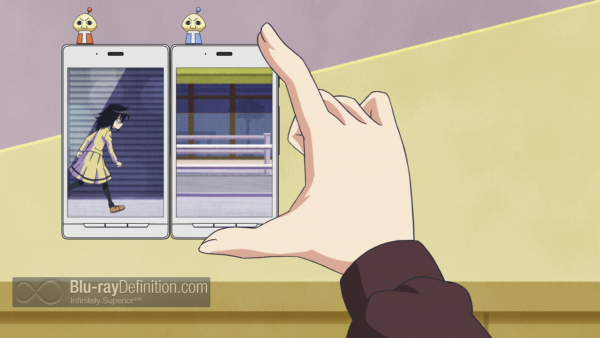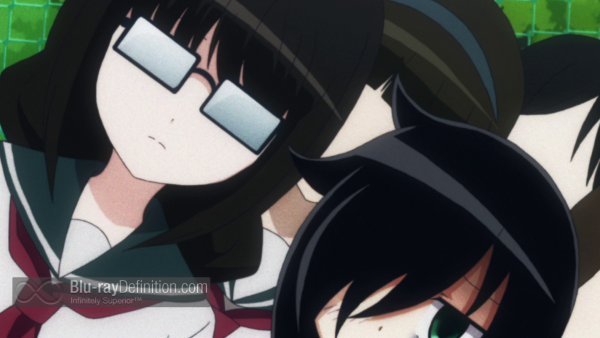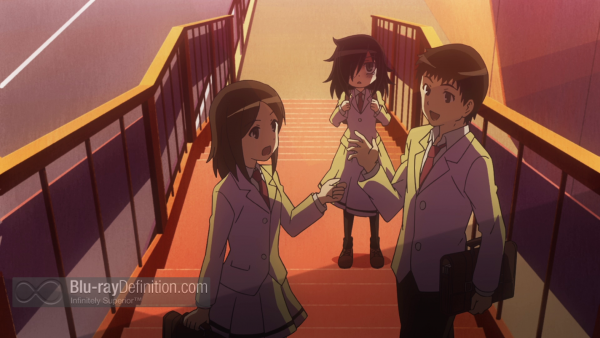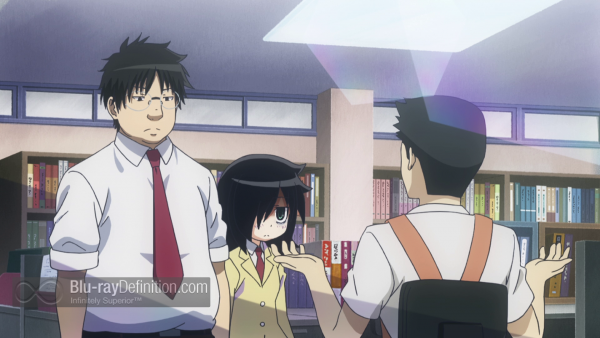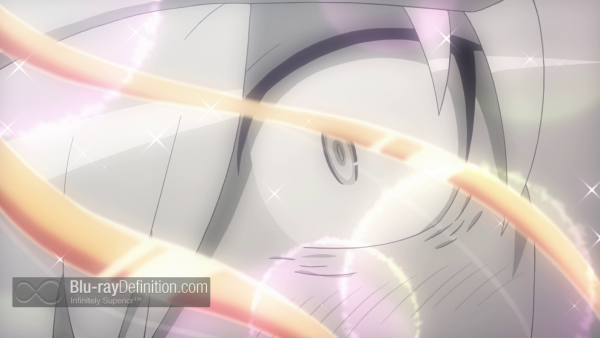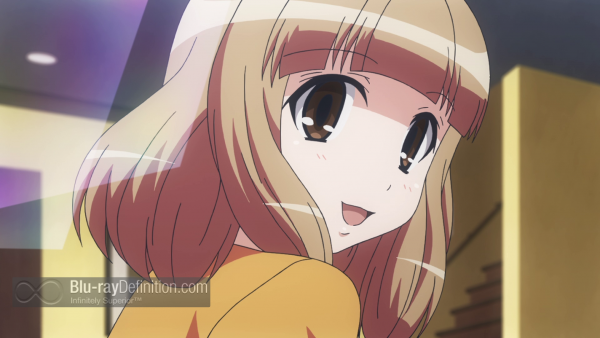 [amazon-product]B00JXBLM72[/amazon-product]