– –
The Film
[Rating:3/5]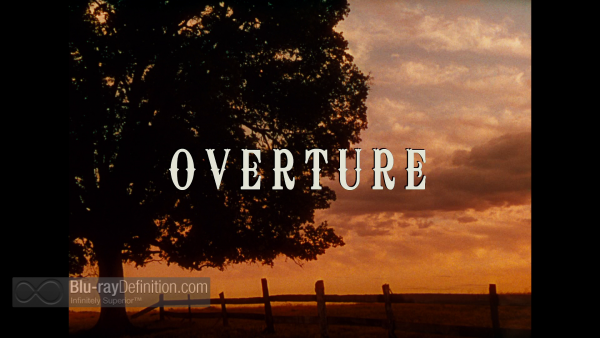 Gone with the Wind has always been a film that has irked me. From the very first time I viewed it as a teen back in the 1980's to the present, my impression of it has only slightly changed. Whereas when I was younger, I was willing to immediately write it off as utter nonsense and insulting drivel, in my older and wiser years I can see its merits as a groundbreaking technological achievement for its era, but still I say, frankly my dear, I don't understand the damn fuss over Gone with the Wind.
Based on the novel of the same name by Southern author Margaret Mitchell, Gone with the Wind looks back on the glory days of the Old South, before the Civil War, when everything, presumably, was right with the world. Therein lies the problem. This film has had a virtual army of its own apologists lined up to defend it from virtually day one of its release. Excuses abound about how it's not meant to be historically accurate. It can't be looked at through the eyes of what is socially acceptable today. Well, I say in the words of Scarlett O'Hara (Vivian Leigh), fiddly dee.  A sympathetic look at a world of happy slaves, fat black mammies, and the poor misery of conniving, two-timing slave owners who have their world of privilege taken away from them (and by privilege, I mean the right to go on slave driving) from the mean Yankees in the North, wasn't and isn't my idea of great entertainment, and probably never will be, I'm guessing. That's not even mentioning the implied rape scene between Rhett Butler (Clark Gable) and Scarlett O'Hara.
It seems rather odd to me that a film, which even in 1939, had to have whole swathes of its story removed for its film adaptation, such as all references to the Klu Klux Klan and the word "nigger," with the presumably "less offensive" term "darkie" standing in for it, would have so many people lined up to defend its content. I've often wondered if there would be so many defenders of the faith, so to speak, had Gone with the Wind been a sympathetic look at Nazi sympathizers and their happy Jewish "servants?" Should I even get started on the bad Southern accents, non-existent Southern accents, and badly hidden British accents?
Nevertheless, somewhere in this dragged out, unnecessarily long film with overtures, undertures, intermissions, interludes, etc., etc. is a story that people find compelling. The drawn out Civil War-era love story of Scarlett O'Hara, caught between her love for a married man and Rhett Butler, the scalawag who loves her despite all her faults. Dressing it all up is some amazingly realized cinematography by Ernest Haller and set designs by Howard Bristol. Combined with the unforgettable musical score by Max Steiner, those things are what really mark Gone with the Wind as an achievement. In terms of 1939, the technical work done in Gone with the Wind was really quite astounding. In my opinion, however, it still does not exceed that of MGM's The Wizard of Oz, released in the same year and very much lacking all of the controversial social baggage.
Video Quality
[Rating:4/5]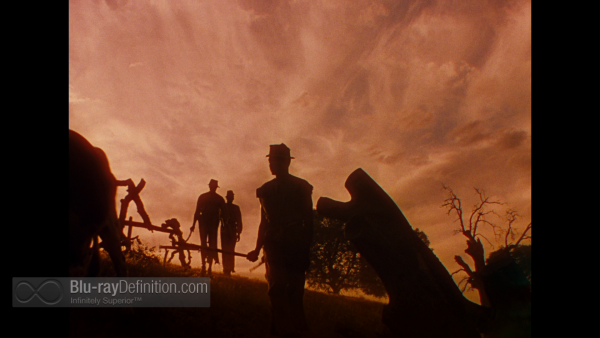 Warner has not undertaken a new remaster or restoration for this 75th anniversary release of Gone with the Wind, and it isn't necessary. What we get here is the same restoration originally released on Blu-ray in 2009 as part of the 70th Anniversary Ultimate Collector's Edition, scanned at 8K (8192 pixels of horizontal resolution) from the original three-strip Technicolor negatives before being converted to a 4K master from which the 1080p (1920 x 1080) Blu-ray was sourced.
The film is still encoded in VC-1 and appears in its original 1.37:1 aspect ratio. It looks just as good as it did back in 2009. It looks sharp, detailed, and meticulously cleaned up, yet still organic ad film-like with a fine layer of grain.
Some issues related to age are unavoidable, such as the softening of backgrounds in certain shots and the occasional instance of scratches and dirt that appear, but they are unusual. The resolution is so clear and detailed so as to expose some of the inherent flaws in the now seventy-five-year-old visual effects, such as seams in the painted backdrops or some obvious in-camera visual effects.
The color reproduction is solid, with rich, deeply saturated reds and ambers, natural flesh tones, verdant greens and deep, inky blacks that almost want to crush, yet maintain a strong amount of shadow delineation in darker scenes.
Audio Quality
[Rating:4/5]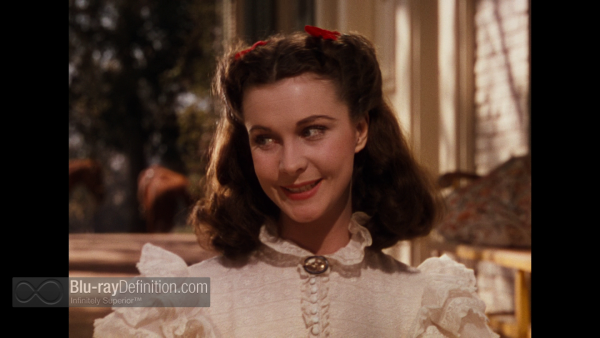 The audio tracks also remain identical in every way, including foreign dubs.
The English Dolby TrueHD 5.1 (48kHz/24-bit) soundtrack still holds up reasonably well for a remix of a monaural soundtrack. It opens up the soundstage with a boost of ambience in the surround channels, a decent spread of sound across the front channels, and a surprising amount of low frequency depth in the LFE, particularly when General Sherman's canons start raining down on Atlanta.
For those who'd like to hear something a bit more authentic, the original monaural soundtrack is also provided, in Dolby Digital 1.0.
Supplemental Materials
[Rating:4/5]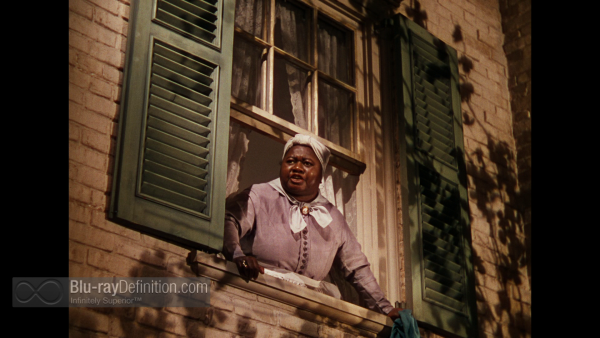 All of the DVD supplements from the 70th Anniversary Ultimate Collector's Edition have been retained, plus two new high definition featurettes have been added on a separate Blu-ray Disc. What this set loses, however, are these bonus items:
No longer included:
Commemorative 52-page photo and production art book.
Ten 5″x 7″ watercolor reproductions art prints.
Archival correspondences from producer David O. Selznick
Bonus CD Soundtrack Sampler.
Extras:
36-page book exploring the fashion of the film
Music box featuring the famous theme by composer Max Steiner and picture of "Rhett and Scarlett"
Rhett Butler Handkerchief — This is listed on the packaging, the set I received from Warner did not have this inside, so there may be some sets out there that have this item missing.
Digital HD UltraViolet
Blu-ray Disc 1:
Commentary by Rudy Behlmer
Special Features Blu-ray:
Old South/New South (1.78:1; 1080p/24; 00:26:50) – A half-hour documentary exploring the themes of Gone with the Wind's myth of the Old South before the Civil War and the New Southern culture's struggle to come to grips with its past.
Gone with the Wind: Hollywood Comes to Atlanta (1.78:1; 1080p/24; 00:12:38) – A look at the celebrations surrounding the premiere of Gone with the Wind in Atlanta in 1939.
Special Features DVD:
Behind the Story:
The Making of a Legend: Gone with the Wind (1.33:1; 480i/60; 2:03.26) — This extensive "making of" featurette will tell you just about all there is to know about the story behind bringing Gone with the Wind to the big screen.
Warner Bros. Home Entertainment Presents 1939: Hollywood's Greatest Year (1.33:1; 480i/60; 1:08.20) — The 1940 Academy Awards considered year of Hollywood's greatest achievements. Critics and historians discuss the number of classic Hollywood films that came out of 1939 including The Wizard of Oz, Gone with the Wind, Mr. Smith Goes to Hollywood, Gunga Din, and more.
Gone with the Wind: The Legend Lives On (1.33:1; 480i/60; 0:32.44) — The film's place in cinematic history.
Gable: The King Remembered (1.33:1; 480i/60; 1:05.03) — Friends and colleagues remember the life and career of the actor Clark Gable.
Vivien Leigh: Scarlett and Beyond (1.33:1; 480i/60; 0:46.05) — The life and career of Vivien Leigh is remembered.
Melanie Remembers: Reflections by Olivia de Havilland (1.33:1; 480i/60; 0:38.43) — Olivia de Havilland reflects on her role as Melanie in Gone with the Wind and reminisces on the production of the film.
The Supporting Players —

At Tara:

The O'Hara Plantation in Georgia
Thomas Mitchell as Gerald O'Hara
Barbara O'Neill as Ellen, His Wife
Their Daughters
Evelyn Keyes as Suellen
Ann Rutherford as Carreen
The House Servants
Hattie McDaniel as Mammy
Oscar Polk as Pork
Butterfly McQueen as Prissy

In Twelve Oaks:

Leslie Howard as Ashley Wilkes
Rand Brooks as Charles Hamilton, Melanie's brother
Carroll Nye as Frank Kennedy, a guest

In Atlanta:

Laura Hope Crews as Aunt Pittypat Hamilton
Eddie Anderson as Uncle Peter, her coachman
Harry Davenport as Dr. Meade
Jane Darwell as Mrs. Merriwether
Ona Munson as Belle Watling
Cammie King as Bonnie Blue Butler

Exit

Restoring a Legend (1.33:1; 480i/60; 0:17.43) — This featurette documents the 2004 restoration of Gone with the Wind for release to DVD.
Dixie Hails Gone with the Wind (1.33:1; 480i/60; 0:04.01) — Newsreel coverage of the 1939 Gone with the Wind premiere in Atlanta.
Historical Theatrical Short The Old South (1.33:1; 480i/60; 0:11.19)
Atlanta Civil War Centennial (1.33:1; 480i/60; 0:03.40) — The 1961 re-release of Gone with the Wind in Atlanta in celebration of the Civil War Centennial.

Trailers

:

1939 Announcement Trailer (1.33:1; 480i/60; 0:01.50)
1961 Civil War Centennial Trailer (1.33:1; 480i/60; 0:02.46)
1967 70mm Reissue Trailer (1.33:1; 480i/60; 0:03.54)
1968 Reissue Trailer (1.33:1; 480i/60; 0:02.34)
1989 50th Anniversary Trailer (1.33:1; 480i/60; 0:03.08)

Extras:

Moviola: The Scarlett O'Hara War (1.33:1; 480i/60; 1:37.23) — A telefilm on the story of the making and casting of Gone with the Wind.

Additional Footage:

International Prologue (1.33:1; 480i/60; 0:01.17)
Foreign Language Versions (1.33:1; 480i/60. 0:02.37) — Three famous scenes dubbed into foreign languages.
2-Sided DVD: MGM: When the Lion Roars — 6-hour documentary on the history of MGM.
The Definitive Word
Overall:
[Rating:4/5]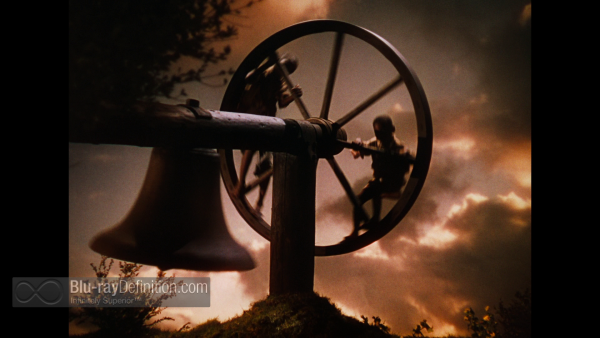 Although some of the bonus swag has been deleted from this edition, this set is still a great bargain and the film's 2009 8K restoration holds up incredibly well. Anyone who didn't purchase Gone with the Wind's 70th Anniversary Collector's Edition on Blu-ray should not feel cheated at all with this fantastic set.
Additional Screen Captures
[amazon-product]B00KVS6YZQ[/amazon-product]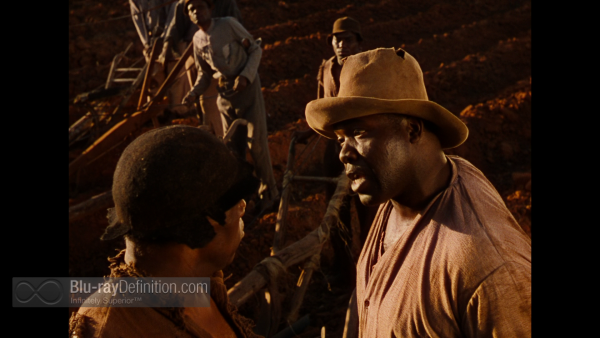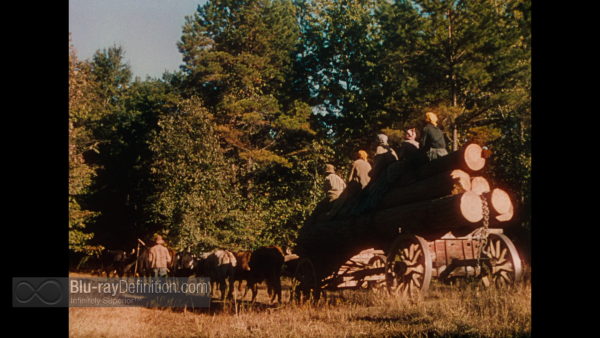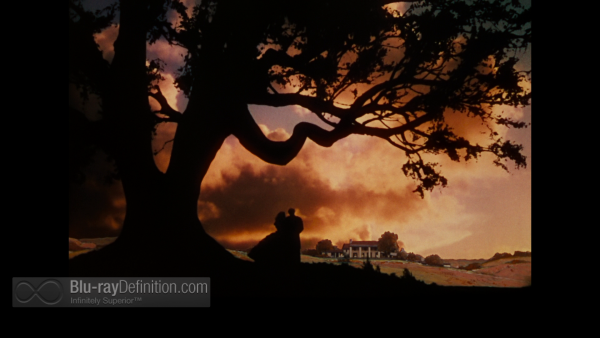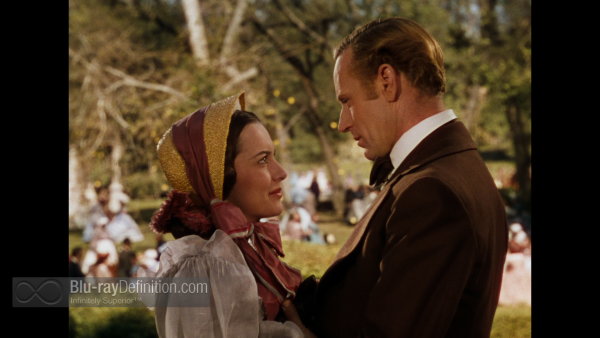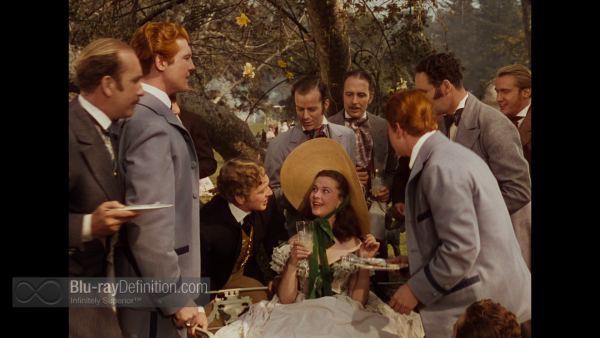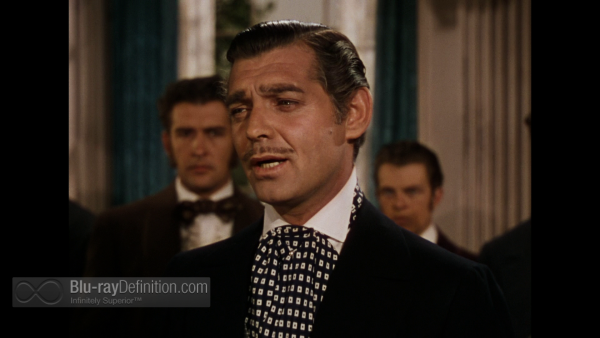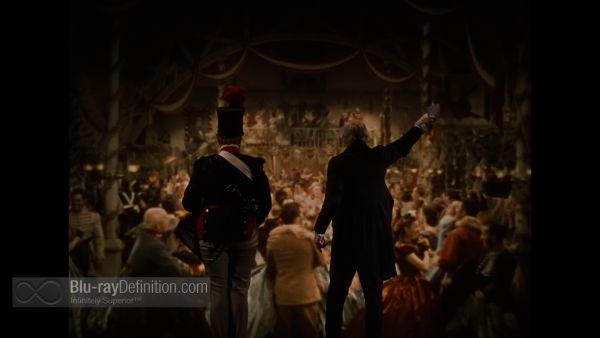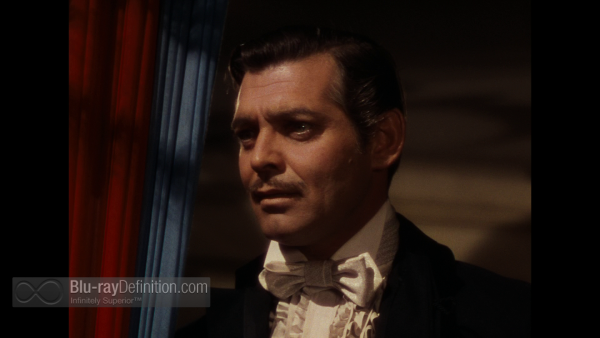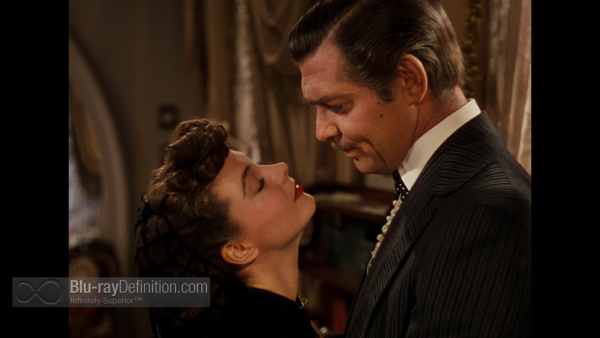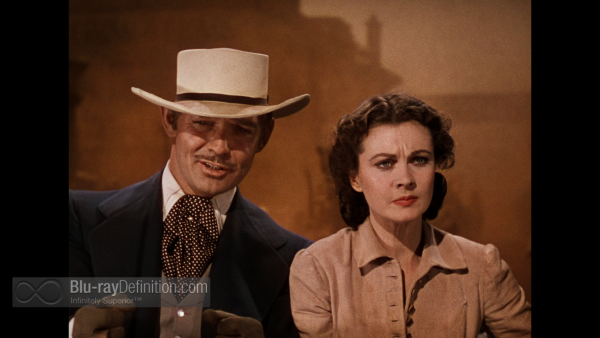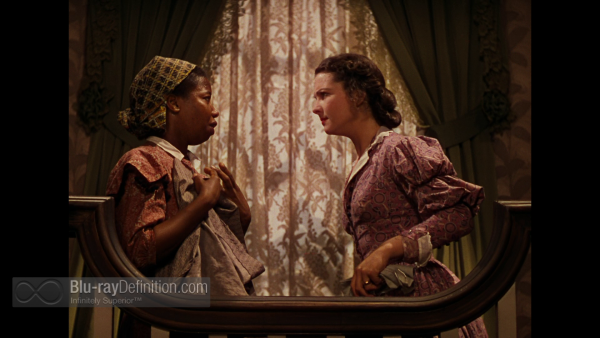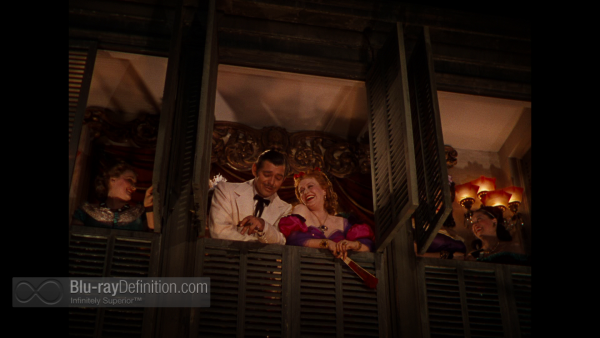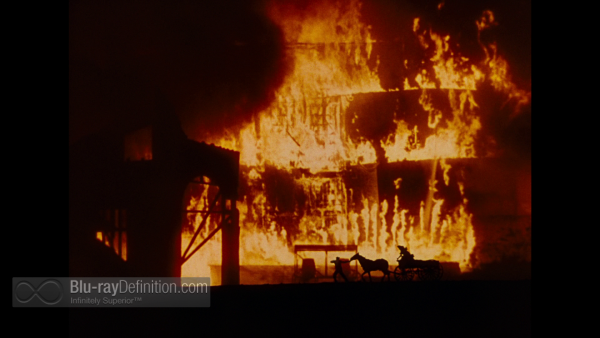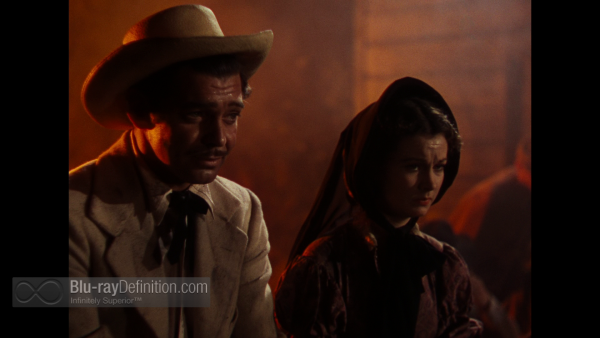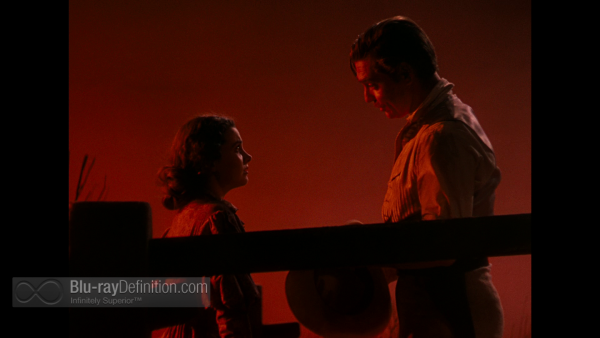 [amazon-product]B00KVS6YZQ[/amazon-product]