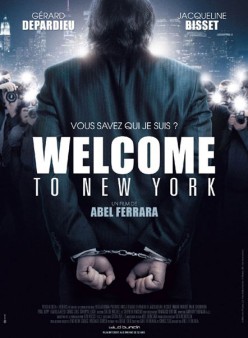 – –
Welcome to New York, is not, I repeat, is not the story of the Dominique Strauss-Kahn scandal, where the former director of the International Monetary Fund was accused of rape by a New York maid. It's a fictional story about a very powerful French businessman who allegedly rapes a maid in a New York City hotel room, is arrested, but is spared jail after his wife pays the maid off.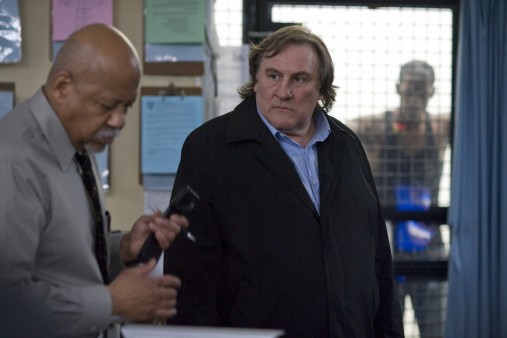 We're told at the beginning of the film that Welcome To New York was inspired by a court case, however, the public stages of which have been filmed, broadcast, reported and commented on throughout the media worldwide. Nonetheless, as the film mentions, the characters and all sequences depicting their private lives remain entirely fictional.
Gerard Depardieu, in a role like you've never seen him play before, naked and in the throws of constant sex, plays Mr. Devereaux. Old, fat, and ugly, yet he's able to have more than his fair share of women, some paid for and some not. He's a powerful executive, and even employs women to satisfy his (and his business associates) every need and whim.
Mr. Devereaux flies to New York to spend some time with his daughter Sophie (Marie Moute) and her new boyfriend. He checks into a mid-town hotel, and being the confident and cocky man that he is, he invites a very attractive hotel employee into his room. She politely declines. Waiting for him in his room are male work colleagues, plus three very beautiful scantily-clad female prostitutes. So what takes place that evening is a night of sexual debauchery, Devereaux and the men having their way with the women. And Depardieu fully commands the role in these scenes, uninhibited, and enjoying what looks like real sexual encounters.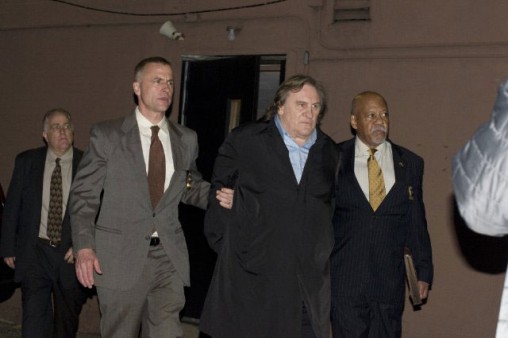 The next day, alone his his hotel room, Devereaux is in the shower when a maid (played by Pamela Afesi) comes into the room to clean up. He proceeds to force himself on her, while she's screaming to let her go. She manages to break away from him and run out of the room. And this selfish sexual act sets in motion the downfall of Devereaux. He's able to get to the airport and board his plane. But what he doesn't realize is that in seconds he's going to be taken off the plane and arrested, where he's humiliated at the police station as he's asked by two New York City policemen to strip naked and bend over, put in a cell with threatening prisoners, and made to do the 'perp walk,' – where the police walk prisoners past the media to their cells.
Meanwhile, Mr. Devereaux's wife, the rich and beautiful Simone (played by a very good Jacqueline Bissett), is in her Paris flat, entertaining guests at a dinner party, when she gets a phone call that her husband has been arrested in New York. She immediately flies to New York to be with him. In the meanwhile, Mr. Devereaux's photo and story is splashed across newspapers and television worldwide.
The rest of Welcome to New York takes place in the luxurious Soho rental house that Simone has rented for her and her husband while they endure the aftermath of the alleged rape accusation, and the tension in their marriage. And just like in the Dominique Strauss-Kahn scandal, Devereaux's been granted bail and ordered under house arrest, all costs to be paid by him (or in his case his wife). The scenes between Depardieu and Bisset in the house are electric. She is clearly angry at him for what he's done. She is fully aware of the reputation he has, she is sure that he tried to rape the maid, but she is even more furious at him in that he's ruined her reputation, she says that everything she's worked and struggled for he's ruined in the blink of an eye. Mr. Devereaux takes his wife's verbal ranting with puppy dog eyes, like he's a kid caught with his hand in the cookie jar. He doesn't feign innocence, only a lackadaisical attitude to what's he's done. He thinks he's not done anything wrong, that his behavior was normal for him. Even his daughter is disgusted by him, visiting him in his home jail, but she still stands by him. Charges against Mr. Devereaux are eventually dropped after Mrs. Devereaux pays off his victim.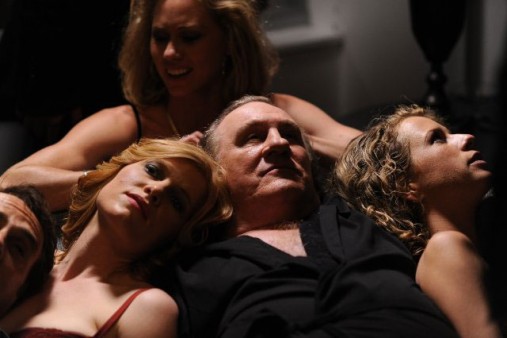 The Dominique Strauss-Kahn scandal didn't end quite this way, the prosecutors dropped all charges against Strauss-Kahn saying that they were not convinced of his culpability beyond a reasonable doubt due to serious issues in the complainant's credibility and inconclusive physical evidence. However, Strauss-Kahn later reached a financial settlement with the maid for an undisclosed sum over the civil suit that she filed against him.
So Welcome to New York is not supposed to be story of the Dominique Strauss-Kahn scandal, but either way it's an intense and gripping movie with excellent performances. Depardieu has never been better, literally exposing himself, warts and all, and Bisset ups him in the acting department as the spurned angry wife. She is angry, explosive, a bit hurt — and it shows. It's a welcome return to the big screen for Bisset. Director Abel Ferrara (Bad Lieutenant) writes and directs a film that, while he claims is fiction, is more about the actor (Depardieu) and less about the character. He says that he made this as a movie and not as a documentary on a news story. Welcome to New York has NOT been picked up for theatrical distribution in France, and Dominique Strauss-Kahn has said that he plans to sue the makers of this film. Nonetheless, try to see it this film as it's playing on Video on Demand. It's a gripping film with excellent performances.
Movie Rating:
[Rating:4.5/5]