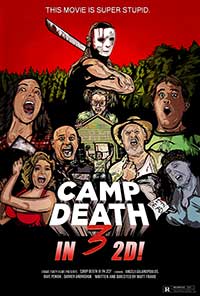 Canadian moviemaker Matt Frame is undeniably a free spirit. For example, to help raise the money needed to produce his fourth film, Camp Death III in 2D!, releasing next month, he walked a 24-hour marathon… with a coconut chained around his waist. The stunt was a success, the movie is now complete, and TheaterByte was recently given early access to the results.
For better or worse, Camp Death III is unlike any movie I've ever seen, an outrageous comedy that primarily satirizes Friday the 13th and its sequels. Years after some bloody misfortune, the woodsy retreat Camp Crystal Meph reopens as a rehab for criminally insane adults, and before you can say "What can possibly go wrong?" the grisly murders resume. Any attempt to summarize the plot or categorize the style of humor would be a fool's errand. By Frame's own admission, the movie is intended simply as goofy fun, although it does occasionally deviate from its horror parody and utter absurdity to give us some glimpses of real cleverness.
Matt was kind enough to make time for us and answer a few questions amid a hectic promotion schedule for CD32D.
So as someone who was born and raised in New Jersey, I have to ask: Why set the movie here? Part of the homage to Friday the 13th?
Yep, that's entirely it. It would have been sacrilege to do a parody of the Friday the 13th series and not base it in New Jersey.
Where did you shoot?
We shot about 40% of the film at Camp Miriam on Gabriola Island. It's a small Island that requires two ferry trips to get to it. The rest was shot back here in Vancouver, Canada at a variety of forest locations that we didn't have permits for. About 60% of the film was shot guerrilla-style, without permission from the landowners.
And, since we're TheaterByte: How was it shot?
We shot on a prosumer 4K camera, the Sony AX-100, which shoots UHD 3840×2160.
Genre influences aside, can you talk about which movies or which filmmakers inspired you?
I am a real child of the '80s so the films that mean the most to me are of that era. Mainstream examples being Raiders of the Lost Ark, First Blood, Terminator, etc. At the same time, I developed a huge interest in films I was entirely too young to be watching, the Friday the 13ths, Halloweens, Humanoids from the Deep….
I'm guessing Star Wars is in there somewhere: Did I imagine it or was the cop wearing a Darth Vader helmet?
Indeed! Found that sucker at a thrift store. It was missing the face plate so I think I snagged it for about three bucks.
Care to talk about your performance as Scrotar the Squirrel #2?
My performance as Scrotar the Squirrel is pretty dire. Damn difficult to make a squirrel puppet snorting cocaine appear realistic, you know? In fact, I was never supposed to be the Scrotar stand-in but the guy I had brought in to work the puppet was even worse than I was. I ended up saying, "Cut! That was really awful. Tell you what, you work the camera, I'll work the squirrel."
Seems like you gave your actors a lot of freedom to discover the humor in each scene, I'll bet they had a lot of fun.
I was far too stressed to have noticed but from what I understand, the vast majority of the actors loved the experience.
We live in an age of some novel fundraising solutions, but even by those standards, the way you raised the money for CD32D was pretty unconventional! Would you agree?
"Unconventional" is just a polite way of saying "moronic," but I couldn't agree with you more.
You recently sat through your movie 34 consecutive times: What was that like? Did you start to see things you didn't notice before?
Relatively speaking, it was a breeze. I have a history of doing moronic endurance stunts, (like) swimming handcuffed for 15-plus hours. So, me sitting on my duff watching my own flick for 52 hours was not that bad. As for seeing the film in a different light after repeated viewings? Not especially. It's not a flick that harbors deeper meaning. It's shallow and proud of it.
So what's next for you?
Working the film for at least the next six months. We have the digital release February 15th on Amazon Prime and extended cuts to be unleashed before the summer. I'll also continue to hustle this thing to as many people as I can. I have no idea if the film will gain enough of a following to justify doing the sequel–Camp Death III, Part 2 in 3D!–but I am determined to give it a heck of a try.
#   #   #