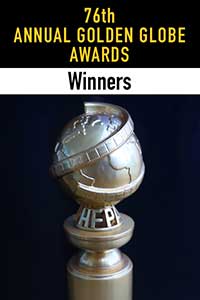 Sunday, January 6, 2019.NBC broadcast the 76thannual Golden Globe Award ceremony, co-hosted by Sandra Oh (Killing Eve) and Andy Samberg (Brooklyn Nine-Nine) who had previously paired for the 2018 Emmy Awards. Unlike the Academy Awards to which this  ceremony is often compared, there are some important differences in how the various entries are categorized and judged prior to the decisions rendered by the 93 members of the Hollywood Foreign Press Association. Like the Oscars, the films and televised shows must have aired in the calendar year preceding the actual ceremony but need not have been screened or televised in the United States. Foreign-language films must have at least 51% of their dialogue in a language other than English. Film categories are assigned to their original release format, either television or movie theaters.
While many film and television fans have regarded the Golden Globe film awards as the harbinger for the Oscar winners, there have been numerous surprises and the 2019 show proved to be no exception. The Golden Globe Awards have their share of theatricality but fall far short of the usual Oscar extravaganzas, so their running time is noticeably shorter and the hosts' attempts at humor were often low-key.  The best podium moments came from Jeff Bridges during his acceptance of the Cecil B. DeMille globe and Carol Burnett who received her eponymous award given for "Achievement in Television" that debuted this year.
The following film and television winners reflects my "I told you so" and "I was gobsmacked" lists of awardees. It will not take much guesswork to determine in which of my two categories each of the winners has landed.
Motion Pictures
Best motion picture, drama: Bohemian Rhapsody. While I felt that Rami Malek did an amazing job on recreating rock legend Freddy Mercury, this was an entertaining film that never quite scaled the heights of greatness. It was certainly not better in its overall scope than fellow nominees, the remake of an iconic music business story, A Star is Born or the trail-blazing epic, Black Panther.
Best actress in a motion picture, drama: Glenn Close, The Wife. In terms of pure acting, Ms. Close was clearly my pick of the GG nominees' litter. No offense to Lady Gaga, but Close's performance was on an entirely different plane of existence and could serve as a masterclass for silver screen wannabees.
Best actor in a motion picture, drama: Rami Malek, Bohemian Rhapsody. Enough said already.
Best motion picture, musical or comedy: Green Book.  Strictly speaking this film is neither comedy nor musical but it does deliver the extraordinary chemistry that developed between an "odd couple": the crass Viggo Mortensen and the cultured Mahershala Ali.  There is also an unerring depiction of the pre-Civil Rights Act South with all of its societal blemishes.
Best actor in a motion picture, musical or comedy: Christian Bale, Vice. No argument here as Bale undergoes yet another physical transformation and turns in yet another extraordinary impersonation of the scariest VP in recent memory.
Best actress in a motion picture, musical or comedy: Olivia Coleman, The Favorite. The major competition came from Emily Blunt's Mary Poppins and Constance Wu's Rachel Chu. The former was handed a rather overdone stock character while the latter frequently got lost in the shuffle of a more experienced supporting cast.
Best motion picture, foreign language: Roma. This was the pre-awards show runaway favorite that has already received a lot of Oscar buzz and might be Alfonso Cuaron's finest cinematic effort.
Best motion picture, original score: Justin Hurwitz, First Man. The field was not particularly deep nor was it laden with memorable music.  This space opera received little attention from the GG judges but at least got its John Williams-style musical due.
Best motion picture, original song: "Shallow," A Star Is Born. Small fare for a picture that was supposed to do far better in the numerous other categories for which it was nominated.
Best performance by an actress in a supporting role: Regina King, If Beale Street Could Talk.  An underscreened film that came out very late in 2018. Based on James Baldwin's novel, Beale Street was an excellent portrayal of what it meant to be black in 1970s Harlem. Regina King, one of the most highly regarded actresses on the small screen, delivered a riveting performance as the mother of a young woman whose fiance (and father of her unborn child) goes to jail for a crime that he did not commit.
Best performance by an actor in a supporting role: Mahershala Ali, Green Book. If there was ever a self-recommending portrayal of a real person with real idiosyncrasies and some off-the-books predilections, this is it.
Best screenplay, motion picture: Peter Farrelly, Nick Vallelonga, Brian Currie, Green Book. It takes a lot of moxie to turn a very personal story written by the lead character's son into a compelling film.  Farrelly departs from his usual screwball comedy scripts and with his co-writers provides a successful feel-good big screen biopic.
Television
Best television series, drama: The Americans. I was sort of pulling for Killing Eve, particularly since Sandra Oh would not have to have travel too far to get her golden statue but this perennially-winning series has become one of the real smash hits on television.
Best actor in a television series, drama: Richard Madden, Bodyguard. This little Netflix/BBC show was a nice surprise with very au courant political themes, and Madden, Scots brogue and all, surely carried the day.
Best actress in a television series, drama: Sandra Oh, Killing Eve.  Oh bested some of the best talent on the small screen but once you see her performance in this well-received series, you can understand why it has become so popular.
Best television series, musical or comedy: The Kominsky Method. I struggled through this senior citizen show, laden with AARP and Medicare-reference jokes. Being a senior myself, I thought that, in spite of the presence of Michael Douglas and Alan Arkin, this series attained the very heights of vapidity.
Best actress in a TV series, musical or comedy: Rachel Brosnahan, The Marvelous Mrs. Maisel.Brava, brava to an amazing young talent who, in spite of being a Gentile, has absolutely mastered the Jewish comic vibe of the 1960s.
Best actor in a TV series, musical or comedy: Michael Douglas, The Kominsky Method. Running against a field of quirky (Sasha Baron Cohen, Bill Hader, Jim Carrey) and sui generis (Donald Glover) contenders, perhaps this is one that was won by default.
Best limited series or motion picture made for television: The Assassination of Gianni Versace: American Crime Story. Alright, already, we get it. Judges like 20th century crime stories, preferably not English ones, but overlooked Sharp Objects, a psychodrama that put most of the other entries to shame.
Best actress in a limited series or motion picture made for TV: Patricia Arquette, Escape at Dannemora. My vote would have surely gone to the amazing Amy Adams for her leading role in Sharp Objects.  However, Adams's other nomination for her supporting role in Vice might have worked against her.
Best actor in a limited series or motion picture made for TV: Darren Criss, The Assassination of Gianni Versace: American Crime Story.  Blessed with the best storyline of the bunch of contenders, Criss should kiss the feet of his writer Tom Rob Smith if he has not already done so.
Best supporting actor in a series, limited series or motion picture made for television: Ben Whishaw, A Very English Scandal. This three-episode show brought an amazingly talented actor to our collective attention who, as a gay man in real life, gets totally inside his character as a gay man in 1970s London when homosexuality was illegal.
Best supporting actress in a series, limited series or motion picture made for television: Patricia Clarkson, Sharp Objects. Ms. Clarkson is one of the very best performers on stage, screen, and television.  This role exploits her ability to portray absolute evil absolutely and to render a villain that is mesmerizing and yet one that must be stopped.
Overall Assessment: The redeeming grace of yet another awards ceremony is that it calls attention to some entertainment categories that will go unrecognized during the Oscar broadcast on February 24, 2019. The Golden Globes is the first shot fired across Hollywood's bow and, at the very least, may make viewers seek out films, shows, and performers that they had previously overlooked. For those that missed the live show, numerous opportunities remain on the streaming networks that feature the Golden Globes' "highlights" and "lowlights."