Logitech Squeezebox Touch Wi-Fi music player/server
The popularity of digital downloads, music servers, and internet radio is changing how music is entering our lives. Logitech, a forward-looking company, has hit the beaches running with a growing line of products that stream music to home audio systems. Owners of previous Squeezebox products will know that you don't buy them for their looks. I own two previous Squeezeboxes, a Classic and a Duet. These small black boxes have plain-Jane cosmetics with either a monochromatic alphanumeric screen (the Classic) or no screen at all (the Duet).  A more attractive Squeezebox, the top-of-the-line Transporter, can be had for significantly more money.  All Logitech players enable access to music files stored on a Mac/PC, thousands of internet radio stations, Facebook, podcasts, and subscription music services such as Rhapsody, Napster, Slacker, Pandora, and Sirius radio.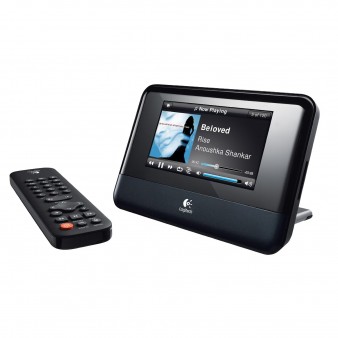 Putting a new touch on the squeezebox
Touch screens are all the rage — ATMs, ticket kiosks, microwave ovens, cell phones, and auto dashboards, to mention a few. So it is no surprise that Logitech has entered the touch screen world.  But can something as small as the Squeezebox Touch, (4" x 6" x 3.5") provide sound worthy of your beloved audio system?  The listening sessions will come later, but first I want to cover how the Squeezebox Touch works and differs from its predecessors.  Out of the box, the Touch comes with everything needed for start up: a small remote control, a wall-wart power adapter, an RCA stereo cable for analog inputs, and a cloth to clean its pretty face.  You just provide a sound system, a PC or Mac, and internet access via a DSL or cable modem. Ethernet and wireless connections are available; the former will be preferable if your modem is nearby. The 4.3" color touch screen (24-bit, 420 x 272 resolution) looks nice and is very responsive. If the Squeezebox Touch is going to be out of reach on an equipment rack, the small but efficient remote unit switches the screen to a larger font mode.  iPad and iPhone users have the option of using some very good remote control apps like Squeezepad and iPeng, which duplicate much of the touch screen material.
The rear of the Touch has RCA analog outputs, Toslink and coaxial digital outputs, an Ethernet input, and an inlet for the power supply. Besides the touch screen, other features that distinguish the Touch from its predecessors are an SD card slot on the side and a USB port on the rear. These inputs allow the porting in of photos or high-resolution audio files. The USB port can accept either a memory stick or an outboard storage drive or NAS (as long as it has its own power supply).  Finally, there is a headphone jack, although I doubt that most users will care about this feature.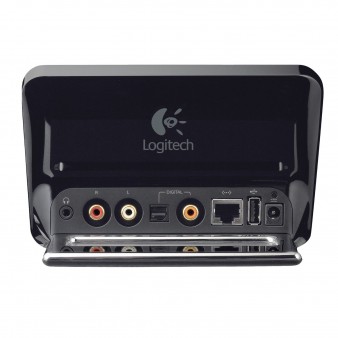 Getting off the ground and into the airways
Basic set up is a piece of cake, once all of the connections are made.  The touch screen gives a sequence of set up commands and a user tutorial.  Once an internet connection is recognized, you   are ready to go. The Home Screen can be customized to list only functions that you want to use like My Music, Apps, and Favorites. While the touch screen is well illuminated it may be difficult to read at listening distances exceeding 8 to 10 feet or from an off-axis seat.
Computer stored music files can be accessed from a music library like iTunes as long as the computer is on your home network.  The Squeezebox Server software, which needs to be running to play these files, can be downloaded from the Logitech website.   The Touch will play a good range of file types including FLAC, MP3, WMA, WMA Lossless, AAC, Apple Lossless, WAV, and AIFF. User accounts are needed for other internet music sources like radio stations or subscription music sources. If you already have accounts for services like Rhapsody, Sirius, and Pandora, the user name and passwords must match those used for the Squeezebox accounts. Setting up these accounts for the Touch is accomplished by visiting Logitech's website, www.mysqueezebox.com.
Unlike its predecessors, the Touch will play audio files up to 96 kHz/24-bit in their native resolution.  This is a potential god-send for audiophiles who want freedom from their computers as these files can now be played directly from SD cards or USB devices.  If this were not enough, you can access your social network  (Facebook) and photo archive  (Flickr) accounts.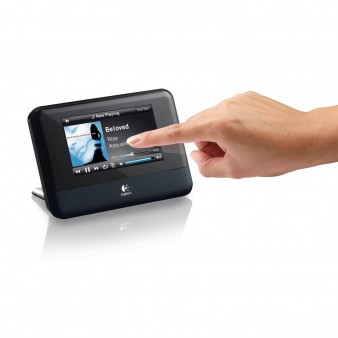 Serious Listening in Squeezebox City
In the spirit of full disclosure, I confess that my older Squeezeboxes were used more for convenience than for a full-blooded audiophile experience. This was due to the obvious sonic limitations of the 128 kbps format typical of the better internet radio stations, and services like Rhapsody and Sirius. I also abandoned the Squeezebox's analog outputs in favor of the coaxial (SPDIF) output. Connecting a Squeezebox to my PS Audio PerfectWave DAC enabled my listening in native rate (usually 44.1 kHz) or upconverted to 176.4 or 192 kHz.  This approach boosted the perceived sound quality to a level probably as good as might be expected from compressed music sources.
After substituting the Touch for its Squeezebox predecessors, and going through the system set up as described above, I listened to my favorite radio station, WFMT-Chicago (128 kbps), and higher rate stations like Radio Bartok-Hungary (320 kbps).  In comparison to the older Squeezeboxes, the Touch added some air to these sources and was audibly better when upconverted  to 176.4 or 192 kHz. Going to Rhapsody which houses thousands of my mp3 downloads, the story got even better. I compared Rhapsody files to their CD counterparts. While side-by-side comparisons still weighed in favor of the original CDs, the differences were not so striking as to preclude my listening to the Touch as a pleasurable music source.  I was favorably impressed by the long term stability of the Touch-to-network connection, also an improvement over its predecessors.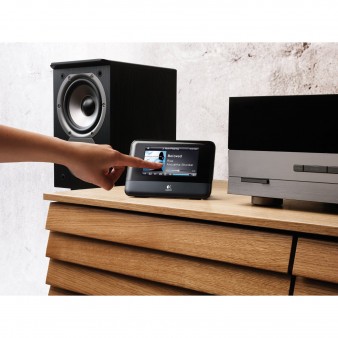 Moving to the next level: High Resolution Audio Files
Internet music downloads will probably lead to the demise of the CD as a mainstream playback medium. However, it is one thing to listen to mp3 files on an iPod and quite another to play them back through your sound system where they cannot compete with standard CDs.  The game changed when higher resolution files started to appear.  At the top of the heap are 88.2 and 96 kHz/24-bit FLAC or AIFF files. These formats offer lossless compression of the original music with  playback that is indistinguishable from the original digital source.  Previous Squeezeboxes could not play such files in native format through direct input or from a networked PC.  With the Touch, a new era has dawned.
I selected a few 88.2 and 96/24 FLAC files from my collection to check out this exciting new feature.  To set the bar as high as possible, I also compared the same files as stored on a Meridian Sooloos server. After all, there are some functional similarities between the Touch and the Sooloos. They both have touch screens, can play stored music files in lossless format, and allow access to  Rhapsody files and internet radio stations. I connected each device in succession through the coax input of my DAC.  Listening sessions featured Malcolm Arnold Overtures (Reference Recordings), David Grisman's "Dawg's Groove,"(Chesky), and  Herbie Hancock's River (Verve).  To end the suspense abruptly, the Touch did not best the Soolos with these files, but…it did not trail far behind either.  Considering the price differential (Touch: $299.00 vs Sooloos: $9500.00, retail), the Squeezebox Touch clearly provides major bang for the buck. While the Sooloos has a much larger screen and can store several thousand CDs in lossless compression, the Touch offers a much greater choice of radio stations, not to mention podcasts, social networks, and photo services.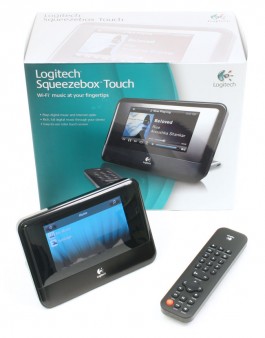 The Good
Ease of set up and installation.
Access to a wide variety of music choices
Plays high-resolution music files
Responsive and attractive touch screen
Stable network connectivity
Option for connection to outboard DAC
Access to social networks and photo archives
The Bad
Screen is difficult to read at distances exceeding 10 feet
Analog outputs provide mediocre sound
Remote is small
The Scorecard:
Design:
[Rating:4.5/5.0]
Performance:
[Rating:5.0/5.0]
Value:
[Rating:5.0/5.0]
Overall:
[Rating:5.0/5.0]
The Definitive Word
By now, there should be no doubt that the Squeezebox Touch  is an extraordinary media device, not just for the money but by any yardstick. It took up residence in my audio system and gave an excellent account of itself when stacked up against far more expensive components. The sound of high resolution files when delivered by a USB memory stick was as just about as good as this source gets. From lower resolution internet sources fed to an upconverting DAC, it delivered highly listenable music. The only caveats involve the small size of the screen, if viewed at a typical listening distance, and the mediocre sound quality from the analog outputs.  Simply stated, for a modest investment, you will get terrific musical returns for a long time to come.
Specifications :
Connections:
– Headphones ( Miniplug stereo 3.5 mm )
– Audio line-out ( RCA phono )
– Network ( RJ-45 )
– Digital audio output (coaxial)
– Digital audio output (optical)
– USB  2.0
Supported digital audio standards AAC , MP3 , WAV , WMA , AIFF , FLAC , Ogg Vorbis , Apple Lossless
Connectivity Wi-Fi (wireless) ; Ethernet (wired)
Connectivity protocols IEEE 802.11g , IEEE 802.11b (Wi-Fi) , IEEE 802.3 (Ethernet) , IEEE 802.3u (Fast Ethernet)
Additional Features Touch screen
Display Type LCD display 4.3 in – Color, Resolution 420 x 272  24-bit
Remote Control : Infrared
System Requirements :
256MB RAM, 100MB hard-disk space; Mac OSX10.4 or later; 733MHz PC running Windows 2000, XP, 7, or Vista; Linux, BSD, Solaris, Perl 5.8.3 or later. Internet connection. Ethernet connection and/or 802.11 b/g network connection.
Power : External Adapter
Slot : SD Card
More Information:
Logitech Squeezebox Touch music player (SRP $299) — On Sale Now
[amazon-product]B002LARRDA[/amazon-product]