A couple of months ago, I was fortunate to review a pair of THIEL's SCS4 L/C/R bookshelf speakers. I came away impressed with their polite sonic balance, but felt their smallish dynamics, and lack of lower-end heft held them back from being truly great. Recently, THIEL kindly offered to send over a pair of their CS2.4 floor-standing loudspeakers. I was eager to listen in hopes this bigger design would provide a bit more satisfaction for serious music listening at all volume levels.
Up In The Middle
The CS2.4 sits in the middle of the THIEL floor-standing speaker loudspeaker line-up. Flanked by the bigger CS3.7, and smaller CS1.6, I think the CS2.4 aims for that sweet spot of not being so gigantic to dominate your living or listening room, but still trying to offer the performance of a full-range loudspeaker. At nearly 42″ tall, the CS2.4 should absolutely be considered a full size speaker, employing a 3-way design consisting of a coincident 1-inch tweeter/3.5-inch mid-range, which share the same voice coil.  This intriguing design is the origin for the Coherent Source, or CS designation. Bass is supplied by an 8″ woofer with an aluminum diaphragm. Somewhat unusual is the 7.5 x 11″ bass radiator also mounted to the front baffle. Frequency response is rated at 33Hz to 37kHz, -3dB.
Can I Come Home With You?
I might be getting too picky with cosmetics as time goes by and more gear goes in and out of my listening room. I don't know if that means I'm getting more critical of cheaply made (typically) Asian-sourced A/V gear, or more appreciative of gear that appears to have attention paid to it by real human beings.  THIEL manufacturers the CS2.4 speakers in the great state of Kentucky.  My review samples were finished with an attractive, if slightly generic, black ash veneer.  The care and attention to detail that went into these units was apparent from the packaging, down to every surface and corner of these loudspeakers. According to THIEL, there are several different real wood finishes, and even custom stains available. I certainly appreciate this focus on cosmetics and craftsmanship, as any speakers in this price range will likely stay with you a while. Best to get something you enjoy looking at day in and out!
One of the more striking characteristics of the physical design is the significant rearward slope of the face (commonly known as the front baffle) of this speaker. The front baffle also has some very tapered edges, said to minimize diffraction effects that would likely harm the sound.  According to THIEL, it is angled in such a manner in order to deliver time and phase coherence.  Lower notes from the woofer take more time to reach you than the higher frequencies of the mid-range and tweeter.  By precisely staggering the distance of the drivers on the plane of the baffle, the CS2.4s are able to have the sound from all drivers reach your ear at the same time.  Not as easily noticed from pictures is that the rear cabinet face leans back as well. When viewed from the side, you can almost imagine the speaker wanting to fall backwards with a good shove. No legitimate worries though, as THIEL offers outriggers for improved stability. In real world use, they were of course very stable, even on my carpet, without using the included spikes. I also found the magnetically attached grill to be attractive, and best left on during listening. While offering most of the physical characteristics of a traditional tower loudspeaker, I found the CS2.4s handsome and well made, despite their uncommon rearward tilt.
Setting Up
I made the CS2.4s a comfortable home in my listening room, approximately 7′ apart, 30″ from the rear wall, and slightly angled in towards my listening position 8′ back. For my listening, the Denon AVP-A1HDCI processor provided pre-amp duties to a stereo Meridian 556 100watt stereo amp. I was fortunate enough to still have a 16ft pair of Wireworld's Oasis 6 speaker wire ($445/pair) on hand used during my review of the THIEL SCS4 bookshelf models. The Oasis 6 impressed me then with their neutral sound, robust construction and absolutely marvelous banana plug design, providing the most secure connection I've ever used, on par with traditional spades. A quick plug of the speaker cables into the THIEL's single set of beefy, gold-plated binding posts, and I was all set. Although I should know better considering the communication I had regarding break-in period from THIEL, I sat down for a quick listen. I was greeted with a tame, thinnish sound that I knew immediately would need some loosening up. I hopped up quickly, stopped listening and began making a "break-in" selection from my music server to pump into the CS2.4s while away at work. After approximately 80 hours of a steady diet of Notorious B.I.G., Nine Inch Nails, and Massive Attack, I cleared my Saturday for a serious sit down session with the THIELs.
Getting To The Bottom Of Things
One of my concerns with the smaller THIEL SCS4s I reviewed was the lack of "heft" or bottom end. Of course, those are but bookshelf speakers. I had high expectations for the much lager CS2.4s, so I began my listening by queuing up selections from the George Straight Straight Out Of The Box 4-disc set. Older Strait songs like "Her Goodbye Hit Me In The Heart" provide distinct bass and drum tracks balanced by a surprisingly good mix. It took only a few minutes for me to understand that with this particular recording, these big THIELs came to play with genuine bass that was not boomy, but could provide an honest punch when an appropriate amount of volume was applied. This of course confirmed my theory that a full bottom end can rarely be achieved by anything less than a largish cabinet volume and appropriate woofer driver size. Even though I found that the CS2.4s could better satisfy my bass cravings than their smaller siblings, their real strength was beginning to become apparent.
Wide Open Spaces
While I was not in the mood for the Dixie Chicks album of the same name, I did put on the Norah Jones LP The Fall to satisfy my urge for some female vocals. From the first song "Chasing Pirates," the pumping organ sound filled up the entire width of my listening room. Rhythm guitar tracks stayed firmly planted in the left speaker while the bass guitar and background melodies floated way out to sides while maintaining a stable phantom center image. The highs were delicate, and never forward sounding. And what about Norah's famous throaty voice? The CS2.4s presented it clearly, but delicately floating above the music. For an easy comparison, I queued up the track "December" and did a real-time switch over to my B&W N802 speakers. The CS2.4s are obviously a different design of speaker, and I didn't want to spend an inordinate amount of time A/B'ing them to the THIELs, but wanted a sanity check from a familiar reference point for vocals. Aside from the B&W's obvious sound-stage collapse, the British speakers presented Ms. Jones' vocals with a greater weight, or thickness in her lower registers. The CS2.4s no doubt provide a very clean mid-range. Only in direct comparison to the B&Ws did I find the CS2.4s to have the slightest bit of a hollow quality to some vocal performances. Of course, an alternate view would be that the B&Ws are too slow or thick in the mid-range. Individual preferences reign supreme in these areas!
Coast To Coast
As my days of listening continued on, I soon became absolutely hooked by that wide open, east to west sound-stage that the CS2.4s put up in my room. Acoustic tracks such as Ray Lamontagne's "Trouble" (from KGSR's Vol.13 CD live-in-the-studio release) simply put an acoustic guitar in my room, with no apparent coloration from the CS2.4s themselves. Moving over to the original Warner Brothers CD of Rickie Lee Jones self-titled classic, I found myself playing the recording from start to finish to enjoy the mix that blossomed gigantically via the CS2.4s. The guitar overdubs on "Young Blood" just leapt from the speakers, while the Rickie's voice stayed focused right in the middle. I found the sound-stage to be very forgiving in regards to where I sat between the speakers. There was good height to the stereo image as well. Tonality did not significantly change when seated vs. standing, always the sign of a good design. However, I have previously heard a bit deeper front to back sound-stage from other speakers. Room design and placement characteristics will play a big role here as well. I only have a smallish diameter of which to move floor-standing speakers within, your room may allow for more experimentation.
Secret Weapon
The THIEL's giant sound-stage had my ears' attention, but also piqued my brain's curiosity in regards to the specifics of the design components that allowed for such a big sound. Earlier I mentioned how the tweeter and mid-range shared the same voicecoil. More impressive is that by doing so, not only has THIEL eliminated a second voicecoil (less paths for the sound to wind its way through), but also the high frequency crossover network. As such the mid/tweeter crossover to the woofer via a first order crossover around 700Hz. This, combined with the mounting placement, and slope angle of the front baffle must have a great deal to do with the sound-stage coherence that I was able to effortlessly achieve in my room via the 2.4s.  A secret weapon to throw up a tremendous sound-stage, for certain.
Bass In Your Face?
As I continued to listen to the CS2.4s over several days, I did occasionally have the urge for a bit more bass with some recordings. I'm not really a fan of attempting to integrate subwoofers for stereo listening, as I've found them hard to level match and integrate the crossover properly for all listening positions. Can you use the CS2.4s as a full-range speaker without adding a sub? The answer is: probably. I can't be more definitive than that, because I know a variety of listeners that seem satisfied with different levels of bass from their main speakers. I experimented with hooking up my McIntosh MC-402 amp. This big number did push out more bass to the CS2.4s. The speakers are rated at 4ohms impedance, which could tax some amplifiers, depending on their design. Although, THIEL points out the CS2.4s provide a uniform load specifically for lower-powered amps. As with many things audio (especially at this price point) mixing and matching components is important. Be sure and try out your own amp, or a similar design, when demo'ing to ensure it will sound and work with the CS2.4s to get a sound as close to manner that THIEL's designers intended.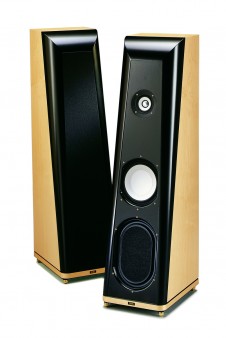 Wrapping Up
What would you be looking for in a pair of loudspeakers in the $4-$6K range? Attractive cabinet-work and great attention paid to component integration and craftsmanship? Check and check. Dynamics from the top down to a respectable bottom end? Check. A neutral sonic characteristic that can throw up a sound-stage taking up the entire width of the room? More check marks. Do the CS2.4 earn my recommendation? Yes, provided you can are aware of two main caveats. Make absolutely sure that the speakers are properly broken-in before serious listening. This might sound like an obvious generality to anyone reading this review, but the THIELs improve with break-in even past the 100-hour mark more so than other speakers I've heard. Second, be sure the very neutral mid-range suits your taste. You may be used to (or prefer) a more colored mid-range/vocal sound, that my wife amusingly describes as "rich." Correctly match these speakers with a proper amplifier and you have the potential for years of sonic enjoyment with your favorite music selections. Their neutral balance and tremendous sound-stage will definitely be missed when the review samples have to go back. The CS2.4 absolutely deserve a demo if you're considering full range speakers in the this price range.  Near the end of my time with the speakers, THIEL informed me that the price of the CS2.4s will increase to $5900/pair effective July 15, 2010.  I recommend making a point to drop by your dealer ASAP for an audition!
The Good:
Huge, wide sound-stage
Neutral sonic balance top to bottom
Quality craftsmanship
The Bad:
Proper amplification a must for best performance
Mid-range can tilt towards lean with some recordings
The Scorecard:
The Design
[Rating:4.5/5]
Performance
[Rating:4/5]
Value
[Rating:3/5]
Overall
[Rating:4/5]
Specifications:
Bandwidth: 33Hz-37kHz (-3dB)
Sensitivity: (2.8v – 1m) 87dB
Impedance: 4Ohm (3Ohm min)
Size (W x D x H): 11 x 14 x 41.5in
Weight: 70lbs each
More information:
THIEL CS2.4 ($2450 each) ($5900/pair effective July 15, 2010.)