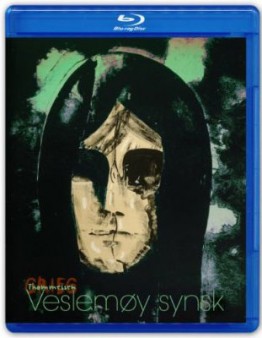 –

The Performance
[Rating:3.5/5]
The Norwegian poet Arne Garborg has written what many consider to be the most important poetry cycle in his native language, Haugtussa (The Fairy Maid from Underhill). His fellow countryman, Edvard Grieg selected eight of these poems and set them to music.  Contemporary composer Olav Anton Thommessen has gone back to the intent of the original source and, in Veslemoy synsk, or Veselmoy the Clairvoyant, has incorporated Grieg's original music for the cycle as well as other Grieg works.  Besides Grieg's music, Thommesen adds some of his own.  In brief, this song cycle traces the journey of Veselmoy a young woman with supernatural powers. These "powers" turn out to be more curse than blessing when she falls in love with Jon, a handsome farm boy. However, the course of this love does not run smoothly and Jon deserts Veslemoy for another woman. Veslemoy is drawn to Helheim the underworld where she experiences a fantastic voyage filled with spirits and terrible visions not unlike that of Dante's Divine Comedy. Eventually the girl is returned to the real world and awakens after a long sleep. She is now Vin-Moy or "wise maid" and comes to grips with her betrayal and life's cruel realities.
Veselmoy synskis performed by a solo voice, mezzo-soprano Marianne Beate Kielland, accompanied by pianist Nils Anders Mortensen.  The vocal style varies between that of the classical lied (song) to sprechgesang (spoken singing) a twentieth century mode that is more recitation than singing.
Audio Quality
[Rating:4.5/5]
This disc yields a very realistic presentation of voice and piano, literally placing the artists in your room. The original recording was a 352.8kHz/24-bit master rendered in 5.1 DTS-HD Master Audio 5.1 or 2-channel LPCM at 192kHz/24-bit versions. Both are extremely good with a mite more atmosphere in the surround version. Downloads in WAV, FLAC (96/24) and MP3 are available. The Sofienberg Church acoustic is outstanding.
Supplemental Materials
[Rating:4/5]
The rating is based on the additional two high-resolution multi-channel SACDs included in this package. As this will be a new work for nearly all listeners, I was thankful to get an extremely informative program book that discussed the creation of this work, essays by the artists, and a glossary for each track indicating the actual source for the music. Unfortunately, we get a track synopsis rather than the actual lyrics in translation. I was a bit miffed that the excuse for not having line-by-line translation was the composer's contention that the poems are "untranslatable!"
The Definitive Word
Overall:
[Rating:3.5/5]
The song-cycle is really a 19th century classical format that has fallen out of favor with modern composers. There is a tipping point of a work where sheer length runs the risk of exceeding the attention spans of most listeners.  Franz Schubert pushed this envelope in his cycles, Die Schoene Mullerin and Die Winterreise both of which play for a little over one hour. In the present case, Veslemoy Synsk is a two-hour traversal that will try the patience of all but the hardiest lieder lovers. On the plus side, there is no shortage of gorgeous music with spectacular singing and pianism.  On the minus side, there is a lot of sameness to the music, making it seem longer than it plays. Grieg's original Haugtussa cycle, a much shorter work, lends support to the old adage that, on some occasions, less can be more.
[amazon-product]B0055T967O[/amazon-product]
[amazon-product region="ca" tracking_id="bluraydefinit-20″]B0055T967O[/amazon-product]
[amazon-product region="uk" tracking_id="bluraydefinit-21″]B0055T967O[/amazon-product]
Purchase Veslemoy synsky on Blu-ray Audio/SACD at CD Universe
Shop for more Blu-ray titles at Amazon.com
Overall
[Rating:3.5/5]
The Performance
[Rating:3.5/5]
Audio Quality
[Rating:4.5/5]
Supplemental Materials
[Rating:4/5]