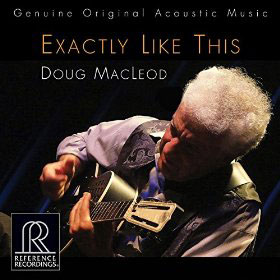 The Album
[Rating:5/5]
Doug MacLeod is one of the blues' living legends and has been one of the most awarded blues performers of his generation.  Credited with more than 300 songs and having performed with a number of the blues greats, MacLeod needs no introduction to those who love this type of music.  This is the third album that Doug has recorded for Reference Recordings and the second released in the high-resolution HRx format.
Having been a Blues aficionado for longer than I care to remember (I grew up in Chicago, a Delta Blues Mecca), I have had Doug MacLeod on my screen for many years.  As a number of the selections on this playlist illustrate, this musician moves quite comfortably between "blues" and "rockabilly" styles while never being completely tied down by either one.
Rock It Till the Cows Come Home: (4:10)
Too Many Misses For Me: (5:17)
Find Your Right Mind: (5:28)
Ain't It Rough?:  (5:49)
Vanetta:  (4:25)
Serious Doin' Woman:  (7:04)
Ridge Runner:  (4:14)
New Morning Road: (4:04)
Raylene: (3:34)
Heaven's the Only Place: (6:40)
You Got It Good (And That Ain't Bad): (4:51)
The inspiration for the title of this album is clearly explained by MacLeod: "On my shows I say, this song is going to go exactly like this." This is part and parcel of Doug's approach to music making. It might not always be pretty, it might not always be perfect, but it is always real. MacLeod's vocal style on all of the selections is most assuredly, the "real deal" as well with just enough gruffness to suggest that he has lived the often hard scrabble life that his songs frequently reflect.
This studio recording eschewed headphones, bringing the musicians closer to each other as they would have been in live performance. Speaking of musicians, MacLeod gets star partners: Mike Thompson (piano), Jimi Bott (drums), and Denny Croy (bass).  To get a sense of what the instruments really sound like, go directly to "Ridge Runner," and there are the washboard, bass and guitar in your face.
Audio Quality
[Rating:5/5]
Imagine having Doug MacLeod and friends in your sound room. This is simply what Keith Johnson and colleagues have accomplished at Skywalker Sound studios. We get the rasp of MacLeod's voice, the squeak of his chair, his foot stomp, the snap of Jim Bott's drum kit, the tinkle of Mike Thompson's keyboards, and the throbbing end of Denny Croy's bass.
Supplemental Materials
[Rating:1.5/5]
MacLeod contributes his own liner notes that give readers a very personal perspective into each of the numbers on this album. The booklet also has performance and production credits.
The Definitive Word
Overall:
[Rating:5/5]
We are fortunate to be living in an age when music legends like Doug MacLeod can get their propers by way of recording companies like Reference Recordings. This is the kind of album that makes for a perfect introduction to the artist that has been rocking on for decades. For blues lovers, and I know that their name is legion, this is a disc that must, simply must, be in their libraries.