On March 1, 2011 Twentieth Century Fox Home Entertainment will be bringing the critically acclaimed survival drama 127 Hours starring James Franco to Blu-ray and DVD at a suggested retail price of $39.99 U.S. / $49.98 Canada (Blu-ray), and $29.98 U.S. / $43.98 Canada (DVD).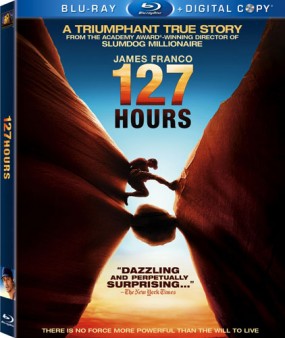 The Blu-ray will feature a DTS-HD Master Audio 5.1 soundtrack with French and Spanish Dolby Digital dubs and English and Spanish subtitles. Bonus features include:
127 HOURS Blu-ray Disc:
Disc 1:
Movie Commentary with Danny Boyle, Christian Colson & Simon Beaufoy
Search & Rescue – The events that aided the search and rescue of Aron Ralston
127 Hours: An Extraordinary View – A unique collaboration between the director and actor
Deleted Scenes
God of Love: short film by Luke Matheny
Disc 2:
Press release:

A CINEMATIC JOURNEY ABOUT ONE MAN'S FIGHT FOR SURVIVAL AND THE TRIUMPH OF THE HUMAN SPIRIT
Jump Into the Awe-Inspiring
Academy Award® and Golden Globe®-Nominated Film
On Blu-ray and DVD March 1
From Twentieth Century Fox Home Entertainment
From the Academy Award®-winning director of Slumdog Millionaire, Danny Boyle, and starring James Franco in a "tour de force performance" (Associated Press), comes one of the most "triumphant and enthralling" (Rolling Stone) movies of the year. Nominated for six Academy Awards including Best Picture and Best Actor (Franco), 127 HOURS is an edge-of-your seat cinematic experience that recounts one man's harrowing story of survival. This "exceptional film" (Wall Street Journal) will be available on Blu-ray Disc and DVD on March 1 from Twentieth Century Fox Home Entertainment.
Based on true events, 127 Hours follows Aron Ralston, a dare-devil outdoorsman who gets trapped under a boulder while canyoneering alone in the Utah mountains. As hours turn into days, Ralston embarks on a personal journey in which he relies on the memories of family and friends – as well as his own courage and ingenuity – to turn adversity into triumph!
The 127 HOURS Blu-ray includes over an hour of extra footage and behind-the-scenes looks at this gripping film. Only on Blu-ray will viewers truly experience the award-winning cinematography in high definition, the way Boyle intended. From sweeping and majestic views of Blue John Canyon to the intimate scenes with Ralston trapped in the crevice, to the intricate weaving of the soundscape of the dessert available in 5.1 DTS HD Lossless surround sound, the Blu-ray format provides the viewer with the highest quality cinematic visual experience possible.
127 HOURS will be available on Blu-ray for the suggested retail price of $39.99 U.S. / $49.98 Canada, and on DVD for the suggested retail price of $29.98 U.S. / $43.98 Canada. Pre-book is February 2.
127 HOURS Blu-ray Disc features
Disc 1: Movie
●    Commentary with Danny Boyle, Christian Colson & Simon Beaufoy
●    Search & Rescue – The events that aided the search and rescue of Aron Ralston
●    127 Hours: An Extraordinary View – A unique collaboration between the director and actor
●    Deleted Scenes
●    God of Love: short film by Luke Matheny
Disc 2:
●    Digital Copy of movie
127 HOURS DVD features
●    Commentary with Danny Boyle, Christian Colson & Simon Beaufoy
●    Deleted Scenes
127 HOURS Blu-Ray: (Catalog # 2273639 U.S./# 2273640 Canada)
Street Date:
March 1, 2011
Pre-book Date:
February 2, 2011
Screen Format:
Widescreen
Audio:
English 5.1 DTS-HD-MA
French Dolby Digital
Spanish Dolby Digital
Subtitles:
English and Spanish
U.S. Rating:
R
Total Run Time:
223 minutes
Closed Captioned:
Yes
127 HOURS DVD: (Catalog # 2273632 U.S./# 2273633 Canada)
Street Date:
March 1, 2011
Pre-book Date:
February 2, 2011
Screen Format:
Widescreen
Audio:
English 5.1 Dolby Digital
French 2.0 Surround Dolby Digital
Spanish 2.0 Surround Dolby Digital
Subtitles:
English and Spanish
U.S. Rating:
R
Total Run Time:
107 minutes
Closed Captioned:
Yes
—
[amazon-product]B0041KKYDS[/amazon-product]