Deny it all you want, but 3D continues to gain relevance on the big screen, with more summer blockbusters and even unexpected arthouse fare compelling viewers to drop the extra cash and don that special eyewear for the privilege of watching the latest movies in three dimensions.  And Blu-ray 3D stands ready to bring much of that same experience home. Lots of new discs have hit since the last time I wrote one of these, and so here is a list of some of my more recent favorites.
(Editor's note: With only one exception in this group, all of these movies were created in true stereoscopic 3D.)
Madagascar 3: Europe's Most Wanted (DreamWorks/Paramount)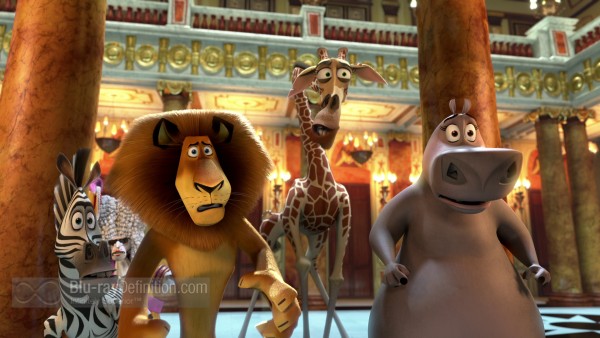 Madagascar 3 is not a disc that I was necessarily expecting to embrace, but a surprisingly good script by Eric Darnell and Noah Baumbach quickly put me in the proper mood for this family comedy. As I watched however, I spent most of my time staring awe at the absolutely dazzling imagery. Despite being goofily stylized, the computer animation is remarkably crisp, down to individual animal hairs. And the 3D effect is not used timidly, as a daring dynamism is evident in all of the wild chases and circus-themed action. Even the scale is enhanced by the illusion of depth, as more than once I looked at long-necked Melman (voiced by David Schwimmer) and thought to myself, "Goodness, that giraffe is HUGE!"
Read our full review of Madagascar 3: Europe's Most Wanted on Blu-ray 3D
Madagascar 3: Europe's Most Wanted (Blu-ray/DVD Combo + Digital Copy) (Amazon.com)
Titanic (Paramount)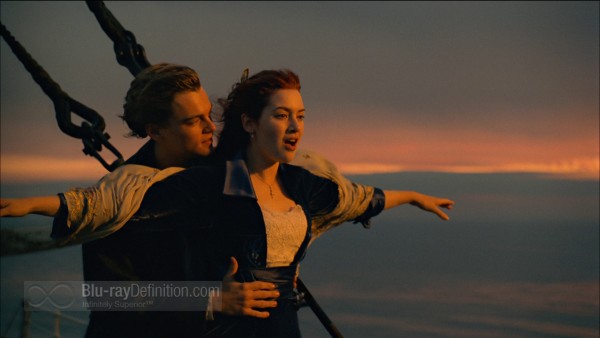 This was the one that was obviously (c'mon, it debuted in 1997) converted from 2D to 3D in a long and painstaking process, personally overseen by the notorious perfectionist himself, James Cameron. Perhaps my biggest issue with 2D-to-3D conversions is the telltale line around actors and other images that are isolated from their backgrounds so the movie can be "dimensionalized," with the really tricky portions of the frame done by hand. For me this outline harkens back to the choppy blue border common to pretty much all special effects in the pre-Star Wars era. But Cameron demanded better, and got it: It's all quite clean and organic, thereby eschewing technical distraction. Which is not to say it's perfect: This artificial extraction of characters from their backgrounds can at times call unwanted attention to some of the layered digital effects needed to pull off this film feat. But as conversions go, this is undoubtedly one of the best out there.
Read our full review of Titanic Limited 3D Edition Blu-ray
Titanic (Four-Disc Combo: Blu-ray 3D / Blu-ray / Digital Copy) Amazon.com)
Prometheus (Fox)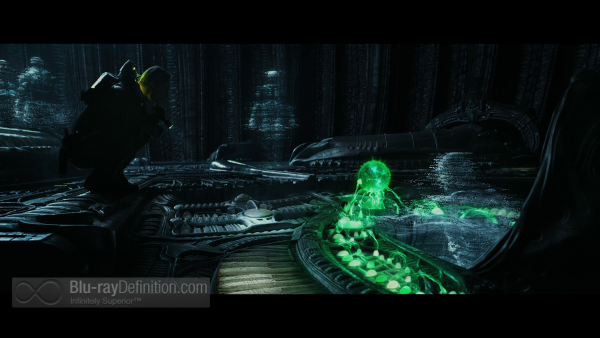 While I can't endorse this how-the-hell-does-this-tie-into-the-Alien-franchise "prequel" itself too heartily, it does indeed embody that well-worn cliché, "a thrilling visual spectacle" that puts every cent of its reported $150M budget up on the screen. An attractive cast spends a lot of time milling about painstakingly conceived practical sets enhanced by state-of-the-art special effects (a trick director Ridley Scott also knew how to pull off on the original Alien), exquisitely photographed with striking depth, eerie lighting and a distinctive color palette. Put it all together and we feel what it must be like to travel with this crew on this mysterious mission. The 7.1 channel audio is top-notch too, so this one receives highest marks as a potential system showoff disc.
Read our full review of Prometheus on Blu-ray
Prometheus (4 Disc 3D / Blu-ray / DVD / Ultraviolet Collector's LIMITED EDITION) (Amazon.com)
Pina (Criterion Collection)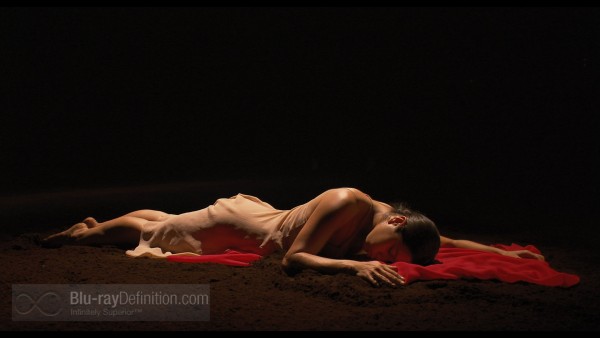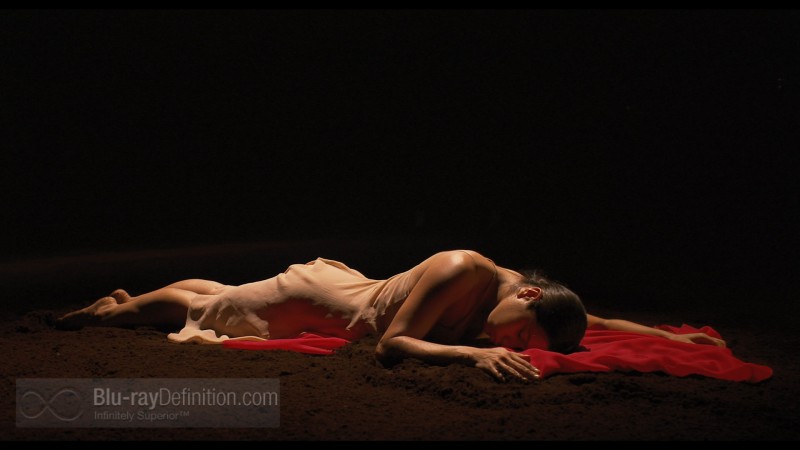 This first-ever 3D release from the revered boutique label is even more unusual as it is a documentary by the accomplished filmmaker Wim Wenders. The subject is choreographer Pina Bausch, who passed away in 2009, and this movie celebrates her work in grand style. I've noted as I watch one of my favorite shows, So You Think You Can Dance, the importance of a live audience, versus for example the well-choreographed but less-compelling filmed numbers from the Step Up flicks, which share a lot of the same talent. The difference, from my perspective, is immediacy, and that element is surely imparted by the 3D process, even more so thanks to Wenders' deft use of the camera. We could almost believe that the dancers are right in front of us, or perhaps all around us. This film is a marvelous tribute to a marvelous talent.
Read our full review of Pina on Blu-ray 3D
Pina (3D Blu-ray + Blu-ray Combo Pack) (Criterion Collection) [Blu-ray] (Amazon.com)
Life of Pi (Fox)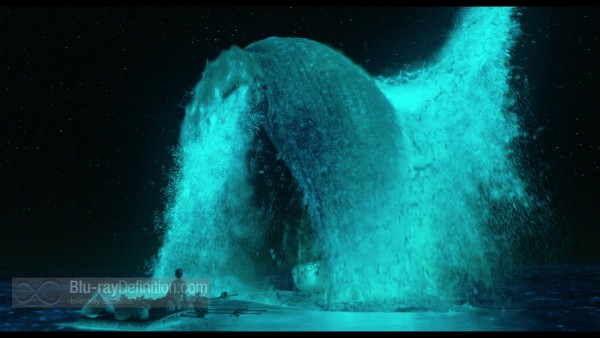 Ang Lee's extraordinary adaptation of Life of Pi is well-served by its inspired cinematography and visual effects, Oscar winners both. The majestic 3D photography is often breathtaking but–as we would expect from such an acclaimed film–never showy or gimmicky. We can't know the feel of the blazing sun or the smell of that ripe tiger in the lifeboat, so the sharp realism of the camerawork does a tremendous job of putting us right there next to Pi on his long ordeal of survival. Some clever flourishes also wow the audience, usually in smart, subtle ways, as when we peer through some foreground cage bars in one early moment, or later as we are caught in the middle of a flying fish migration out on the high sea. It's a strange and wonderful adventure, and we're virtually tagging along.
Read our full review of Life of Pi on Blu-ray 3D
Life of Pi [Blu-ray 3D] (Amazon.com)
Oz, the Great and Powerful (Walt Disney)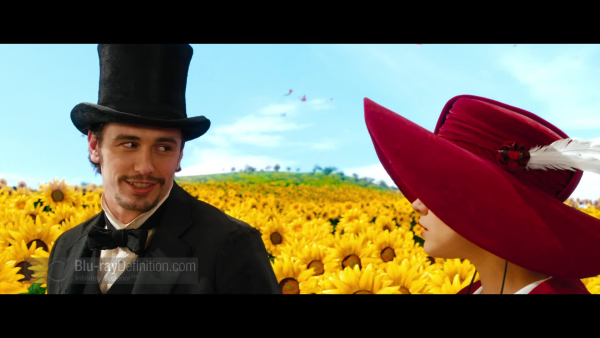 This is the first 3D movie from Sam Raimi, but his in-your-face style as far back as Evil Dead often hinted at a cinematic experience that transcended two dimensions. In Oz, his indulgence of all manner of fantastical characters, creatures and action is brilliantly served by the stereoscopic effect, an essential element to the "wow" and wonder he was obviously trying to capture. The single-disc 3D release also represents a new direction for Disney, as the studio is not offering an all-inclusive 2D/3D multipack. They are also dropping the physical disc for the included Digital Copy, adopting instead their own download business model. Interestingly, when you purchase this edition, the Digital Copy is also the only way to get any of the movie's extras, too.
Read our full review of Oz, the Great on Powerful on Blu-ray 3D
Oz the Great and Powerful (Blu-ray 3D + Digital Copy) (Amazon.com)
The Hobbit: An Unexpected Journey (New Line/Warner)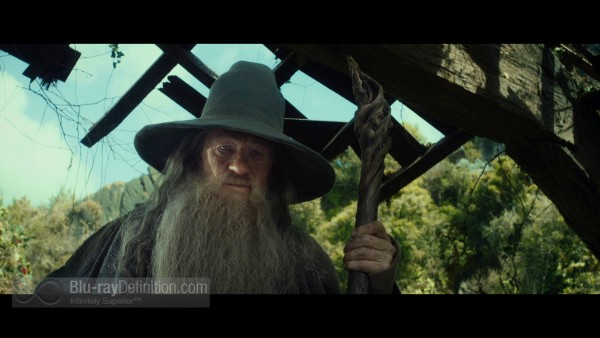 One of the most gorgeous 2D discs of the year is even more captivating with that extra dimension. Although captured and in some venues projected (rather controversially) at 48 frames per second, this perfectly home-theater-friendly disc is actually split across two Blu-ray 3D platters for optimal quality. The run time is a bit shy of three hours, and while there are only so many scenes of Hobbits eating dinner that I can endure, I did gaze in awe at the multiple layers of focus, as well as the clarity of both the real actors and sets in addition to the extensive digital creations. The overall look is surprisingly, happily filmic, and this stunning image is paired with an equally spectacular 7.1-channel soundtrack that further assists this fantasy kingdom in feeling genuine.
Read our full review of The Hobbit: An Unexpected Journey on Blu-ray
The Hobbit: An Unexpected Journey (Blu-ray 3D/Blu-ray/DVD + UltraViolet Digital Copy Combo Pack) (Amazon.com)
Wreck-It Ralph (Walt Disney)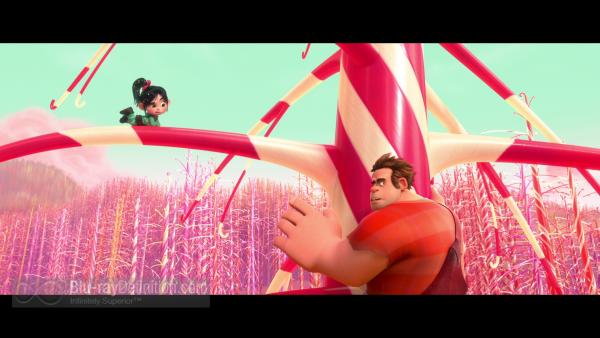 Extremely charming despite an almost "Best of Disney/Pixar" menagerie of recycled moments, Wreck-It Ralph is a fun romp through the videogame world and a nostalgic look back at 30 years of arcade history, real and imaginary. We follow the would-be hero with the freakishly large fists as he ventures out of his eight-bit game and into the modern world, but how best to convey the private and public interaction of living, breathing  characters across different machines and formats? Well, with high definition and 3D, of course! To Ralph & Co. these places are real, and so for us they are richly rendered with impressive textures, appreciable depth and generous details even in the backgrounds. From the realms of Fix It Felix Jr. to Hero's Duty to Sugar Rush, we know what it must really be like to wreck, fix, fight and race in these surreal environments.
Read our full review of Wreck-It Ralph on Blu-ray 3D
Wreck-It Ralph (Blu-ray 3D/Blu-ray/DVD + Digital Copy) (Amazon.com)