Like a lot of next-generation technologies, Blu-ray 3D has inspired plenty of haters as well as fans, but these 3D HD discs are still the best way to enjoy three-dimensional content in the home. With recent theatrical releases now in the groove of a day-and-date arrival on Blu-ray 3D alongside their 2D counterparts, and classics as far back as Dial M for Murder from Warner and Creature from the Black Lagoon from Universal Studios announced, don't expect the format to disappear anytime soon.
TheaterByte Editor Brandon DuHamel and I are always being asked which are the best discs currently available, and so he invited me to share a list of my top picks. What you will see here is a large percentage of animated titles, as the freedom of that art form affords the creativity to explore all three dimensions in new and interesting ways. What you won't see is the blockbuster game-changer Avatar, since at press time the highest grossing movie of all time is only available in its native 3D format as part of a Panasonic-exclusive hardware deal. Someday, the Na'vi will be liberated….
Transformers: Dark of the Moon

(Paramount)

Michael Bay has a knack for directing movies that are as sonically and visually spectacular as they are intellectually vapid, and while Dark of the Moon is not as moronic as Revenge of the Fallen before it, it is a benchmark video achievement. The 2.40:1 frame is packed with computer-generated images, here on Earth and far off in space, with both exceptional clarity and believable depth, often on an enormous scale. In contrast, other shots use the effect more subtly, positioning people and big-ass robots in such a way to convey their relative size. But the dynamic action shots are the real stars, with people and things sailing toward/away from us, sometimes in slow motion to give us ample chance to marvel at the precise 3D rendering.
Rio

(Fox)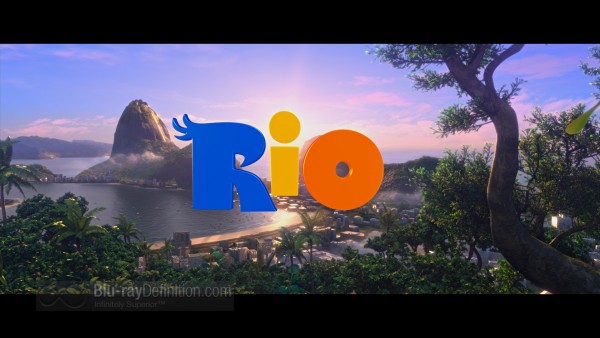 The 2D Blu-ray was already one of the loveliest discs I saw last year, but the bold implementation of 3D on such a worthy movie makes this one of my most highly recommended discs to date. The animated Brazil of Rio is has its own unique look and feel, a world populated by myriad colorful flying/scurrying little characters, composed into thoughtfully orchestrated foreground/midground/background levels during the more static shots. The flying scenes however are absolutely breathtaking, a thrilling soar-alongs that can only be fully, properly appreciated in the filmmakers' intended 3D.
Hugo

(Paramount)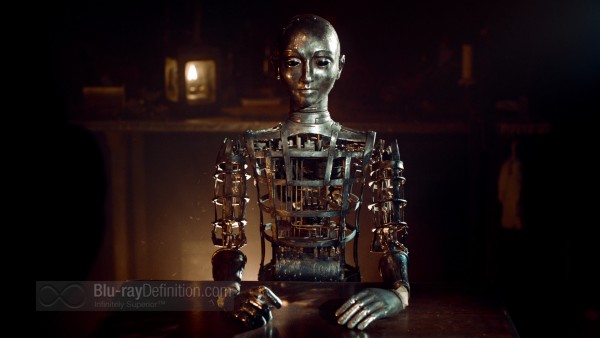 Already deep into a stellar filmmaking career, chose to make Hugo both his first 3D movie and his first captured digitally, and he (along with a highly skilled support team) made this [cause of celebration] Almost every scene in Oscar winner Martin Scorsese's first 3D movie displays a significant sense of the depth, particularly the crowds in the train station where so much of the story unfolds. Onto this, layers of dust and snow have been applied, while extensive computer effects have been added as well to achieve the necessary illusion of a bygone Paris and the buildings, and the faux buildings bring a welcome, believable dimensionality. And despite its digital origins, the movie possesses a truly organic, film-like quality.
Beauty and the Beast

(Walt Disney)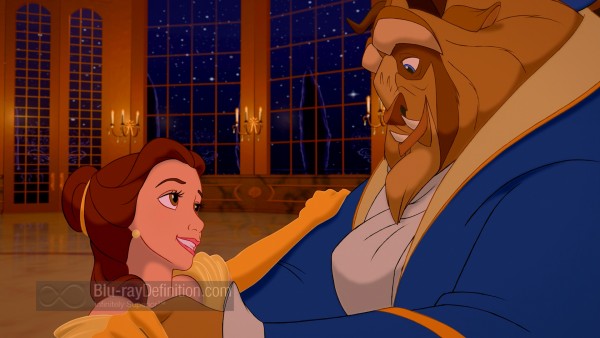 When people ask me about 2D-to-3D conversions, I generally grumble and point to a host of lackluster offerings that have done more harm than good to further the cause of modern 3D. By contrast, one of the best examples of a two-dimensional movie winningly rethought and re-presented in three dimensions is Disney's landmark animated masterpiece. The elaborate layout and design of the movie lends itself brilliantly to this optical expansion, from the architectural trappings of the castle to the carefully placed trees in the forest to the bustling musicality of the village.
The ballroom scene, with its dynamic camera moves and then-state-of-the-art digital imagery is reborn for the stereoscopic set in this edition, making it as extraordinary now as when we first saw it in 1991. We'll want to make sure that our glasses are in place for the disc menus, too.
Puss in Boots

(

DreamWorks)

In its (relatively) brief history, DreamWorks has consistently produced some of the crispest animation in the business, and the video here is as sharp as Puss' blade, from fine kitty hairs to Humpty Dumpty's distinctive "eggshell" finish. But the movie has also been directed and digitally shot in such a way to as to show off the 3D process. Big, long shots command our attention with their deliciously deep focus of all that has been quite deliberately placed on the screen, while minute bubbles and such dazzle with their understated wonder. If you're looking for a singular "wow" scene, check out the sprouting and climbing of the beanstalk during the second half, made even more spectacular for its depiction of height.
Despicable Me

(Universal Studios)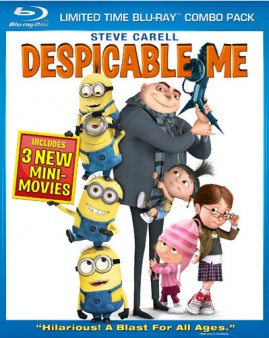 This is a case of a very enjoyable film that starts out strikingly well-composed and well-rendered in its basic 2D edition, but the addition of a third dimension invites us to live and breathe in this stylized animated world, with an uncanny credibility. It also serves to convey the vital scale of these bigger-than-life characters and story and their physical accouterments. Multiple levels of focus are employed throughout the computer-generated frame, with shots such as the spectacular crash of Gru's rocketship conspicuously exhibit the effect, ending with its pointy nose protruding from the screen. The Blu-ray 3D also benefits from a three-dimensional Universal Studios logo, a portion of the end credits, and even the menus.
Yogi Bear

(Warner)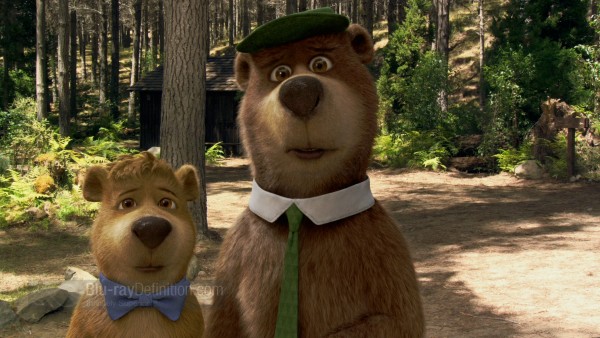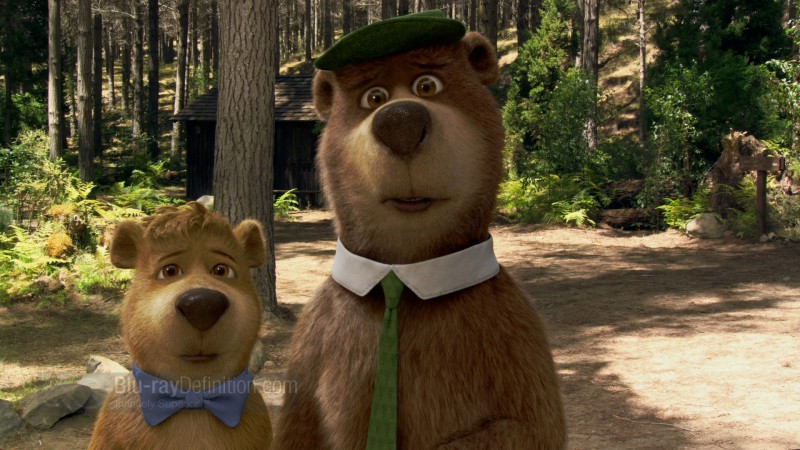 I'd be lying if I said that this was a great movie, or even one that lives up to its promise of bringing the beloved Hanna-Barbera character to life for a new generation (Yogi is a supporting player in his own movie), but my goodness, the 3D here is aggressive and exquisite. The magnificently photographed locations are extremely inviting, and when two humans are perchance standing about in Jellystone Park, the trees stretch out behind them, almost as if we're watching them live, through a window. But Yogi also brings the silly, as when some smaller items move toward the audience as part of some sight gag. In one reference-quality shot–which was recently used in a projector-and-screen manufacturer demonstration at the CEA Line Shows in New York City–an out-of-control Yogi hurtles at the camera along with the contents of a hijacked pic-a-nic basket. During the demo we paused the scene, and individual, good-enough-to-eat tortilla chips hovered in the air before our glasses!
Underworld: Awakening

(Sony)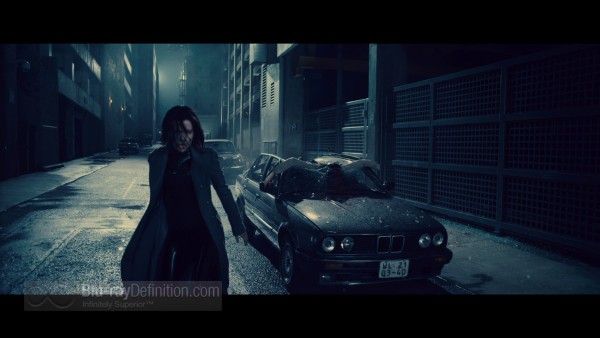 Underworld: Awakening provides quite a stellar endorsement for the RED Epic digital 3D camera with which it was shot, flaunting both a razor-sharp image and a clear, strong sense of depth throughout. The third dimension is amply evident even when characters are standing around talking because they are clearly set apart from their backgrounds, while the violent action might elicit a tad of nausea in squeamish viewers for its you-are-there realism. (The powerful 7.1-channel soundtrack here certainly helps sell the experience, too.) But once in a while the filmmakers will assail us with a successfully boastful effect, as when a piece of debris or a particularly nasty character will move right in on us. Add to this a finishing touch of floating metal flakes in one particular scene for that last bit of panache, and you can see just how immersive Blu-ray 3D can be, when done right.
–