HBO Home Entertainment has announced they will be releasing a special edition gift set of their two critically-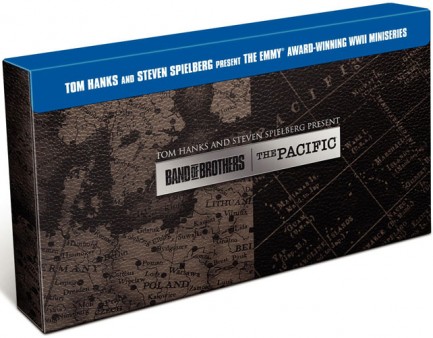 acclaimed original mini-series Band of Brothers and The Pacific on Blu-ray this November. The series, produced by Tom Hanks and Steven Spielberg, were originally released separately to Blu-ray disc and now they will be brought together in one premium st in time for the holiday season. Releasing on November 8, 2011 and selling at a SRP of $199.99 the set includes the never-before-seen He Has Seen War, an exclusive documentary that examines the postwar lives of veterans of both Band of Brothers and The Pacific. From their initial steps at reintegrating into civilian life to the lasting impact the war had on each of their lives, He Has Seen War features Easy Company and 1st Marine Division veterans and their families relaying their own unique stories.
TWO BEST-SELLING, EMMY-AWARD WINNING TITLES
Winner of 14 total Emmy Awards across both titles, including Outstanding Miniseries.
Band of Brother is the #1 TV-on-DVD of all time and #1 TV-on-Blu-ray since its release!
The Pacific was the #1 TV-on-DVD and TV-on-BD title of 2010 after only 8 weeks of release! HBO's fastest-shipping title since Band of Brothers in 2002.