UK-based consulting firm Future Source Consulting has just issued a report that shows consumers are on target to purchase in excess of 100 million Blu-ray discs (BD) across the USA, Western Europe and Japan this year, with sales of High Definition capable LCD and plasma TVs and continued dramatic reductions in Blu-ray player prices continuing to drive interest in packaged High Definition content despite the economic downturn.
"In the USA, BD has moved from early adopter phase through to early majority, with the format
gaining real traction in the marketplace," says Mai Hoang, Senior Market Analyst at Futuresource
Consulting. "Last year in the US alone, BD video retail sales increased by a whopping 320% to 24
million units; and we're going to see momentum continuing in 2009, with over 80 million disc sales
forecast."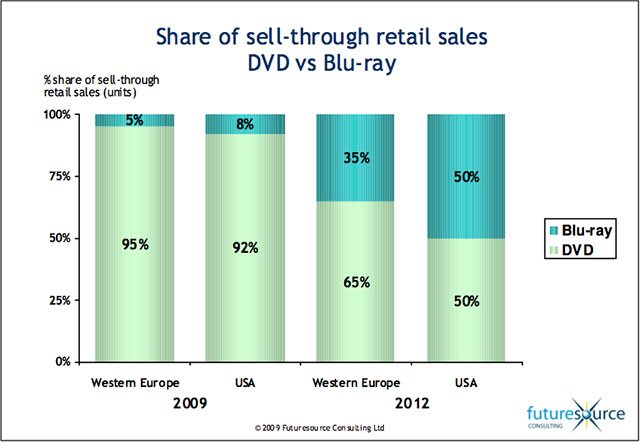 The report also shows that for  some high profile titles, close to 25% of all disc sales have been on BD, while other action adventure titles consistently see BD accounting for over 15% of total sales.  Futuresource says there are currently 1100 titles available on Blu-ray worldwide and expects that by 2012  around 50% of US and 35% of Western European video disc retail sale volumes will be Blu-ray.
Shop with Us for Blu-ray Titles at Amazon.com