Anniversaries, stellar restorations and long-awaited high-def premieres marked the best of the best for under-the-tree (or your holiday trappings of choice) this year. Whether your inner circle is comprised of young or old family and friends, partial to fact or fiction, musical, fantasy, drama or a range of animation, these exceptional Blu-ray packages are destined to make a memorable impact.
–
The Ten Commandments Limited Edition Gift Set (Paramount)
If memory serves, holidays used to involve religion, so this divine gift set seems an appropriate place to start. (So what if the Old Testament events of The Ten Commandments aren't really celebrated at this time of year?) Cecil B. DeMille's epic dramatization of the story of Moses is the sort of thrilling, bigger-than-life spectacle that audiences never seem to tire of, and this magnificent 6K restoration from the horizontal VistaVision element is enough to make even a cynic believe.
Genuine inspiration can be found in the design of the packaging as well: The box, emblazoned with an image of The Red Sea, must be "parted" in order for us to access the discs… which are housed inside a pair of inscribed tablets! For the standard-def crowd, the three DVDs in this set echo most of what's on the trio of Blu-rays, the movie–split in half due to its length–with expert commentary and a bit more. In HD only is the 1923 silent version of The Ten Commandments, with hand-tinted and two-strip Technicolor sequences.
Filling out this hefty tome is a hardcover book, a replica souvenir program, costume sketch cards to collect and trade with your friends, and authentically reproduced vintage documents. But perhaps the most compelling reason to pick up this limited edition is Laurent Bouzereau's The Ten Commandments: Making Miracles. This new documentary manages to preserve much of the bygone personality of Old Hollywood, while also revealing seemingly endless, priceless details about the production.
–
Underworld Trilogy: The Essential Collection (Sony)
Seriously: What's not to love about a gorgeous, gun-toting vampire dressed all in sprayed-on black? Underworld Unrated, Underworld: Evolution and Underworld: Rise of the Lycans starred either Kate Beckinsale or that George Lazenby of comely bloodsuckers, former Lara Croft model Rhona Mitra, before the producers switched back to Kate for the upcoming Underworld Awakening. To that point, specially marked Essential Collection sets even include not just one but a pair of tickets to see Awakening in theaters next month, "free" up to $10 each.
This HD threesome repackages the three previously released, extras-loaded Blu-rays in a handsome box, along with a bonus Blu-ray delivering 17-and-a-half minutes of all-new Underworld anime, entitled Endless War, in three parts. There's also a unique printed code to unlock an UltraViolet Digital Copy of all three movies. At $46 or less, all in all I'd call this four-disc-and-then-some set a bloody good value.
–
Farscape The Complete Series (A&E)
From the mind of Rockne S. O'Bannon (Alien Nation) came this tale of an astronaut suddenly thrust into a strange new world. Not exactly fresh fodder for a sci-fi TV series, but under executive producer Brian Henson and with the versatile talents of the Jim Henson Creature Shop, Farscape certainly didn't look like any other show, and the four-year saga managed to be dark (but not too dark) and funny, earning a devoted fanbase the world over.
They should be happy with the collected bonuses here, on top of the four seasons spread across the 20 discs, highlighted by a new documentary as well as the rare, coveted Farscape Undressed behind-the-scenes special. The archival material from DVDs of yore includes a total of 31 audio commentaries plus deleted scenes, interviews and a heck of a lot more. The original film elements for the Australian-American production were apparently unavailable and so the technical quality is not the best that Blu-ray has to offer, but it is a step up from the standard definition we're used to.
–
Planet Earth Limited Collector's Edition (BBC/2 entertain)
When we journey to the center of this festively englobed Planet Earth, we will discover a total of six discs in neat little envelopes (how British!), containing all eleven segments of the now-legendary nature documentary series, produced in HD and best-enjoyed in these newly re-encoded 1080i/60 Blu-ray editions. And every minute is still as breathtaking as ever, one of the few nature docs that really hold up to repeat viewing.
Planet Earth is now loaded with more extras than ever, including two of these entire platters dedicated solely to bonus content, much of it brand-spanking-new, about greatest moments, the majestic snow leopard, desert elephants and the Maya Underworld. (No hot vampires in skin-tight leather, though. Just a heads-up.) Previous extras are ported over as well, notably commentary and isolated musical score. Highly recommended if you've never held the whole world in your hands, and quite possibly worth a re-buy if you've already visited Earth.
–
West Side Story Limited Edition Collector's Set (MGM/Fox)
Celebrating its half-century anniversary this year, Robert Wise & Jerome Robbins' Oscar-winning big-screen version of West Side Story (with more than a little help from Leonard Bernstein, Stephen Sondheim and Ernest Lehman) remains a toe-tapping, heartbreaking retelling of William Shakespeare's Romeo and Juliet. For this golden occasion, MGM/Fox has issued 50,000 of these four-disc boxed sets, which begin with remastered 7.1 audio and high-def video, and bonuses including a new retrospective and discussion of the dynamic dances, plus quite a bit more. Disc three is a remastered DVD copy, and Disco Quattro is a tribute CD with covers of eight West Side songs by an eclectic assortment of artists. The memorabilia is in ample supply as well, with a hardcover companion book and ten collectible postcards with movie poster artwork from around the world.
[EDITOR'S NOTE: As Brandon DuHamel pointed out in his review, West Side Story suffers from a few technical issues which might eventually merit a full recall/replacement by Fox. Keep reading Blu-rayDefiniton.com for updates.]
–

Three Colors Trilogy (The Criterion Collection)
The three films Blue, White and Red take their names from the colors of the French flag, representing ideals behind the French Revolution: Liberty, Equality and Fraternity. Using these as a starting point, director Krzysztof Kieślowski weaves a trio of intelligent, artful, brilliant human dramas, heavy, certainly, despite some levity. The exquisite new remasters of all three films show off the deft use of the titular color of each as a visual motif and the results, paired with DTS-HD Master Audio French 2.0, are stunning.
The Trilogy is supplemented with a feast of new and old content, the sort of respectful interviews and well-researched discoveries you feel like only Criterion could make, including three short Kieślowski films made between 1966 and 1980. Good things always seem to come in threes with this guy.
–
Cars Director's Edition (Walt Disney)
From John Lasseter, the man synonymous with Pixar, comes the sequel to his fuel-injected 2006 animated hit Cars, only this one is bigger, wilder, louder and more colorful than the original, as we race all over the world with spies and a green message, too. Oh, and Cars 2 is also presented in some of the most eye-popping 3D you'll see this year. On the way from 1 to 2, we stopped off for nine short pit stops known as "Mater's Tall Tales," so named for funnyman Larry the Cable guy's endearing tow truck character who found quite a few new adventures for himself in the interim. (These also fall collectively under the "Cars Toon" banner.)
All three titles come with a generous complement of extras (the recent Cars 2 most of all), as well as standard-definition DVDs and even Digital Copies to take the quasi-trilogy anywhere. (Yes, even in the car.) Crowning this entire set — literally, it's encased in clear plastic atop the box — is the "Lassetire" toy pickup truck, honoring John's cameo as the pit crew chief for Car #24, Jeff Gorvette.
–
Looney Tunes Platinum Collection Volume 1 Ultimate Collector's Edition (Warner)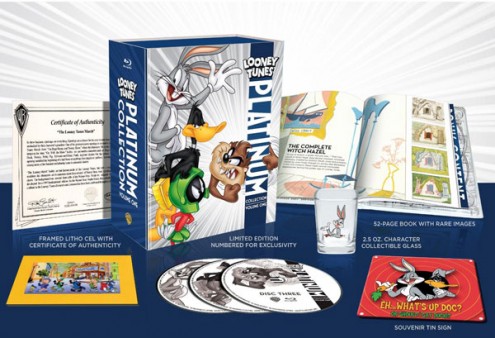 The Looney Tunes DVDs were a revelation to lifelong fans like me who grew up watching poor quality versions on local television, and this first "Platinum Collection" release (of many, we hope!) on Blu-ray is no less cause to rejoice. Warner is serving up 25 cartoons featuring our favorite and most popular characters plus 25 more: one-shots as well as the complete works of Marvin the Martian, the Tasmanian Devil and others. Of these 50, 40 were remastered for high definition, the other ten digitally spruced up to better introduce them to Blu-ray audiences. New and old featurettes as well as copious archival audio options are onboard.
But that's not all, folks: The studio has also created a limited, numbered-run (36,000) boxed set containing a lavishly illustrated book, a matted all-star litho-cel, a decorative Bugs/Daffy tin sign, and a character shotglass. (Hmm, what are they implying?) Drunk or sober, if you know a committed 'Toon Loonatic, the Ultimate Collector's Edition is the only way to go.
–
The Lion King Trilogy 3-Movie Collection (Walt Disney)
Nestled inside a box with the look and feel of hand-carved wood sits an African drum filled with eight discs: The original, always magnificent Lion King commands half those platters for its tricked-out Blu-ray debut, as well as the recent record-breaking 3D version, in addition to a DVD and Digital Copy, unusual for a pre-Pixar Disney movie. Also available only in this set are The Lion King 1 1/2 Special Edition and The Lion King 2 Special Edition, both of them as Blu-ray/DVD combos.
2 is from the well-worn Disney direct-to-video sequel mold, following the adventures of a feisty daughter born of the familiar characters. But as the title suggests, the award-winning 1 1/2 is more irreverent, a non-linear, behind-the-scenes comedy that centers upon beloved sidekicks Timon and Pumba.
–
Join the Discussion on Our Forum