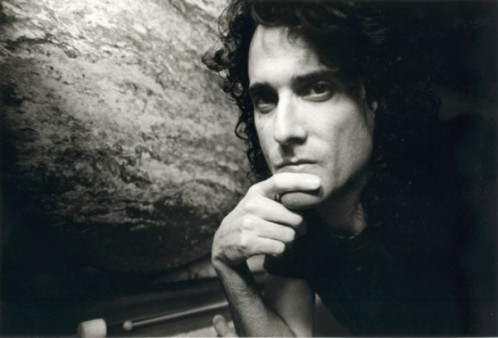 David Chesky has enjoyed a career ranging from  solo and ensemble jazz artist to composer of music that merges classical forms with jazz  and rock. He founded Chesky Records and HDTracks, companies noted for their reissues of superbly remastered classical recordings as well as original jazz and popular albums.  I caught up with David during my review of his recent album, String Theory.
Lawrence Devoe: The first and most obvious question: Your current list of works contains more concertos than any other genre. Is there something about this form that particularly appeals to you as a composer?
David Chesky: It just kind of happens without being preconceived. I have been firing off concertos for friends of mine like violinist Tom Chiu, cellist Dave Eggar, and guitarist Angel Romero. You are just sitting around and a guy says write me a concerto, and it's just done.
LD: The concertos in String Theory feature a lot of dance rhythms.  Is this a kind of homage to the baroque concerto whose movements were dance rhythms of their times?
DC: Art has to reflect time and culture. We live in a world of popular music that has rhythms. I use these rhythms from the street that I hear as I walk around New York. I hear Latin music, rock and jazz; all of these have great rhythms. As a New York composer, I live in the middle of this crazy cacophonous city with its driving rhythms. It is natural that they filter through me like this.
LD: Classically trained composers like you must be aware of their musical forebears. I hear echos of Stravinsky in the opening of your concerto for violin and cello. Tell me about the composers who were your most important musical influences.
DC: I think in terms of context. You build a tree and keep adding branches. The tree I come from ranges from Stravinsky to Bartok to Bernstein, as well as Gershwin. I am extending this tree, and making it more rhythmic and dissonant. That is the school to which I respond, composers like these who were rhythmic.
LD: Unlike 20th century composers like Ravel, Milhaud and Stravinsky who started out rather conventionally and incorporated the jazz idiom into some of their works, you seem to have come from the opposite direction, going from jazz to classical music. How do these genres peacefully coexist in your musical world or do they?
DC: They coexist because there are no real barriers. We come from a Jazz Nation. Jazz is in my blood. As an American composer today, I get asked, why do you use jazz? The real question should be why don't you use Jazz? After all, it is our American musical language.
LD: Besides writing and performing you have been involved as a record producer, first with Chesky Records and now with HDTracks. Your companies are noted for the creation of original and remastered recordings with outstanding sonics. Has the science of recording affected the art of your performances?
DC: It is very frustrating because I live in two worlds: classical and technology. In the classical world 100 years is considered new; in the technology world, 24 hours is considered old. I like technology and believe that we are creating important new technology for music. Most people will get their music through electronic distribution so I feel that if we can really develop this and make it a more pleasing experience it is better for the consumer.  A violinist buys a 3 million dollar Stradivarius for its tone and practices all his life to perfect that tone. When you buy it as an mp3, it sounds like you got it at WalMart. We are trying to preserve that tone because that is the poetry in the music. High-resolution data rates provide a more aesthetic experience. The consumer can sit home with a very good stereo system and get this experience from these high-resolution sources. I am developing Binaural Plus, a new kind of recording technology that gives you surround sound out of two channels. [Available as "Explorations in Space and Time" on www.HDTracks.com] Right now, in Phase 1, you can get this sound experience downloaded to hear with your headphones. In Phase 2, we are working with a group at Princeton University to make this work with your speakers as well. Phase 3 will be three-dimensional playback from two speakers.
LD: Sticking with HDTracks, I can't help but notice the eclectic nature of the HDTracks catalog. Do you have any particular criteria for selecting labels or artists for the website's downloads?
DC: Our main criterion is to get as a good a recording as we can get.  That goal rather than my personal taste determines what we get. We are going for a broad audience but it is also a select audience because they want to have the best sound.
LD: Finally, can you give us a hint of what is on the horizon for Chesky the composer?
DC: In two weeks I am going back to Portugal to supervise the recording of my ballet, The Zephyrtine, for another label. On my own label, I am going to record a series of modern ragtime pieces for solo piano, and then I will be recording with Angel Romero who is performing my guitar concertos.
LD: It sounds like you will be very busy for the foreseeable future. Many thanks for your time and I am looking forward to hearing Dr. Chesky's Explorations on my headphones.
–
TheaterByte offers our thanks to Mr. Chesky for taking his time to speak with us and we wish him continued success in his endeavors.