We've done our shopping early this year, surveying the best discs of the season so that we can share this list of what we consider to be the most giftable titles. We'd sure be happy to unwrap any of these, and we bet you know someone who would be, too.
Bruce Lee: The Legacy Collection (SHOUT! Factory)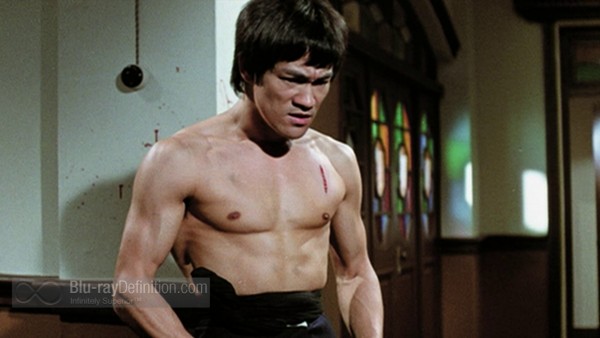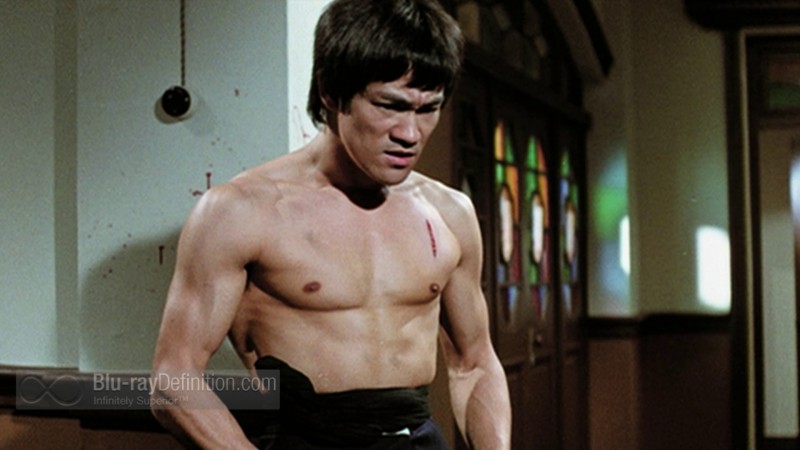 Multi-title catalog reissues like this are bittersweet, reminding us that a brilliant talent like martial artist/filmmaker Bruce Lee was taken too soon and will never be replaced. The cornerstones of The Legacy Collection are The Big Boss (a.k.a. Fists of Fury), Fist of Fury (a.k.a. The Chinese Connection), The Way of the Dragon (a.k.a. Return of the Dragon) and Game of Death, each on both Blu-ray and DVD. Technical quality varies, but all look and sound better than I've ever seen or heard. The movies pack expert audio commentaries, and then there are three bonus DVDs of supplements ranging from little tidbits like featurettes, re-visits, interviews, outtakes and alternate sequences, to two versions of the acclaimed Bruce Lee: The Legend documentary, including the original Bruce Lee: The Man, The Legend, plus I Am Bruce Lee. Much of the content is exclusive to this new set, and it is all nestled beautifully inside a hefty coffee table-worthy hardcover book.
This is surely the most impressive single-package tribute yet to the incomparable Mr. Lee's life and career.
The Dark Side of the DC Universe (Warner)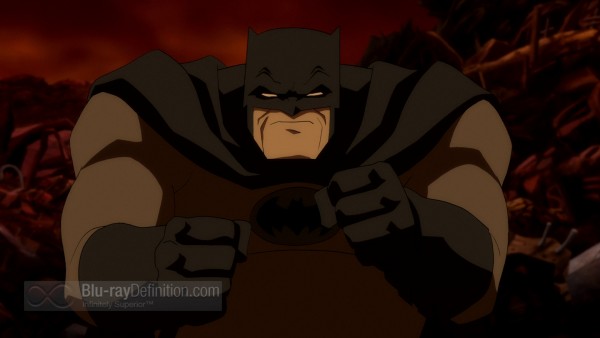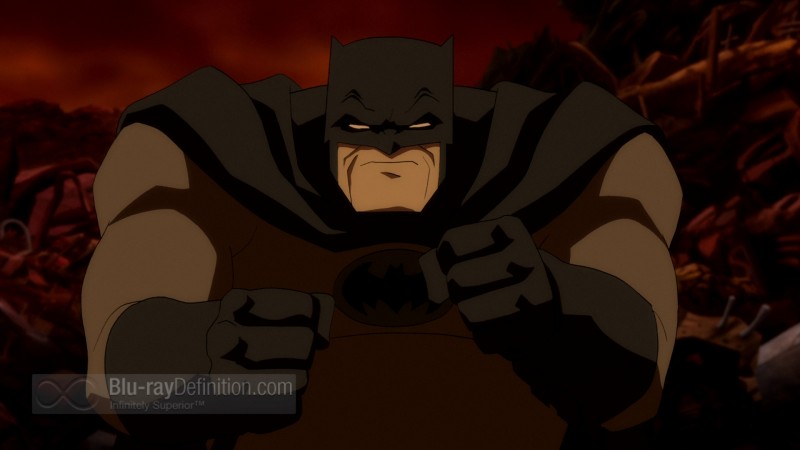 Warner Home Entertainment's embrace of all things DC Comics over the past few years has been nothing short of extraordinary, as evidenced by a string of well-crafted direct-to-video, mostly PG-13 animated adaptations of popular storylines. Considered by many to be the greatest graphic novel of all time, Batman: The Dark Knight Returns was so faithfully dramatized that it had to be split into two halves for its original release due to its sheer length. For this Deluxe Edition, the entire epic saga of the geriatric Caped Crusader in a dystopian future has been edited seamlessly together.
That's plenty awesome, but if you're a true Dark Knight Returns fan, the sweetest reward here is the 69-minute " Masterpiece: Frank Miller's The Dark Knight Returns" documentary in HD on Disc 2, a long-overdue look at writer/artist Miller and his profound impact on the comic book medium and beyond. This set's bountiful extras also include a new full-length creator commentary.
Wait, did somebody say "documentary? These DCU releases have long included intelligent, insightful featurettes that explore the central and supporting characters at hand, but now in its own standalone release we are treated to the full-length Necessary Evil: Super-Villains of DC Comics. Fast-paced and showcasing memorable artwork in a compelling new way, this treatise on the esteemed imprint's deep and nuanced rogues gallery is also comprised of interviews with comic creators and filmmakers past and present, plus other notables weighing in on the ongoing battle between good and not-good. The deep, malevolent intonations of narrator Christopher Lee are a winning touch, but with so many years of lore to cover and so many foils for so many beloved heroes, frankly Necessary Evil could have gone on longer even than its 99 minutes.
Both of these titles are bundled with a code for an UltraViolet Digital Copy.
Fox Animation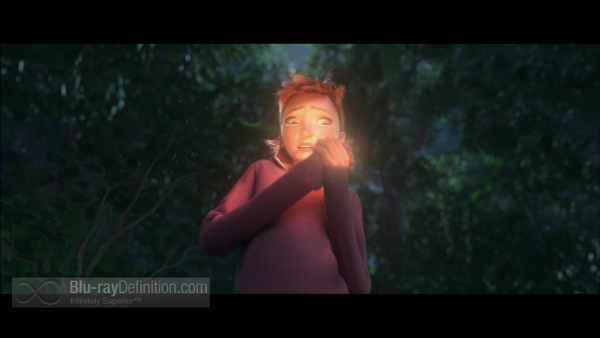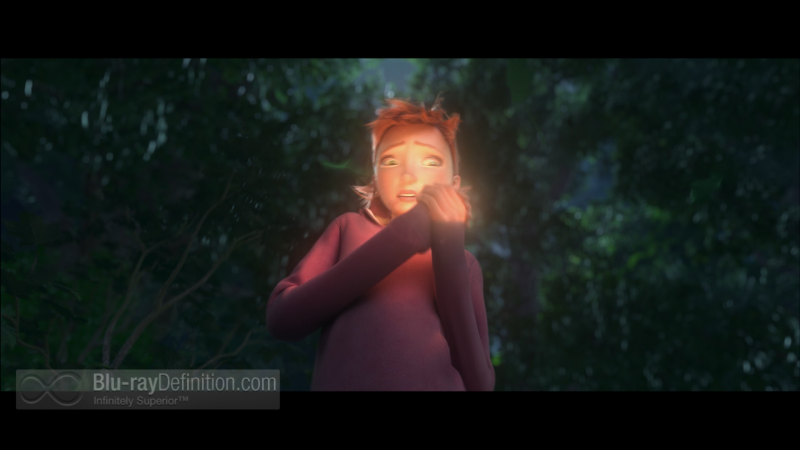 In the second half of this year, Fox has been bringing to Blu-ray 3D several PG-rated yet still family-friendly animated offerings. Among our favorites was Epic, as ambitious an adventure saga as the name suggests, courtesy of Blue Sky Studios and Ice Age director Chris Wedge. Pulling together tried-and-true elements from many a tale before it, the story finds a disbeliever suddenly thrust into a fantasy world with a high-stakes quest ahead. And from DreamWorks Animation SKG comes Turbo, more fun but with no less heart, about a determined snail who suddenly finds himself gifted with super-speed. Both feature strong voice casts (although I'd give the edge here to Epic), but what they really share is stunning video quality. From the razor-sharp reproduction of static images to the stable handling of fast, busy shots, these two celebrate the "wow" of state-of-the-art computer animation, with clear, spacious audio to match. The use of 3D only enhances the experience, without flaunting its presence in any obnoxious way.
As we might expect, these multi-disc bundles include the Blu-ray 3D, 2D Blu-ray, DVD and Digital HD versions of their respective movies.
The Gift of Disney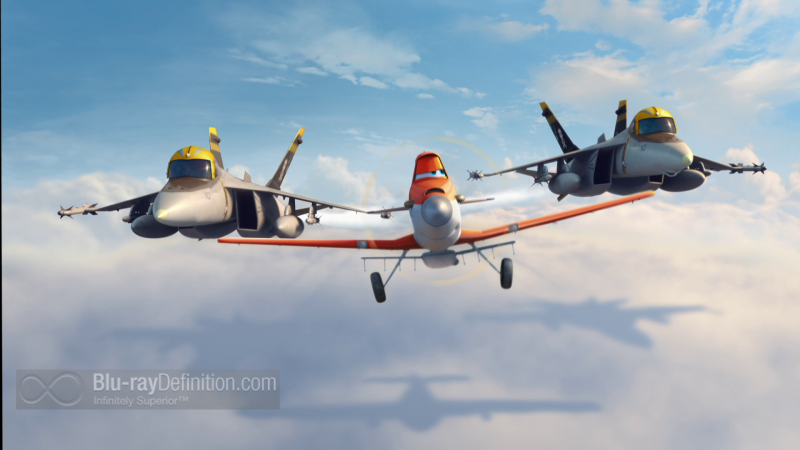 New films, timeless classics plus holiday-themed titles equal a fun potential grab-bag for some lucky recipient. Fresh from theaters comes the Planes Blu-ray 3D, which takes Pixar's Cars franchise to new heights. Okay, Cars ain't my favorite Pixar and Planes is one step removed, but technically this is a showoff disc par excellence, in two dimensions or three. The 30th Anniversary Special Edition of Mickey's Christmas Carol is jolly good fun, with songs galore during the interactive Disney Intermission, plus bonus shorts including the new "Yodelberg." Winnie the Pooh: A Very Merry Pooh Year flashes us forward one week to talk of well-intentioned resolutions, along with plenty of music, games, activities, and even a bonus Letters-to-Santa writing kit packed inside. (If you have kids, you might want to open this one before 12/25, just a suggestion.)
The vault door swung wide in 2013 to bring us the Robin Hood 40th Anniversary Edition and The Sword in the Stone 50th Anniversary Edition discs, both restored and carrying never-before-seen scenes. Looking for a side of live-action to go complement all this animation? Then check out the Blu-ray debut of Mary Poppins, another golden anniversary edition digitally restored and bringing new extras, most especially a priceless featurette that beautifully ties into December's big-screen Saving Mr. Banks.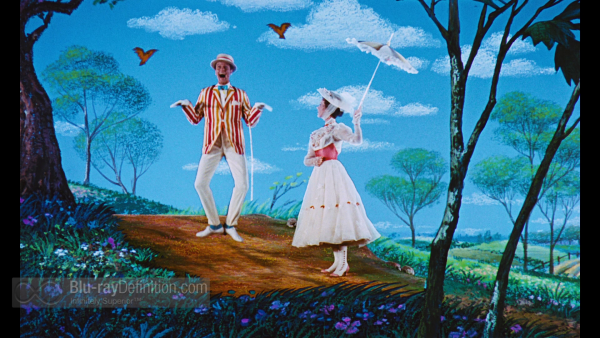 And in the most generous spirit of the season, all of these Disney releases arrive with a Blu-ray, DVD and Digital Copy, so just about anyone can watch just about anywhere.
The Walking Dead: The Complete Third Season Limited Edition (Starz/Anchor Bay)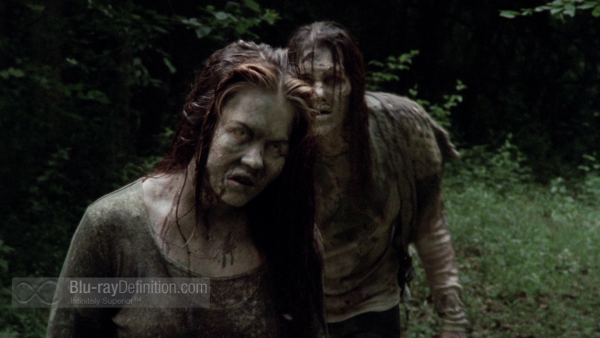 I questioned whether a single season of an ongoing series was a good fit for this list, but c'mon: On the heels of the wearable zombie mask and screwdriver-skewered zombie bust for the freshman and sophomore years, Starz/Anchor Bay has now tendered this limited edition Zombie Head Tank! Designed by McFarlane Toys, the scaled-down but still substantial case replicates The Governor's (David Morrissey) proud display of the severed heads of his victims. Just add water and four AAA batteries.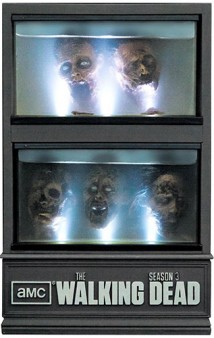 Season three of AMC's top-rated series finds our familiar, well-worn band of survivors fresh off the farm and seeking refuge, and possibly a new "home" behind the walls of a prison. But not everything is as it seems, and new dangers await, with lots of drama and a whole lot more zombie-killin'. The five-disc set–which flaunts a terrific Dolby TrueHD 7.1-channel soundtrack, remarkable for a TV show–also packs five cast and crew commentaries, half a dozen deleted scenes and eight featurettes.
The Vincent Price Collection (SHOUT! Factory)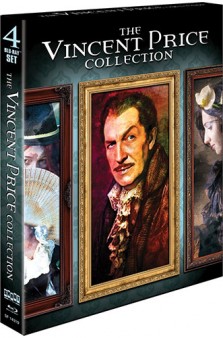 The late great Mr. Price chills again in these six sorta-eclectic gems from his more-than-half-century body of work. On the menu are three by Edgar Allen Poe (The Pit & the Pendulum, The Fall of the House of Usher, The Masque of the Red Death), The Haunted Palace and fan-favorite Witchfinder General (a.k.a. The Conqueror Worm), but also the groovy, contemporary, tongue-in-cheek Abominable Dr. Phibes.
The extensive assemblage of bonus material–new and "vintage," some of it movie-specific–spread across these four discs is just as wonderful as the prospect of owning these flicks in HD. At least one audio commentary rides along per film, introductions on almost all are delivered by Mr. Price himself, these in addition to interviews and a lovely companion booklet.
MacGillivray Freeman 50th Anniversary Limited Edition Gift Set (RLJ/Image Entertainment)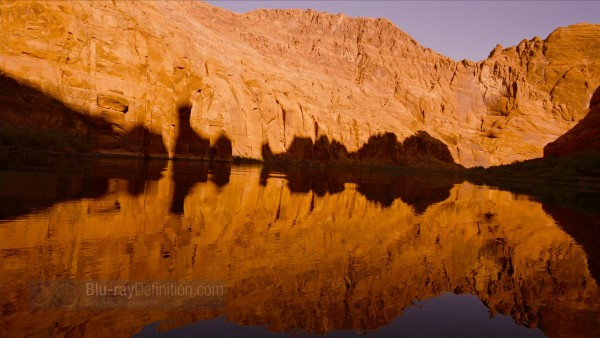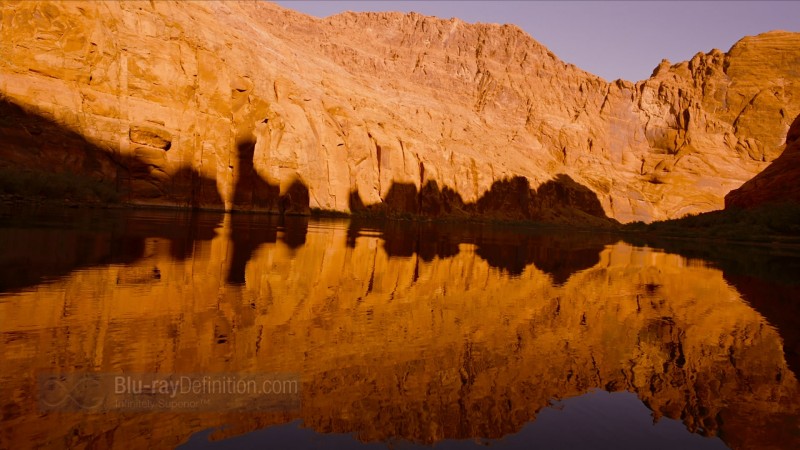 RLJ/Image's elegant gifting-ready box repurposes MacGillivray Freeman's sundry nature documentaries, each in the ballpark of 40 minutes as they were originally produced for theatrical IMAX exhibition, including one in 3D. With classy narration from the likes of Meryl Streep, Robert Redford and Pierce Brosnan, and music from Sting, Dave Matthews Band and others, these are outstanding productions by the best in the business.
These ten selections take us around the world, up in the air and under the sea: Mystery of the Nile, Coral Reef Adventure, Dolphins, Grand Canyon Adventure: River at Risk, Greece: Secrets of the Past, Hurricane on the Bayou, Journey Into Amazing Caves, The Living Sea, Magic of Flight and Arabia, the lone Blu-ray 3D disc in this batch. Not surprising considering their IMAX origins, all make stellar system demo material as well.
The Jack Ryan Collection (Paramount)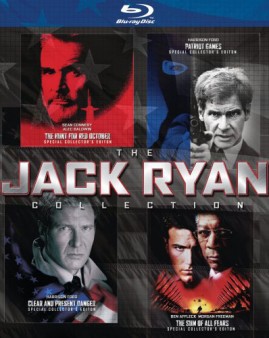 Ideal for the Jack Ryan/Alec Baldwin/Harrison Ford/Ben Affleck fan on your list who's new to Blu-ray–all four are repackaged versions of previous releases–this set includes The Hunt for Red October (a personal favorite and one of the best Cold War movies ever made), Patriot Games, A Clear and Present Danger and The Sum of All Fears. All feature at least some title-specific bonus content, the real treat being the Sum audio commentary populated by director Phil Alden Robinson and author Tom Clancy, without whom this entire franchise wouldn't exist. And on the subject of The Franchise, Paramount has also added a juicy carrot in the form of a "free" (up to $7.50, hmm…) ticket-via-code for Shadow Recruit, the newest adventure of Clancy's fabled CIA analyst, embodied by new It-boy Chris Pine.
Anchorman: The Legend of Ron Burgundy Giftset (Paramount)

A modest hit in theaters nine years ago, Anchorman found its true success on home video and pay-TV, as seemingly endless repeat viewings have only fortified his "Legend" enough to finally warrant a sequel. Born as a Best Buy exclusive, now festooned with more goodies and reborn as a Walmart exclusive, this lavish kit might just be the ultimate indulgence for fans of Ron Burgundy. The gleeful bundle starts with the two-disc "Rich Mahogany" Blu-ray containing two versions of the movie plus the companion Wake Up, Ron Burgundy: The Lost Movie and oodles of extras.
It then piles on a 100% cotton men's large "I'm Kind of a Big Deal" t-shirt, a coupon for a free pint of Ben & Jerry's "Scotchy Scotch Scotch" ice cream (remain calm, it's butterscotch), a brief excerpt from Ron's autobiography, and a VUDU/UltraViolet Digital Copy along with a de rigueur $7.50 ticket (via a printable voucher) to the new installment, Anchorman 2: The Legend Continues. Warning: Overwhelmed giftees might find themselves in a glass case of emotion.
Zatoichi: The Blind Swordsman (The Criterion Collection)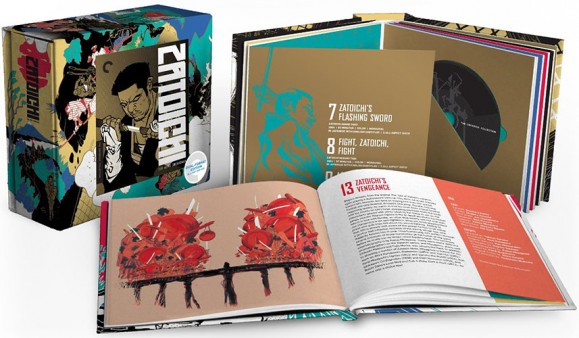 He's a blind masseur who also happens to be one of the world's deadliest men with a sword: Hey, it could happen! Actually, it probably did already, since we're talking about feudal Japan here, and fortunately his adventures were all captured on film. The Zatoichi series remains wildly popular in its native Japan and has a cult following the world over for its unique blend of action, humor and honor. The movies are all lifted by the presence of the irresistibly engaging title character as portrayed by the singular Shintaro Katsu, who made as many as four of these movies per year!
It all began with Kenji Misumi's 1962 The Tale of Zatoichi, progressing across The Tale of Zatoichi Continues, New Tale of Zatoichi, Zatoichi the Fugitive, Zatoichi on the Road, Zatoichi and the Chest of Gold, Zatoichi's Flashing Sword, Fight, Zatoichi, Fight, Adventures of Zatoichi, Zatoichi's Revenge, Zatoichi and the Doomed Man, Zatoichi and the Chess Expert, Zatoichi's Vengeance, Zatoichi's Pilgrimage (never before on in the U.S.), Zatoichi's Cane Sword, Zatoichi the Outlaw, Zatoichi Challenged, Zatoichi and the Fugitives, Samaritan Zatoichi, Zatoichi Meets Yojimbo (co-starring Toshiro Mifune!), Zatoichi Goes to the Fire Festival, Zatoichi Meets the One-Armed Swordsman, Zatoichi at Large, Zatoichi in Desperation and Zatoichi's Conspiracy.
All 25 titles have been newly restored for this generous HD/SD Dual-Format presentation, a recent but welcome trend by Criterion. While the results vary from title to title of course–the films transition from black-and-white to color and span over a decade–the improvement is undeniable, with a fine combination of organic blacks, warm colors, impressive clarity and minimal noise in both their 1080p and 480p iterations. The Blu-rays' accompanying original Japanese lossless Linear PCM 1.0 mono audio has been appreciably cleaned up as well. New, optional English subtitles are also provided.
Two hardcover books live inside this pretty box, one cleverly housing the nine Blu-rays and 18 DVDs, the other proffering extensive, informative text and showcasing the newly commissioned art, 25 new images by 25 different artists including comic book superstars Paul Pope and Bill Sienkiewicz. Bonus-wise, we're looking at a wonderful vintage documentary about star-hyphenate Katsu, plus a new interview with its director, along with trailers for all two-dozen-plus-one movies… also remastered in HD! No doubt, the arrival of this uninterrupted streak of the anti-hero's heyday in such spectacular fashion is cause for serious fan jubilation.