Classic film fans get ready to welcome the late Audrey Hepburn as Holly Golightly in Breakfast at Tiffany's in what we hope is a sparkling high definition transfer from Paramount Home Entertainment when the studio brings the film home on the high definition format for its 50th Anniversary with a September 20, 2011 release at a SRP of $29.99.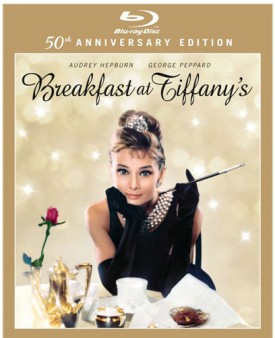 Press Release
PARAMOUNT HOME ENTERTAINMENT CELEBRATES
THE 50TH ANNIVERSARY OF ONE OF THE MOST BELOVED CLASSICS IN FILM HISTORY WITH A SPARKLING BLU-RAY RELEASE
BREAKFAST AT TIFFANY'S
Fully Restored and Remastered, Iconic Film Debuts on Blu-ray September 20, 2011 Including Over 90 Minutes of Bonus Features on the Making of the Movie, Audrey Hepburn's Timeless Style, the Music of Henry Mancini and Much More
HOLLYWOOD, CALIF. – The exquisite Audrey Hepburn stars as the free-spirited
Holly Golightly in the unforgettable masterpiece BREAKFAST AT TIFFANY'S, celebrating its 50th anniversary this year and debuting on Blu-ray September 20, 2011 from Paramount Home Entertainment.  Based on Truman Capote's best-selling novella, BREAKFAST AT TIFFANY'S captured the imagination of audiences everywhere and made an indelible impact on movies, fashion and society at large.  In director Blake Edwards' timeless classic, Hepburn's intoxicating New York party girl embarks on a wildly entertaining, comedic adventure to find love in the big city.
George Peppard is the struggling and "sponsored" young writer who finds himself swept into Holly's dizzying, delightfully unstructured lifestyle as she determinedly scours Manhattan for a suitable millionaire to marry.  The film also stars Patricia Neal, Buddy Ebsen, Martin Balsam and Mickey Rooney and earned Oscars® for Best Song ("Moon River") and Best Score. BREAKFAST AT TIFFANY'S has been fully restored and remastered for this 50th Anniversary Blu-ray release, which boasts over 90 minutes of special features including an exploration of the making of the film, a look at Audrey's iconic style, a tour of the studio lot, featurettes on Henry Mancini and Tiffany's, commentary by producer Richard Shepherd, photo galleries, the original theatrical trailer and more.
BREAKFAST AT TIFFANY'S Blu-ray
The BREAKFAST AT TIFFANY'S Blu-ray is presented in 1080p high definition with English 5.1 DTS-HD Master Audio, Restored English Mono Dolby Digital, French Mono Dolby Digital, Spanish Mono Dolby Digital and Portuguese Mono Dolby Digital with English, English SDH, French, Spanish and Portuguese subtitles. Disc contents are as follows:
Commentary by producer Richard Shepherd
A Golightly Gathering
Henry Mancini: More Than Music
Mr. Yunioshi: An Asian Perspective
The Making of a Classic
It's So Audrey: A Style Icon
Behind the Gates: The Tour
Brilliance in a Blue Box
Audrey's Letter to Tiffany
Photo Galleries:

The Movie
Production
Publicity

Original Theatrical Trailer
###
[amazon-product]B001UHOWW4[/amazon-product]