Fox has announced they will be bringing the British comedy film, Wild Target, starring Bill Nighy (Harry Potter and the Deathly Hallows: Part 1), Emily Blunt (The Young Victoria, The Devil Wears Prada), Rupert Grint (Harry Potter Series) and Rupert Everett (My Best Friend's Wedding, Shrek 2), to Blu-ray and DVD on February 8, 2011 at a suggested retail price of $29.99 (Blu-ray) and  $22.98 (DVD) respectively.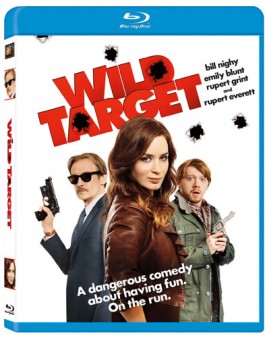 The Blu-ray will feature a widescreen high definition transfer with a DTS-HD Master Audio 5.1 soundtrack and English SDH, Spanish subtitles. It will be a barebones release, on 1-Disc Blu-ray and 1-Disc DVD with the only special feature being the featurette, On Target with Emily Blunt.
The release will apparently be
Synopsis:
From director Jonathan Lynn (The Whole Nine Yards) comes this lively British remake of the 1993 French hit "Cible Emouvante."  Victor Maynard (Nighy) is a middle-aged, solitary assassin whose professional routine is interrupted when he falls for his intended hit, Rose (Blunt). When he spares Rose's life, Victor inadvertently acquires a young apprentice, Tony (Grint). Believing Victor to be a private detective, his two new companions tag along, while he attempts to thwart the murderous intentions of his unhappy client, resulting in comedic mayhem.
[amazon-product]B003Y5H4WU[/amazon-product]