Disney∙Pixar's sequel to the hit Cars, the inventively titled Cars 2, will be speeding home November 1, 2011, in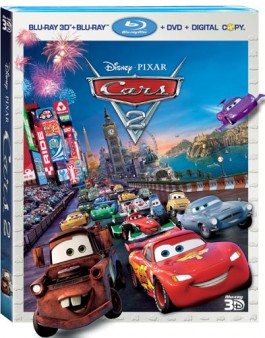 several varieties for consumers to choose from. The home video release will be available on 5-Disc Blu-ray 3D Combo Pack (1 Blu-ray 3D Disc + 2 Blu-ray Discs + DVD + Digital Copy) (SRP $49.99 U.S./$56.99 Canada), 2-Disc Blu-ray Combo Pack or DVD Combo Pack  (1 Blu-ray Disc + 1 DVD) (SRP $39.99 U.S./$44.99 Canada), and 1-Disc DVD (SRP $29.99 U.S./$35.99 Canada). There will also be a colossal  11-Disc 3-Movie Blu-ray Combo Pack "Collector Set" – "Cars 2," "Cars" and "Mater's Tall Tales" featuring both Cars and Cars 2 plus the stand-alone "Mater's Tall Tales" (SRP $119.99 U.S./$134.99 Canada). This set will include the Cars 2 5-Disc Blu-ray 3D Combo Pack, a Cars Blu-ray Combo pack (Blu-ray+DVD+Digital Copy) and Mater's Tall Tales (Blu-ray+DVD+Digital Copy).
The Blu-ray 3D and Blu-ray discs will feature a high definition 2.39:1 with English DTS-HD Master Audio 7.1, English Dolby Digital 5.1 EX, English DVS Dolby Digital 2.0, English Near Field Mix 2.0 and English DTS-HD Master Audio 5.1 (Blu-ray 2D), Spanish DTS-HD High Resolution 7.1 (Blu-ray 2D), Spanish Dolby Digital EX 5.1 (Blu-ray 2D) audio with English SDH,  Spanish (US-Only) and French (Canada-only) subtitles.
Bonus features include:
Cars Toon "Air Mater" – Exclusive All-New Short featuring the fan favorite character spinning his tales in an exciting adventure high above Radiator Springs
Toy Story Toon "Hawaiian Vacation" – Theatrically Released Short
Director John Lasseter Commentary
"World Tour" Interactive map that takes viewers through nine different locations, including those featured in the film and more
Sneak Peek: The Nuts and Bolts of 'Cars Land'
Film Synopsis: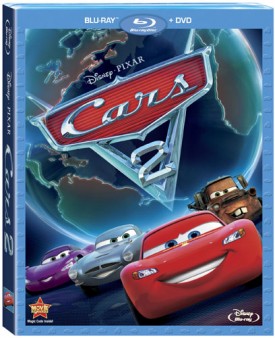 Star racecar Lightning McQueen and the incomparable tow truck Mater take their friendship to exciting new places in "Cars 2" when they head overseas to compete in the first-ever World Grand Prix to determine the world's fastest car.  But the road to the championship is filled with plenty of potholes, detours and hilarious surprises when Mater gets caught up in an intriguing adventure of his own: international espionage.  Mater finds himself torn between assisting Lightning McQueen in the high-profile race and towing the line in a top-secret mission orchestrated by master British super spy Finn McMissile and the stunning rookie field spy Holley Shiftwell.  Mater's action-packed journey leads him on an explosive chase through the streets of Japan and Europe, trailed by his friends and watched by the whole world.  The fast-paced fun includes a colorful new all-car cast, complete with menacing villains and international racing competitors.
–
[amazon-product]B005AUWXZ0[/amazon-product]
[amazon-product]B005AUWY90[/amazon-product]
[amazon-product]B005AUWY2W[/amazon-product]
[amazon-product]B005AUWY4A[/amazon-product]