At last week's CEA Line Show and Digital Downtown Conference in New York City the CEA (Consumer Electronics Association) gave their outlook for consumer spending in the electronic sector for the second half of 2009.  Stating that unemployment still looks weak and the technology sector is "caught in the carnage," the CEA said they are still optimistic that the economy will begin to turn around in the second half.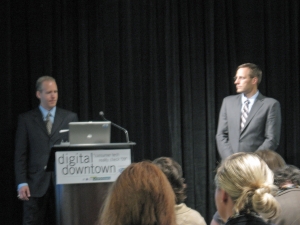 Despite the economic downturn, however, the CEA said that overall technology spending was still looking normal, naming flat panel televisions as one of the strongest segments during the recession. The CEA gave as the reason for the strong showing by flat panels the overall penetration of large sized (50-inches and over) high definition televisions in the home. They say consumers are now seeking to "downsize," purchasing smaller flat panel televisions as second or third displays to place in rooms like bedrooms and kitchens. The CEA's latest numbers now show that the strongest sector in flat panel sales is in the 30-inch and below area, with only 39% of current flat panel sales going to displays over 30-inches.
The CEA named Home Audio as another area for growth in the consumer electronics market; with soundbars becoming more popular as consumers seek to upgrade their sound in secondary rooms where full 5.1 speaker systems would not be feasible. Another area the CEA said has helped to lift the technology sector is Blu-ray, which the CEA said has been seeing relatively strong sales with growth spurred on by dropping prices. The CEA said they expect to see $179 dollar Blu-ray players by the summer and predicted that the market may see $99 Blu-ray players by the holiday season.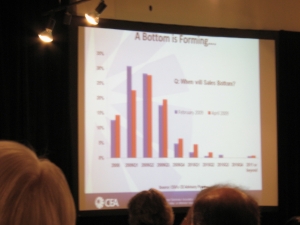 Even with the strong showing and declining prices, the CEA was still cautious on the Blu-ray front, saying that, to date, Blu-ray player sales have been aided by blockbuster titles, such as The Dark Knight and Iron Man. They were unsure, however, if this trend would need to continue or if sales of Blu-ray players would be able to grow and sustain themselves without the aid of new blockbusters or bundling deals given the lower hardware prices.
Another sign of encouragement for the technology sector and the overall economy is that the CEA says they and many technology companies are optimistic that we may be at or near the bottom of the recession.