Walt Disney Pictures and Jerry Bruckheimer Films' action-packed comedy-adventure, G-Force, will be heading to Blu-ray "Combo Pack" (Blu-ray + DVD + DisneyFile Digital Copy in a single package) this holiday season on December 15 day-and-date with the DVD release at a suggested retail price of US$44.99 and CDN$51.99 for the Blu-ray Combo and US$39.99  and CDN$44.99 (2-disc DVD) and US$29.99 and CDN$35.99 (1-Disc DVD).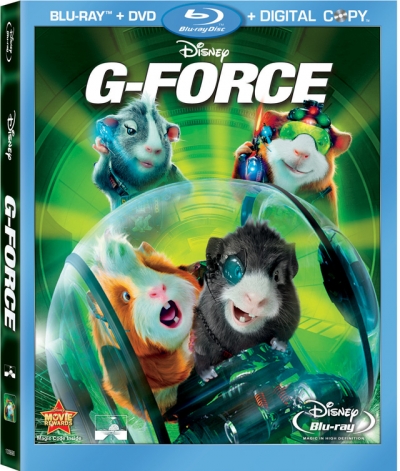 The Blu-ray Disc will feature a 2.40:1 high definition transfer, English 5.1 DTS-HD Master Audio (48 kHz/24-bit) lossless audio in addition to French and Spanish Dolby Digital 5.1 options with English, French, and Spanish subtitles.
Deluxe DVD and Blu-ray Bonus Features:
Audio Commentary—with director Hoyt H. Yeatman, Jr.
Blasters Boot Camp—Blaster (Tracy Morgan) gives viewers a high-energy, high-tech orientation into the elite world of the G-Force.
G-Force Mastermind—Hollywood legend Jerry Bruckheimer and CG effects whiz Hoyt H. Yeatman, Jr. reveal the inspiration for this exciting adventure.
G-Farce: Bloopers—A collection of light-hearted flubs from the set that prove to err is not only human!
Deleted Scenes
Three Music Videos:
"Jump" by Flo Rida featuring Nelly Furtado
"Ready To Rock" by Steve Rushton
"Go G-Force"
Exclusive Blu-ray Bonus Features:
Cine-Explore with Darwin, Blaster and their Creator—Darwin, Blaster and director Hoyt H. Yeatman reveal the secrets behind G-Force covert operations and the groundbreaking computer graphic work that brought this elite team of Guinea pigs to life.
Bruckheimer Animated—A retrospective of groundbreaking computer graphic effects in the work of Jerry Bruckheimer, plus an inside peek into the top-secret creation of G-Force's state-of-the-art visual magic.
Access Granted: Inside the Animation Lab—Director and computer graphic master Yeatman Jr., takes viewers on an exclusive tour of the high-security facility and shows how the G-Force was animated from initial sketches to completed performances.
The family with a whole new breed of hero, featuring a stellar cast including Nicolas Cage (National Treasure), Sam Rockwell (Moon), Jon Favreau (I Love You, Man), Penelope Cruz (Vicky Christina Barcelona), Tracy Morgan ("30 Rock"), and Steve Buscemi (Charlotte's Web), with live performances by Bill Nighy (Pirates of the Caribbean: At World's End), Will Arnett (Ratatouille) and Zak Galifianakis (The Hangover).  Academy Award®-winning visual effects master Hoyt H. Yeatman, Jr. (1989 winner for Best Effects; Visual Effects, The Abyss) makes his directing debut.
A top-secret, highly trained trio of guinea pig super spies is assigned to stop a dastardly plot to take over the world in G-Force, a gorgeously rendered CGI adventure from famed producer Jerry Bruckheimer. Squad leader Darwin (voiced by Sam Rockwell) will do what it takes to guarantee the success of his team, which also includes Blaster (Tracy Morgan), an outrageous weapons expert with tons of attitude, and Juarez (Penelope Cruz), gorgeous martial arts pro. With the help of Speckles (Nicolas Cage), a star-nosed mole, and myriad other members of the animal kingdom, the G-Force tries to derail evil appliance mogul Leonard Saber's power grab. It helps when your fly-on-the wall reconnaissance expert is, well, a fly on the wall!Destined to be the family comedy hit of the season, and released just in time for the holidays, G-Force includes a fascinating line-up of behind-the-scenes features, hilarious deleted movie scenes and a collection of music videos featuring songs from the film.  And exclusively for Blu-ray owners, there are three CGI effect bonus features that will satisfy their quest to join the rodent spy world.
[amazon-product align="center"]B002PMA9AC[/amazon-product]