Disney-Pixar have released the details and cover art for the forthcoming November 10th, 2009 release of Up on Blu-ray Disc, day-and-date with the DVD.  Up will be available in a four-disc Blu-ray combo pack, which includes DisneyFile digital copy for playback on an array of electronic devices, and a host of bonus features at a suggested retail price of $45.99. Full technical specifications are not available, but one can assume Disney's usual 1080p/24 AVC/MPEG-4 encoding with DTS-HD Master Audio lossless sound.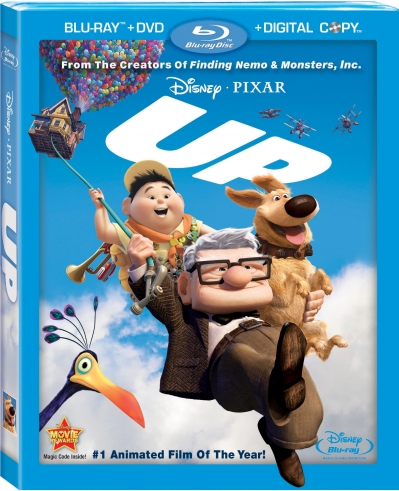 Exclusive bonus features for the Up Blu-ray release include:
Cine-Explore – A visual montage of concept art, clips and documentary coverage that illustrates the directors' commentary.
Geriatric Hero – A character study of Carl, from research to realization including art and design, rigging, animation and story. It focuses on the issues of aging, "simplexity", shape-language and compelling character arcs.
Canine Companions – For anyone who ever wondered where CG puppies come from, an introduction to the design, behavior and language of dogs.
Russell: Wilderness Explorer – A character study of Russell from inspiration and design to finding the character arc and authentic voice for this wilderness ranger.
Our Giant Flightless Friend, Kevin – Find out how avian research and development at Pixar helped bring a mythical, 13-foot tall iridescent bird to life.
Homemakers of Pixar – Carl and Ellie's house is an important "character" in the film. Fans follow the development of the house from story to art to its ultimate realization in the computer.
Balloons and Flight – Carl's house and Muntz's dirigible presented the filmmakers with two different problems—how could they make a physical impossibility possible? And, in the case of the dirigible, how would they unearth a fallen giant and let it soar?
Composing for Characters – Composer Michael Giacchino returns to score his third Disney•Pixar feature film. See how the Up filmmakers collaborated with Giacchino to create the memorable score and compelling musical themes.
Married Life – The original story concept that became the powerful "Married Life" scene, showing Carl and Ellie's love story.
Global Guardian Badge Game – Players try to locate countries, states and capitals around the globe in a multi-layered BD-Exclusive geography game enhanced by BD-Live.
Up Blu-ray and DVD bonus features:
Commentary by director Pete Docter and co-director Bob Peterson.
Dug's Special Mission – An all new original short film that follows the misadventures of Dug as he attempts to complete his "special mission." The short is directed by Up Story Supervisor, Ronnie Del Carmen.
The Many Endings of Muntz – Many ideas were hatched about how to dispose  of the film's arch villain, Muntz, and now viewers can see the many alternate endings proposed during story development.
Partly Cloudy –The hilarious short film that preceded screenings of Up. Everyone knows that the stork delivers babies, but where do the storks get the babies? The answer lies up in the stratosphere where the cloud Gus is a master at creating "dangerous" babies, which prove to be more than a handful for his local delivery stork Peck. Directed by Pixar story artist, animator and voice actor Peter Sohn.
Adventure is Out There – This action-packed documentary tells the story of the filmmakers' own trek to the tepuis mountains of South America to research the design and story of the film.[amazon-product align="center"]B001KVZ6G6[/amazon-product]