After suffering a long dearth of content, early adopters for the home 3DTV format, which includes 3D HDTV displays and 3D Blu-ray players, are finally finding their way into the light. The shift began in November of 2010 when Warner released six Blu-ray 3D titles to wide retail release (no hardware exclusivity). The season would also see a few more titles released to retail including several IMAX 3D titles from Image Entertainment, a Best Buy exclusive Blu-ray 3D release of The Last Airbender, and two big Blu-ray titles from Disney, Alice in Wonderland and A Christmas Carol as well as Step Up 3D.

Now things are heating up even more in the post-holiday season with Walt Disney Studios announcing 15 Blu-ray 3D titles for home release in 2011. All of the releases will come packaged with the 2D Blu-ray release and be released day-and-date with the regular Blu-ray and DVD releases as well.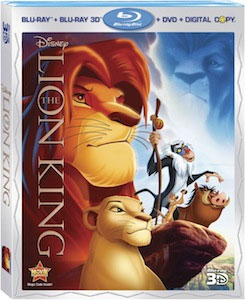 And for those who may be wondering, this is no dump of  films onto the market that no one wants to see. The list of titles to be released by Disney in the Blu-ray 3D format includes such highly anticipated and well regarded classics as The Lion King, Beauty and the Beast, Tim Burton's The Nightmare Before Christmas, and the studio's recent box office hit Tangled. Other titles revealed so far by the studio for release include Bolt, Meet the Robinsons,G-Force, and Chicken Little.
In addition to the film being in 3D, each disc will include thematically linked 3D menus, 3D previews of coming-attractions trailers and an introduction to the eye-popping world of Disney Blu-ray 3D featuring beloved characters Timon and Pumbaa from The Lion King.