Earth Day evolved from a 1960's concept that was finally realized on April 22, 1970. Intended for worldwide celebration, Earth Day brings annual attention to our precious natural resources. Earth Day is now observed in nearly two hundred countries. The spirit of the environmental movement has moved forward in the past four decades. Most Americans now take recycling for granted, consider conservation of energy and water as essential, and understand the importance of minimizing carbon emissions. The Earth Day Network, now 20 years old, seeks to enhance knowledge about environmental issues, reaching thousands of organizations. So, in recognition of this special day, we are given a cornucopia of Blu-ray discs that present the miraculous diversity, scenery, humanity, and immensity that is our planet.  So how do you plan your Earth Day party? Fortunately, those of us at TheaterByte have the answer, thanks to BBC Home Entertainment, PBS, Image Entertainment, Universal Studios, and DisneyNature.
Planet Earth: Six-Disc Special Edition (BBC)
Begin your Earth Day celebration with, of course, Planet Earth: Six-Disc Special Edition. Okay, with additional footage, it plays for nine hours, but those are nine really special hours.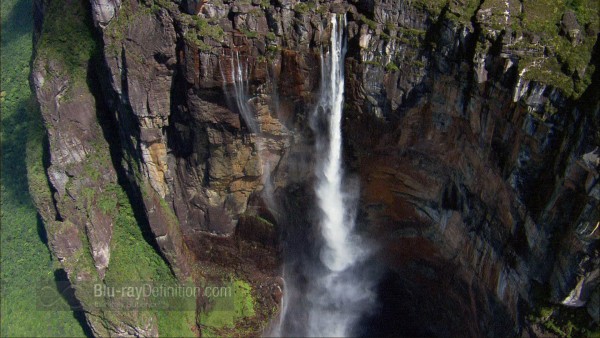 This six-disc set got the whole Planet Earth show started and what a start! The special edition Blu-ray box set also gives us seven hours of additional material. Extras abound with original behind-the-scenes featurettes, clearly of interest to techies, and a great bonus series, Planet Earth-The Future.  Luxuriate in climes, vistas, flora and fauna that many viewers have never seen or certainly not as close up or detailed. The set includes a special program Great Moments of Planet Earth, and the extra series Planet Earth – The Future.
Read our full review of Planet Earth: Six-Disc Special Edition on Blu-ray
Purchase Planet Earth (Six-Disc Special Edition) [Blu-ray] on Amazon.com
Africa (BBC)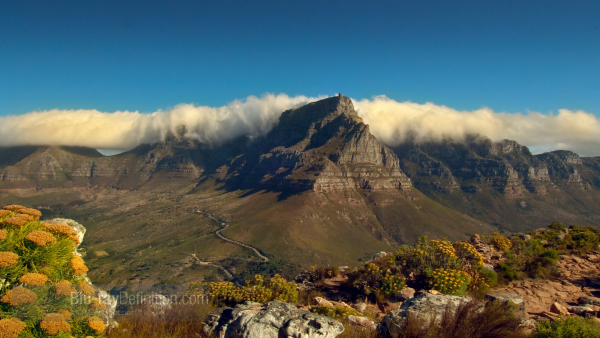 With this five-hour three-disc traversal of the Dark Continent, executive producer Michael Gunton realizes a four-year odyssey that is absolutely illuminating. Narrated by Sir David Attenborough, we see aspects of 27 countries as well as their flora and fauna, many of which have never been previously seen. Groundbreaking cinematography gets up close and personal with animals in the wild that will simply amaze the viewers. As a bonus, Africa contains 104 minutes of featurettes, interviews, outtakes and deleted scenes.
Read our full review of Africa on Blu-ray
Purchase Africa [Blu-ray] on Amazon.com
Frozen Planet (BBC)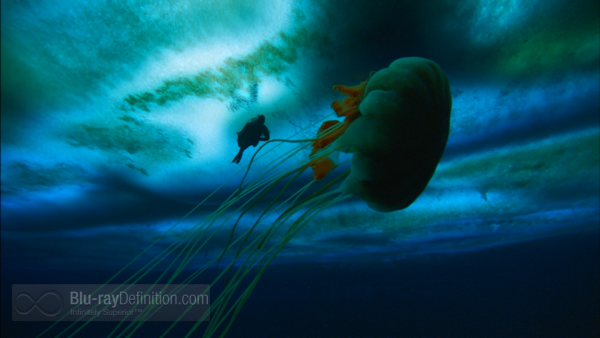 Most of us will never visit either the Arctic or Antarctica, so this three-disc set gets us a view of life in these cold and often forbidding environments. During these three discs, Sir David Attenborough narrates a six-hour odyssey that displays the lives of creatures that have adapted somehow to these frigid climates. Four hours of bonus features include Science at the Ends of the Earth, Freeze Frame, seven short features, and 47 video shorts.
Read our full review of Frozen Planet on Blu-ray
Purchase Frozen Planet: The Complete Series (David Attenborough-Narrated Version) [Blu-ray] on Amazon.com
Human Planet (BBC)
A departure from the usual fare that we get with the BBC Earth series, Human Planet delivers eight hours of main and extra viewing features. Distinguished actor John  Hurt narrates personal stories of many peoples, told in their own languages and from around our planet. It is absolutely fascinating and frequently riveting to see the diversity of our species and its ability to adapt to a wide range of climates and natural terrains. This Blu-ray set offers three hours of footage not seen in North America. There are 10 Behind the Lens featurettes and a BD-live feature Zanskar.
Read our full review of Human Planet on Blu-ray
Purchase Human Planet [Blu-ray] on Amazon.com
One Life (BBC)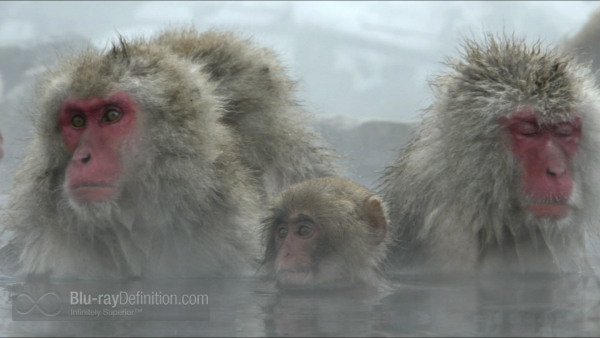 A Blu-ray/DVD/Ultraviolet combo pack, One Life, takes a 90-minute look at the diverse species that inhabit our planet and that have successfully adapted to and reproduced in many different habitats. Film's latest James Bond, actor Daniel Craig, provides the narration of this epic adventure.  The stories are compelling and filmed in the expected tradition of the BBC Earth series. Whether by divine plan or intelligent creation, the ability of Earth's creatures to overcome enormous obstacles and generate new life is simply extraordinary. Extra features include interviews with the cameramen, filmmakers, and producer Michael Gunton.
Read our full review of One Life on Blu-ray Disc
Purchase One Life [Blu-ray] on Amazon.com
The Blue Planet: Seas of Life (BBC)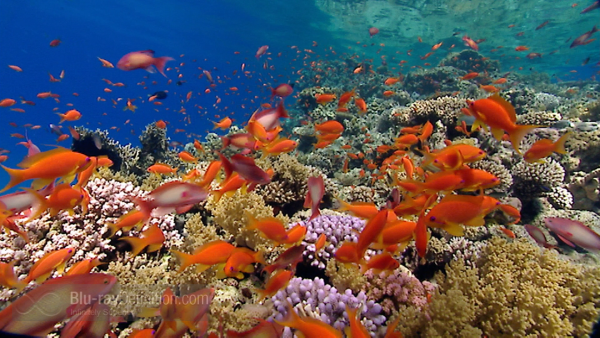 The Blue Planet: Seas of Life is a Blu-ray premiere. With this three-disc set, running for six and one-half hours, BBC Home Entertainment gives us an unprecedented picture of life in our world's oceans. Narrated by Sir David Attenborough and produced by Alistair Fothergill, we get very intimate views of creatures that are rarely seen as well as their fascinating lives and habitats.  Three hours of bonus footage include Amazon Abyss, Dive to Shark Volcano, Between the Tides, Antarctica, and Deep Trouble. Rounding out this terrific package are interviews with producer Fothergill, cameramen Doug Allen, researcher Penny Allen and other behind-the-scenes footage.
Read our full review of The Blue Planet: Seas of Life on Blu-ray
Purchase Blue Planet: Seas of Life [Blu-ray] on Amazon.com
 Great Barrier Reef (BBC)

One of the true natural wonders of the world, Australia's Great Barrier Reef receives the top-notch BBC treatment in this two-hour Blu-ray disc. The largest living structure on earth, extending for more than 1000 miles, the Great Barrier Reef is composed of 3000 individual reef systems and hundreds of islands.  This gorgeously filmed documentary tells us all that we would ever want to know about how the GBR came into existence, how it functions and its many inhabitants. Without leaving home, this is the private tour that many of us would have shelled out major dollars to take.
Read our full review of Great Barrier Reef on Blu-ray Disc
Purchase Great Barrier Reef [Blu-ray] on Amazon.com
Planet Ocean (Universal)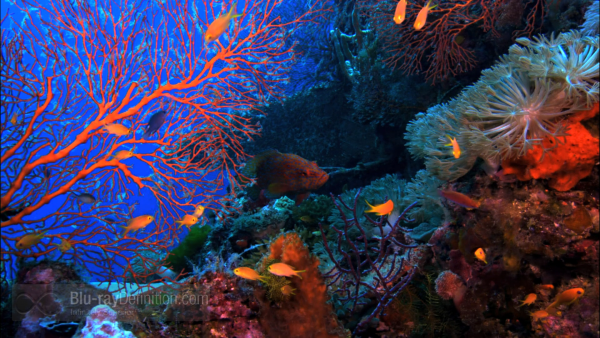 For those viewers who need more ocean time, here it is in Planet Ocean, a 90-minute survey of the world's oceans as captured by Yann Arthus-Bertrand and Michael Pitiot, collaborating with OMEGA and Tara Expeditions.  Actor Josh Duhamel provides the narration for this beautifully filmed and engaging sea voyage.  Viewers will see aspects of Earth's vast water-world that are rarely seen, let alone filmed. An understandable award winner at the 2012 Blue Ocean Film Festival, this will be a great watch for all of us. Additional material comes by way three featurettes: In the Skies Above Rio, Underwater, and Shanghai.
Read our full review of Planet Ocean on Blu-ray Disc
Purchase Planet Ocean [Blu-ray] on Amazon.com
Magic Journey to Africa (Image Entertainment)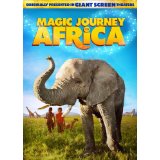 Directed by Jordi Llompart (Mystery of the Nile) and featuring Eva Gerretson and Raymond Myula, the cameras travel to some of the most spectacular locations in Africa. All of our favorite animals get their just screen time and we are treated to some of the most eye-popping landscapes on the planet. Running a relatively short 49 minutes, this is a great introduction for young viewers.
Purchase Magic Journey to Africa [Blu-ray] on Amazon.com
Wings of Life (DisneyNature)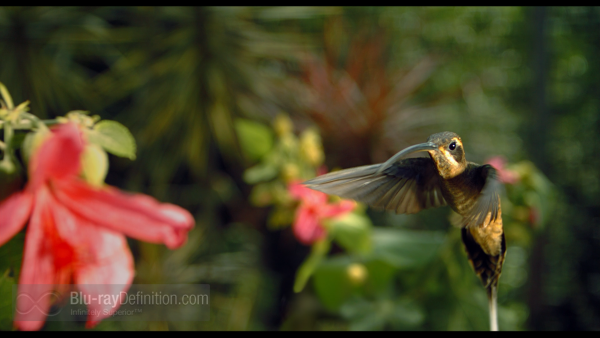 DisneyNature adds to our Earth Day 2013 viewing list with a splendid, beautifully filmed account of many of our world's most interesting flying friends: bees, hummingbirds, butterflies and, yes, bats. Innovative camera techniques get us very close to these evanescent creatures and director Louie Schwartzberg gives us a cinematic account that makes 85 minutes quickly "fly" by us. Oscar-winning actor, Meryl Streep provides the narration, and, need I say more?
Read our full review of Wings of Life on Blu-ray Disc
Purchase Disneynature: Wings of Life (Blu-ray / DVD) on Amazon.com
Nova: Earth From Space (PBS)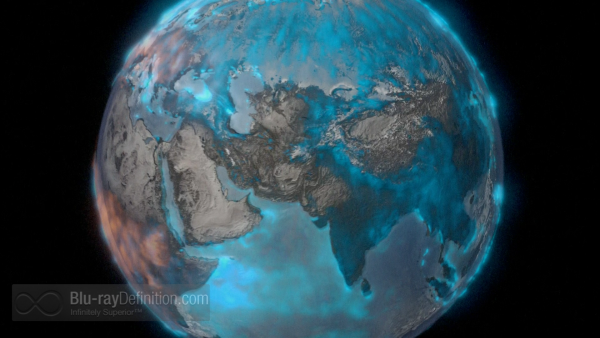 Aired two months ago on the PBS Network, this is the stunning final entry in our Earth Day viewing list. It would be safe to bet that few, no probably make that none of our readers will have the opportunity to visit the International Space Station and get the kind of planetary images provided in this two-hour look from outer space. There is a real sense of adventure in watching how events in one continent affect another: dust from the Sahara reaches the Amazon or the birth of a hurricane. Ultimately, we are privileged to see what ancient astronauts (if they really existed) would have witnessed on their way to our blue planet.
Read our full review of Nova: Earth from Space on Blu-ray Disc
Purchase Nova: Earth From Space [Blu-ray] on Amazon.com
So there you have it, eleven reasons to call in sick to work, turn off your cell phone, power down your computer, and put your family on notice. Be sure to set aside a good supply of popcorn and beverages, invite some special friends, and don't forget to recycle. Happy Earth Day!