Paramount Home Entertainment has announced they will finally be releasing the Michael Bay sci-fi film The Island, starring Scarlett Johansson and Ewen McGregor on Blu-ray in the United States, June 21, 2011 at a suggested retail price of $19.99. As many of you know, The Island has long been available in Region B territories like The UK and Australia on Blu-ray since the early days of the format from Warner, who hold the rights to the film in those territories.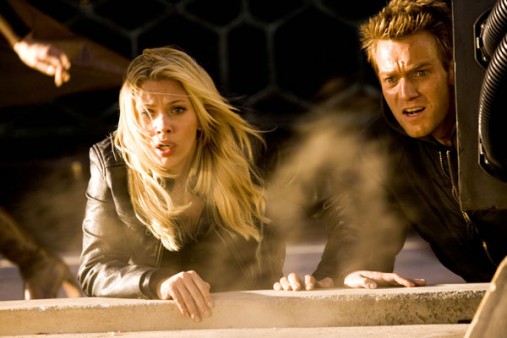 What the Paramount release will have over the Warner release, however, is a lossless, DTS-HD Master Audio 5.1 soundtrack, as opposed to a lossy Dolby Digital 5.1 track, and more likely than not, new AVC/MPEG-4 1080p encoding that has not been ported over from the now defunct HD-DVD format like the VC-1 transfer from the Warner release.
See the press release below for film synopsis and additional details.
Press release
EWAN MCGREGOR AND SCARLETT JOHANSSON STAR IN
DIRECTOR MICHAEL BAY'S STUNNING LOOK INTO A DYSTOPIAN FUTURE
THE ISLAND
Sci Fi Thriller Debuts on Blu-ray™ June 21, 2011 Boasting Multiple
Behind-the-Scenes Featurettes and Director Commentary
HOLLYWOOD, CALIF. – Director Michael Bay delivers a mesmerizing look into the not-too-distant future in THE ISLAND, debuting on Blu-ray June 21, 2011 from Paramount Home Entertainment.  Ewan McGregor (The Ghost Writer) and Scarlett Johansson (Iron Man 2) star as Lincoln Six Echo and Jordan Two Delta, residents of a confined indoor community created after ongoing abuse of the Earth rendered most of the planet uninhabitable. One of the only places in the outside world still capable of sustaining life is an idyllic island where citizens are chosen to live through a lottery.  Or at least that's what everyone believes.  When Lincoln discovers that they are actually clones kept alive to provide needed organs to the outside population, he and Jordan attempt a harrowing escape. THE ISLAND also stars Steve Buscemi ("Boardwalk Empire"), Djimon Hounsou (The Tempest), Michael Clarke Duncan (The Green Mile) and Sean Bean (National Treasure). THE ISLAND Blu-ray features commentary by Michael Bay, a making of featurette, a look at pre-visualization for the film and the featurette "The Future In Action".
THE ISLAND Blu-ray
THE ISLAND Blu-ray is presented in 1080p high definition with English 5.1 DTS-HD Master Audio, French 5.1 Dolby Digital and Spanish 5.1 Dolby Digital with English, English SDH, French and Spanish subtitles.  Bonus features are presented in standard definition:
Commentary by director Michael Bay
The Future In Action
The Making of The Island
Pre-visualization: Forward Thinking
THE ISLAND
Street date:                June 21, 2011
Pricing:                       $19.99 U.S.
Runtime:                     136 minutes
U.S. Rating:                PG-13 for intense sequences of violence and action, some sexuality and language
Canadian Rating:       14A
About Paramount Home Entertainment
Paramount Home Entertainment (PHE) is part of Paramount Pictures Corporation (PPC), a global producer and distributor of filmed entertainment.  PPC is a unit of Viacom (NYSE: VIA, VIA.B), a leading content company with prominent and respected film, television and digital entertainment brands.  PHE is responsible for the sales, marketing and distribution of home entertainment products on behalf of various parties including: Paramount Pictures, Paramount Vantage, Paramount Classics, Insurge Pictures, Paramount Famous Productions, Nickelodeon, MTV, Comedy Central, CBS and PBS and for providing home entertainment fulfillment services for DreamWorks Animation Home Entertainment.
–