Gaiam Vivendi Entertainment and Sonar Entertainment announced the release of the sci-fi thriller Exploding Sun, starring Julia Ormond, on Blu-ray and DVD for October 15, 2013. The Blu-ray will have a SRP of $29.95  and the DVD a SRP of &19.97.
TIME IS RUNNING OUT
EXPLODING SUN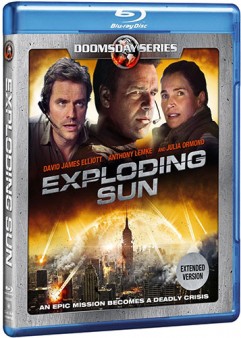 Emmy© Award Winner Julia Ormond Stars In The Explosive End-Of-The-World Thriller Arriving On Blu-ray and DVD October 15 From Gaiam Vivendi Entertainment And Sonar Entertainment
UNIVERSAL CITY, CA – An exciting voyage takes a fatal turn when the never-before-seen extended version of Exploding Sun shoots onto Blu-ray and DVD October 15 from Gaiam Vivendi Entertainment and Sonar Entertainment. When Earth faces the ultimate threat, two men have one chance to save humanity. Starring Emmy© award winner Julia Ormond ("Mad Men," "Temple Grandin"), David James Elliot (JAG), Natalie Brown (Being Human) and Anthony Lemke (Lost Girl), Exploding Sun originally premiered on September 9 on ReelzChannel, concluding the doomsday film series, which featured five epic experiences.
History is made as the first-ever commercial space flight is launched into space for the first time as the world watches in awe. When a solar storm hyper-changes the engine and sends it hurtling toward the sun, it triggers a cataclysmic solar storm that could blow Earth all the way back into the Stone Age. For those at Mission Control and everyone else on board, including the First Lady, preparing for the inevitable seems to be the only horrifying option. The future of the world is left in the hands of two men who will risk their lives in order to save all humanity. The biggest source of life turns into our greatest threat when an extended version of Exploding Sun, not seen on television, blasts onto Blu-ray and DVD October 15 at the suggested retail price of $29.95 and $19.97, respectively.
SYNOPSIS
A solar flare four times larger than Earth plunging toward the planet, Military scientist Dr. Jane Brandt calls upon the one man who can possibly reverse the cataclysm: a renegade ad-hoc scientist who warns the countdown to the end of humanity has begun.
[amazon-product]B00DNF1T90[/amazon-product]