Onkyo USA has announced March deliveries of its first 3D-Ready home theater receivers and home theater in a box (HTiB) systems featuring HDMI 1.4, and THX certification. The new models consist of three A/V receivers and three HTiB systems ranging in price from $299 to $599. All the new receivers and HTiBs decode lossless Dolby TrueHD and DTS-HD Master Audio bitstreams,  include new 192-kHz/24-bit Burr-Brown PCM1690 DAC's that the company claims are highly resistant to clock jitter and provide 113-dB dynamic range.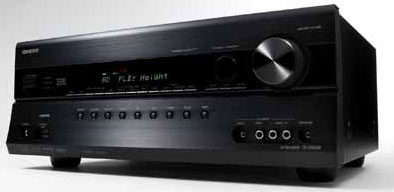 Also new to the range is an overlaid onscreen graphical display that allows users to watch their programing in the background while using the function menus and an HDMI Thru function, which allows content to pass through even when the receiver is in standby mode.
The 5.1-channel TX-SR308 will be available in March with an MSRP of $299 and the 7.1-channel TX-SR508 will be available in April at an MSRP of $399.
Leading this pack of A/V Receivers from Onkyo is the 7.2 channel THX-Select2 Plus certified TX-SR608. The TX-SR608 features a new amplifier section that uses three-stage inverted Darlington output topology with 100 watts of power. Audyssey DSX dimensional sound processing has been added to its predecessor's Dolby PLIIz capabilities.  All video sources, including those using the new PC input, and regardless of source resolution, can be upscaled to 1080p via HDMI and Faroudja DCDi Cinema™. The TX-SR608  also includes a front HDMI input. The TX-SR608 will be available in April at an MSRP of $599.
The HTiB package systems, which each consist of a receiver, speakers and a subwoofer, are the 5.1-channel HT-S3300 and 7.1-channel HT-S5300, which also includes an iPod dock.  Just like the standalone A/V receivers, these systems also decode lossless Dolby TrueHD and DTS-HD Master Audio via HDMI. The HT-S3300 will ship in March with an MSRP of $379, followed by the HT-S5300 in April for  $599.
The HTX-22HDX uses a combination subwoofer and 3D Ready A/V receiver plus two front speakers. It features Onkyo's own Theater-Dimensional processor to create a virtual surround effect utilizing a  2.1 channel configuration. The HTX-22HDX has three HDMI v1.4 inputs, handles Dolby TrueHD and DTS-HD Master Audio; offers four audio modes for gaming; and outputs for additional speakers. The HTX-22HDX will ship in May with a $349 MSRP.