Fox has announced they will be bringing the Denzel Washington action film Unstoppable to Blu-ray and DVD on February 15, 2011. The Blu-ray will be available at a suggested retail price of $39.99 U.S / $49.99 Canada and on DVD for suggested retail price of $29.98 U.S. / $43.48 Canada.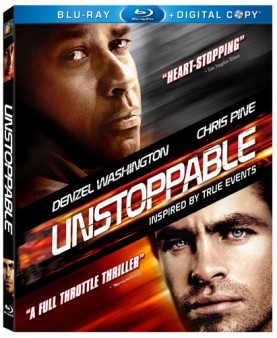 Special features for the Blu-ray disc include:
Disc One:
Derailed: Anatomy of a Scene
Hanging Off the Train: Stunt Work
On the Rails with the Director and Cast
The Fastest Track: Unleashing Unstoppable
Director Commentary Track
Tracking the Story: Unstoppable Script Development
Disc Two:
Film synopsis:
Hang on for the ride of your life as Oscar winner Denzel Washington* and Chris Pine (Star Trek) team up for the year's most electrifying action-thriller. A runaway train, transporting deadly toxic chemicals, is barreling down on Scranton, Pennsylvania and only two men can stop it: a veteran engineer (Washington), and a young conductor (Pine.) Thousands of lives hang in the balance as these ordinary heroes attempt to chase down one million tons of hurtling steel and prevent an epic disaster. Helmed by visionary director Tony Scott (Man On Fire), this story inspired by actual events delivers excitement and suspense that are…UNSTOPPABLE!
UNSTOPPABLE also features performances by Ethan Suplee (Remember the Titans), Kevin Corrigan (The Departed), and Elizabeth Mathis (TRON: Legacy).
[amazon-product]B002ZG99TK[/amazon-product]