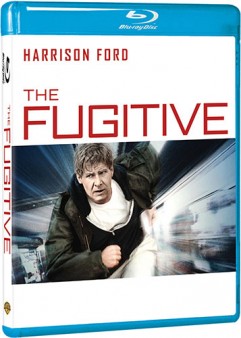 Warner Home Video has announced the forthcoming release of a 20th Anniversary Edition of the Harrison Ford thriller The Fugitive, set to be released September 3, 2013 at a SRP of $19.98. The Fugitive 20th Anniversary Edition will be available in what the studio calls "BD Elite Case packaging" and will also come with a new featurette, The Fugitive: Thrill of the Chase, which includes interviews with Harrison Ford, Tommy Lee Jones, director Andrew Davis and more.
Additional special features include:
Introduction by Andrew Davis and Harrison Ford
Commentary by Andrew Davis and Tommy Lee Jones
On the Run with the Fugitive Behind-the-Scenes Featurette
Derailed: Anatomy of a Train Wreck Behind-the-Scenes Featurette
"The Fugitive" [2000 WB Pilot] New to Release!
Theatrical Trailer
Early mailings to retailers suggest the title has been "newly remastered"; a big bonus for early Blu-ray adopters who own the original 2006 Blu-ray release, which was plagued with terrible edge enhancement, making it one of the more notorious releases from the format war days.
Synopsis:
Chicago surgeon Dr. Richard Kimble, unjustly accused of murdering his wife, must find the real killer, and the reasons for the slaying, after being targeted in a nationwide manhunt led by tenacious United States Deputy Marshal Sam Gerard.