Universal Playback will be bringing House to Blu-ray for the first time in the UK with the release of House: Season Six on Blu-ray September 27, 2010 at a suggested retail price of £44.99.
The 5-disc Blu-ray set will feature: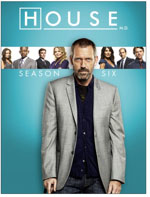 Extras (DVD and Blu-ray)
BEFORE BROKEN (9:53 EST): Featuring Hugh Laurie and shot on location with no script and no plan, experience House's emotional journey at Mayfield Psychiatric Hospitable from an all-new up close and intimate perspective as originally envisioned by Director/Executive Producer Katie Jacobs in a never-before-seen original short.
A NEW HOUSE FOR HOUSE (22:30 EST): An in-depth feature highlighting the amazing Mayfield hospital set from the 2-hour season premiere episode, "Broken".
BROKEN COMMENTARY WITH DIRECTOR/EXECUTIVE PRODUCER KATIE JACOBS, WRITER/EXECUTIVE PRODUCER RUSSEL FRIEND & WRITER/EXECUTIVE PRODUCER GARRETT LERNER ON/OFF
Extras (Blu-ray only)
NEW FACES IN A NEW HOUSE (6-8 MINUTES): "Broken", the 2-part episode, which kicked off Season 6, featured none of the regular stars of HOUSE other than Hugh Laurie.  In this featurette we'll discuss the challenges and opportunities that are presented when a show must hire more than 30 new actors to perform pivotal roles in an extremely important episode.
CRAZY COOL EPISODE: EPIC FAIL (21:23 EST): In this piece we'll feature the awesome visual effects accomplishments that were realized in the episode "Epic Fail".
U-CONTROL
Available U-CONTROL features on this Blu-ray disc:
A BEGINNER'S GUIDE TO DIAGNOSTIC MEDICINE
[amazon-product region="uk" tracking_id="bluraydefinit-21″]B003MVZE78[/amazon-product]