IFC Films has announced they will be bringing the full-length Director's Cut of Gaspar Noé's Enter the Void to Blu-ray and DVD on January 25th, 2011 at a suggested retail price of $24.98 (DVD)/$29.98 (Blu-ray). See more details below in the press release: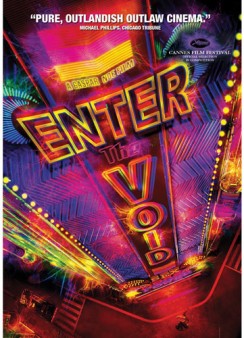 FROM GASPAR NOÉ, THE DARING AND VISIONARY DIRECTOR OF IRREVERSIBLE COMES HIS FIRST FEATURE IN EIGHT YEARS AND HIS MOST MIND-BLOWING MASTERPIECE — AN EXTRAORDINARY AND UNFORGETTABLE STORY OF DRUGS AND OTHER LOVES
Eight years after he shook the world with his one-of-a-kind nightmare Irreversible, director Gaspar Noé is back with his next feature, ENTER THE VOID, which pushes cinematic boundaries even further. The hallucinatory new film, praised by critics around the world arrives on Blu-ray and DVD.
Noé, who bravely pushed limits (and dared viewers to watch) in the disturbing I Stand Alone and the Monica Bellucci shown-in-reverse-order rape drama Irreversible, follows those worldwide sensations with another triumph. ENTER THE VOID is Noé's most assured and haunting film yet, a "head trip" a la Stanley Kubrick's 2001: A Space Odyssey and at the same time a piercing modern drama.
Newcomer Nathaniel Brown and Paz de la Huerta (HBO's Boardwalk Empire) star as a brother and sister trapped in the hellish nighttime world of Tokyo where he deals drugs and she works as a stripper. A crime gone bad leads to shocking violence and then moments of transcendence in which the movie plunges viewers into death and rebirth as no film has done before via "mesmerizing camerawork" (The New York Times) that make it "a dazzling and brutal exercise in cinematic envelope-pushing" (New York Post). Stunning audiences around the world, ENTER THE VOID is a cinematic experience that no serious movie lover can miss.
Street Date: January 25, 2011
Format: DVD/BD
SRP: $24.98/$29.98
[amazon-product]B0048LPRD2[/amazon-product]