High-end home theater manufacturer Integra is now shipping what is believed to be the company's and industry's first high-performance nine-channel home theater power amplifier. The DTA-70.1 9-channel home theater amplifier has received the highest THX-Ultra2 certification and is rated for 150 watts per channel into 8ohms.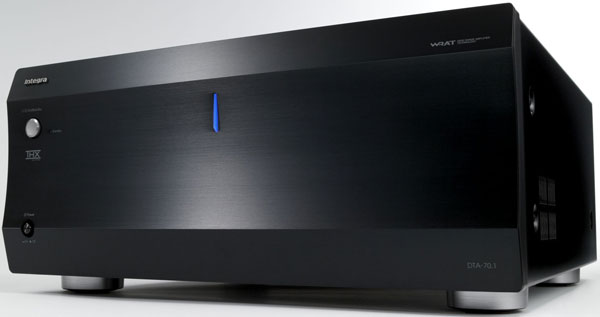 Designed to operate in conjunction with Integra's DHC-80.1 9.2-channel AV processor for theater systems that use the new height or stereo-wide channels for enhanced three-dimensional ambience, or any other brand of pre-processors, the amplifier is also a highly versatile companion to seven-channel preamps such as the Integra DHC-40.1 with the extra channels dedicated to additional zones or for bi-amplified connections that double the power available to the main stereo loudspeakers.
The unit, priced at an MSRP of $1,800 is placed perfectly for users looking to get into the expanding audio world of the latest formats or to mate their systems with the new, HDMI 1.4, 3D-compatible devices at a reasonable price for such high-end level gear.
Technical specifications that the DTA-70.1 features are an all-analog discrete-component power amplifier with a massive power supply and professional-style balance line inputs, identical symmetric circuit layouts, configured in a push-pull topology utilizing high-performance three-stage inverted Darlington circuitry and powerful custom-designed output transistors on each channel, and, as with all Integra amplifiers and receivers, it uses the company's WRAT (wide range amplifier technology) with low negative feedback, closed ground-loop circuits, and HICC (high instantaneous-current capability) to achieve an extended frequency range, low noise, and high dynamics.
Inputs are gold-plated XLR and machined solid brass RCA for each channel and the color-coded speaker outputs use gold-plated banana-plug-compatible transparent binding posts. It has a 12-volt trigger input for remote turn on and off capabilities, and an automatic power-down capability.
The Integra DTA-70.1 is available now at an SRP of $1,800.
SPECIFICATIONS: Integra DTA-70.1 Power Amplifier:
Power Output: All Channels: 150 W /Ch at 8 ohms, 20 Hz-20 kHz, 0.05%, 2 channels driven
FTC Dynamic Power: 400 W (3 ohms, Front) 300 W (4 ohms, Front) 180 W (8 ohms, Front)
THD (Total Harmonic Distortion): 0.05% (Rated power)
Damping Factor: 60 (Front, 1 kHz, 8 ohms)
Input Sensitivity and Impedance: 1 V/47 kohms (Balanced) 2 V/22 kohms (Unbalanced)
Frequency Response: 5 Hz-100 kHz/+1 dB, -3 dB
Signal-to-Noise Ratio: 110 dB (Unbalanced, IHF-A)
Speaker Impedance: 4 ohms-16 ohms or 6 ohms-16 ohms
Power Supply: AC 120 V~, 60 Hz
Power Consumption: 11.7 Amps
Dimensions: (W x H x D):17 1/8´´ x 7 13/16´´ x 17 1/2´´ (435 x 198.5 x 445 mm)
Weight: 50.7 lbs. (23.0 kg)