Paramount has announced that their animated hit featuring the voice of Johnny Depp, Rango, will be heading to a store shelf (or online retailer) near you on Blu-ray/DVD Combo Pack at an SRP of $39.99 Friday July 15, 2011. It will also be available separately as a single-disc DVD release at an SRP of $29.99. The Blu-ray is presented in 1080p high definition with English 5.1 DTS-HD Master Audio, French 5.1 Dolby Digital, Spanish 5.1 Dolby Digital, Portuguese 5.1 Dolby Digital and English Audio Description and English, English SDH, French, Spanish and Portuguese subtitles.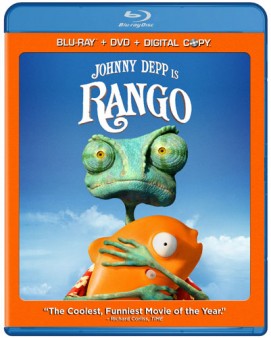 Special feature on the Blu-ray combo pack are set to include:
Blu-ray:
Theatrical and Extended Version
Commentary—By director, story co-writer and producer Gore Verbinski, head of story James Ward Byrkit, production designer Mark "Crash" McCreery, animation director Hal Hickel and visual effects supervisor
Tim Alexander (on Extended Version only)
Breaking The Rules: Making Animation History— Discover how Gore Verbinski and Industrial Light & Magic (ILM) prepared for their first animated movie by following every step the filmmakers made to create this new kind of animated film.

The Stage Is Set (Part 1)
Now We Ride (Part 2)

Real Creatures of Dirt—In this fun and educational piece, animal experts talk about the real creatures that inspired the characters of Rango and the filmmakers explain why they chose specific animals to reflect certain personality traits.
Storyboard Reel Picture-In-Picture—Enhance your movie-viewing experience by watching the entire feature with picture-in-picture images of the storyboards (Theatrical Version only).A Field Trip to Dirt—Using the technology and footage from ILM's special camera, viewers are put in control of their own tour of Dirt.  They can select the streets they want to explore and the characters they'd like to interact with, discovering trivia and other bonus footage along the way.
Deleted Scenes—Including a never-before-seen alternate ending
Theatrical Trailer
DVD:
Theatrical Version
Digital Copy
See the press release below for further details.
Press release
JOHNNY DEPP LEADS AN ALL-STAR CAST
IN A HILARIOUS COMEDY ADVENTURE PACKED WITH FUN
FOR THE WHOLE FAMILY
RANGO
Groundbreaking and Original Comedy Rides into Town in a Blu-ray™ /DVD Combo with Digital Copy on FRIDAY July 15, 2011 Loaded with Special Features Including an
Extended Cut of the Film with a Never-Before-Seen Alternate Ending, Deleted Scenes,
an Interactive Tour and More
HOLLYWOOD, Calif. (May 5, 2011) – "An animated comedy for smart moviegoers" (Roger Ebert, Chicago Sun-Times) that is "like nothing you've ever seen" (Peter Travers, Rolling Stone), the hilarious and imaginative RANGO saddles up in a Blu-ray/DVD Combo pack with Digital Copy and on standard DVD on Friday, July 15, 2011 from Paramount Home Entertainment.  The incomparable Johnny Depp voices Rango, a chameleon living as an ordinary family pet who dreams of being a fearless hero and is challenged to become just that when he inadvertently becomes the sheriff of a lawless desert town called Dirt.  Directed by Gore Verbinski, the visionary behind the Pirates of the Caribbean franchise, RANGO delighted audiences of all ages, earning more than $230 million worldwide.  The film also features the voices of Isla Fisher (Horton Hears A Who!), Abigail Breslin (Kit Kittredge:
An American Girl), Ned Beatty (Toy Story 3), Alfred Molina (Spider-Man 2), Bill Nighy
(Harry Potter and the Deathly Hallows: Part 1), Harry Dean Stanton, ("Big Love"), Ray Winstone (Indiana Jones and the Kingdom of the Crystal Skull) and Timothy Olyphant ("Justified").
The RANGO Blu-ray/DVD Combo with Digital Copy features both the theatrical version of the film and an extended cut including a never-before-seen alternate ending, a two-part, in-depth exploration of the groundbreaking filmmaking process, deleted scenes, a look at the real creatures of Dirt, an interactive field trip to Dirt and more.
RANGO Blu-ray/DVD Combo with Digital Copy
The RANGO Blu-ray is presented in 1080p high definition with English 5.1 DTS-HD Master Audio, French 5.1 Dolby Digital, Spanish 5.1 Dolby Digital, Portuguese 5.1 Dolby Digital and English Audio Description and English, English SDH, French, Spanish and Portuguese subtitles. The DVD is presented in widescreen enhanced for 16:9 TVs with Dolby Digital English 5.1 Surround and English, French, Spanish and Portuguese subtitles.  The disc breakdown is as follows*:
Blu-ray:
Theatrical and Extended Version
Commentary—By director, story co-writer and producer Gore Verbinski, head of story James Ward Byrkit, production designer Mark "Crash" McCreery, animation director Hal Hickel and visual effects supervisor
Tim Alexander (on Extended Version only)
Breaking The Rules: Making Animation History— Discover how Gore Verbinski and Industrial Light & Magic (ILM) prepared for their first animated movie by following every step the filmmakers made to create this new kind of animated film.

The Stage Is Set (Part 1)
Now We Ride (Part 2)

Real Creatures of Dirt—In this fun and educational piece, animal experts talk about the real creatures that inspired the characters of Rango and the filmmakers explain why they chose specific animals to reflect certain personality traits.
Storyboard Reel Picture-In-Picture—Enhance your movie-viewing experience by watching the entire feature with picture-in-picture images of the storyboards (Theatrical Version only).A Field Trip to Dirt—Using the technology and footage from ILM's special camera, viewers are put in control of their own tour of Dirt.  They can select the streets they want to explore and the characters they'd like to interact with, discovering trivia and other bonus footage along the way.
Deleted Scenes—Including a never-before-seen alternate ending
Theatrical Trailer
DVD:
Theatrical Version
Digital Copy
RANGO DVD
The RANGO single-disc DVD is presented in widescreen enhanced for 16:9 TVs with Dolby Digital English 5.1 Surround, French 5.1 Surround, Spanish 5.1 Surround and English Audio Description and English, French and Spanish subtitles.  The disc includes the following*:
Theatrical and Extended Version
Commentary—By director, story co-writer and producer Gore Verbinski, head of story James Ward Byrkit, production designer Mark "Crash" McCreery, animation director Hal Hickel and visual effects supervisor Tim Alexander (on Extended Version only)
Real Creatures of Dirt—In this fun and educational piece, animal experts talk about the real creatures that inspired the characters of Rango and the filmmakers explain why they chose specific animals to reflect certain personality traits.
Deleted Scenes—Including a never-before-seen alternate ending
###