It's finally here, ladies and gentleman, the one many of us have been waiting for since the Blu-ray format was first announced — David Lean's Lawrence of Arabia on Blu-ray as just been officially dated by Sony Pictures Home Entertainment today. It looks like there will be a rather extensive publicity and release campaign to coincide with the release as well, with an initial theatrical release of the restoration, a broadcast on Turner Classic Movies, and a release to Blu-ray in a Collectible Boxed Set on November 13th.  See details below:
Sony Pictures Entertainment Celebrates 50th Anniversary of David Lean's Lawrence of Arabia
Digitally Restored Director's Cut
Hits the Big Screen October 4th
Academy Award® Winning Masterpiece Debuts in a
Blu-ray™ Collectible Boxed Set November 13th
Turner Classic Movies to Feature Film on November 16th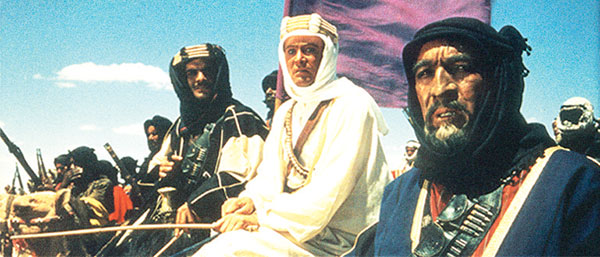 CULVER CITY, CALIF. (July 18, 2012) – Widely considered one of the greatest and most influential films in the history of cinema, David Lean's masterpiece Lawrence of Arabia returns to the big screen 50 years after its 1962 premiere in a 4K digitally-restored version of the Director's Cut. Following its international debut at Festival Du Cannes this past May, Lawrence of Arabia will screen nationwide in a digital-only theatrical event in theaters starting October 4th.   The film will be available in a Blu-ray™ 3-disc collectible boxed set starting November 13th from Sony Pictures Home Entertainment.  Additionally, the film will be featured for one night only on Turner Classic Movies, November 16th at 8:00PM in a television exclusive.  The U.S. premiere of the new restoration will take place in Los Angeles on July 19th with a special 4K presentation at the Academy of Motion Picture Arts and Sciences.
Nominated for 10 Academy Awards®, winning seven, including Best Picture and Best Director and staring Best Actor nominee Peter O'Toole and Best Supporting Actor nominee Omar Sharif, the film is one of the crown jewels in the legacy of Columbia Pictures.  "We wanted to return this film to as pristine a condition as possible to honor its anniversary release," says Grover Crisp, EVP of Asset Management, Film Restoration and Digital Mastering for SPE.  The original camera negative was scanned at 8K and the film went through a painstaking process of repairing problems inherent to the 50-year old film elements.  Using the latest digital imaging technology, the color grading and re-mastering was completed in 4K at Colorworks, Sony Pictures Entertainments' digital intermediate facility.  "The original negative was seriously damaged in a number of ways, some problems dating from the original release and some accumulated over the years." says Crisp.  "But, until now, we did not have the tools available to address these issues.   We think fans of the film will be as amazed as we are at the detail and resolution in the imagery captured by cinematographer Freddie Young to compliment David Lean's immaculate direction."
Synopsis:
David Lean's splendid biography of the enigmatic T. E. Lawrence (Peter O'Toole) paints a complex portrait of the desert-loving Englishman who united Arab tribes in a battle against the Ottoman Turks during World War I.
Lawrence of Arabia has a running time of 227 minutes and is rated PG.
–