Monster was in attendance at the CEA Line Shows in New York City today and as to be expected, their press conference did not disappoint. It was the complete opposite, in fact. Monster's head honcho Noel Lee surprised all in attendance with the announcement that the company will be the first to market with a set of universal active shutter 3D glasses that can operate with any manufacturer's current active 3D display technology. At the moment, all of the 3D displays on the market require proprietary 3D glasses that will only operate with that manufacturer's display.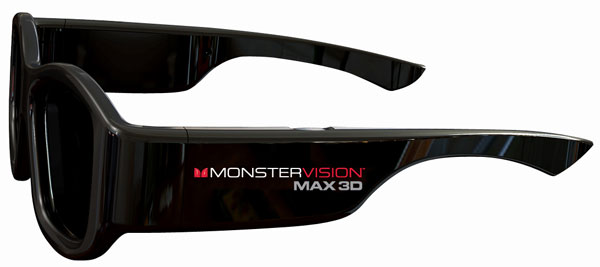 Monster's exclusive Active 3D eyewear system is the only RF Shutter system that will work with all brands of 3D HDTVs, allowing users to experience a new level of power and 3-dimensional visual immersion while watching Blu-ray movies or playing advanced video games.
Monster Vision Max 3D glasses feature a stylish and lightweight high-gloss black design that allows users to wear them for hours without experiencing any fatigue. They are sized to fit all head sizes and may even be worn over prescription glasses. Monster Vision "Max 3D" eyeglasses and transmitter kit are scheduled for availability in September for a suggested retail price of $249.95 per set. Additional Monster Vision Max 3D Eyeglasses will carry a suggested retail price of $169.95/pair.
The Monster Vision 3D Breakthrough: How It Works:
Monster Vision Max 3D utilizes leading-edge RF technology to achieve its stunning results. The system uses Monster Vision Max 3D ACTIVE SYNC technology, based on Bit Cauldron's HeartBeat technology. The result is an advancement that ensures reliable communication with the RF transmitter, producing the best and purest transmission of 3D content between the source and the eyeglasses and eliminating the common sync issues found in most IR based shutter glasses.
The system works through an innovative process whereby the ACTIVE SYNC technology allows the wireless Universal 3D Shutter Transmitter to listen to the signal from any 3D-enabled flat panel display. The transmitter then wirelessly decodes the shutter signals and transmits them to a sensor embedded in the glasses. Through this connection (via ZigBee's 2.4 GHz radio technology), coupled with interference rejection software and sync correction, the specially designed lenses in the Monster Vision Max 3D glasses react electro-chromatically, literally blinking faster than the eye can see to create the most reliable, believable and immersive 3D images. Additionally, ACTIVE SYNC is the only technology that allows Monster Vision Max 3D glasses to work with one TV even when other 3D TVs or Monster Vision Max 3D Shutter Transmitters are in close proximity.
Importantly, Monster Vision Max 3D is the only system that has employed RF successfully and can work with ANY 3D-ready television set regardless of manufacturer. Notably, the glasses have a rechargeable lithium polymer battery enabling the user to enjoy thousands of hours of 3D content before replacing the battery. And to ensure total "future-readiness," the glasses are adjustable to adapt to future standards – updating the system to learn new IR codes is simple via USB through the built-in Monster Vision update portal.