IFC Films and MPI Media Group have announced the Blu-ray and DVD release of the indie drama starring Natalie Portman, The Other Woman, coming on May 17, 2011. The Blu-ray will be priced at a suggested retail price of $29.98. See the press release below for further details.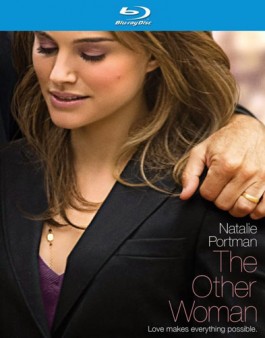 Press release
HOLLYWOOD'S HOTTEST ACTRESS REVEALS NEW EMOTIONAL DEPTHS IN A DRAMA ABOUT UNDENIABLE LOVE AND
UNBEARABLE LOSS
THE OTHER WOMAN
Oscar Winner Natalie Portman Makes Her Adult Breakthrough as a Wife and Mother Fighting Back From a Tragedy in This Moving and Unforgettable Drama, Arriving on Blu-ray and DVD on May 17, 2011
"Natalie Portman delivers an utterly fearless performance – her strongest
screen work since Closer." – Rob Nelson, Variety
"a bittersweet surprise" – Mark Olsen, Film Comment
After a brilliant early career playing characters like a preteen assassin, a precocious stripper and a teenage intergalactic queen, Natalie Portman gives her most grown-up performance to date in THE OTHER WOMAN, a searing relationship drama coming to Blu-ray and DVD from IFC Films on May 17, 2011, with SRPs of $29.98 and $24.98, respectively.
THE OTHER WOMAN is a highlight of the busiest, most successful year of the versatile Portman's career, a period in which she has starred in six films, including the upcoming action blockbuster Thor and the psychological thriller Black Swan, for which she won 2010's Best Actress Oscar. While Black Swan centered on a burgeoning young woman held down by an overpowering mother, THE OTHER WOMAN finds her fully mature and making her own adult decisions – decisions that nevertheless come into serious question.
Portman gives an "utterly fearless performance" (Rob Nelson, Variety) in this sensitive and compelling modern drama adapted by writer-director Don Roos (The Opposite of Sex, Happy Endings) from Ayelet Waldman's novel Love and Other Impossible Pursuits. She plays Emilia, a law-school graduate who falls in love with her married boss, Jack (Scott Cohen, Love and Other Drugs, The Understudy), senior partner at the law firm where she is an associate. After Jack divorces his bitter wife, he and Emilia marry and soon have a baby. But Emilia's joy turns to grief when the newborn dies. Emilia is devastate but nonetheless carries on, attempting to forge a connection with her 8-year-old stepson, William (Charlie Tahan, I Am Legend), and to resist the interference of Jack's jealous ex-wife (Lisa Kudrow, Easy A, The Opposite of Sex, Friends).
Director Roos demonstrates his keen eye for the nuances of love, loss and rebuilding life in this heartfelt and touching drama that Mark Olsen, writing in the prestigious Film Comment, called "a bittersweet surprise – Portman's performance is one that certainly deserves to be seen." Variety's Rob Nelson said, "Natalie Portman delivers an utterly fearless performance – her strongest screen work since Closer." "With her brittle, risk-taking performance, Portman officially has grown into her potential as an actress of commanding depth and versatility," wrote Michael Rechtshaffen in The Hollywood Reporter. The New York Post's Lou Lumenick wrote, "Thanks to Portman's superb work, we feel [Emilia's] pain acutely."
THE OTHER WOMAN's superb cast also includes Lauren Ambrose (Six Feet Under, Starting Out in the Evening), Anthony Rapp (Rent, A Beautiful Mind), Tony- and Pulitzer Prize-winning playwright Michael Cristofer (The Shadow Box) and Debra Monk (The Savages, NYPD Blue).
About IFC Entertainment A leader in the independent film industry, IFC Entertainment consists of multiple brands that are devoted to bringing the best of specialty films to the largest possible audience: IFC Films, Festival Direct, IFC Productions, and the IFC Center.  IFC Films is a leading distributor of independent film. Its unique day and date distribution model, 'IFC In Theaters,' makes independent films available to a national audience by releasing them simultaneously in theaters as well as on cable's On Demand platform and through Pay-Per-View, reaching 50 million homes. 'IFC Festival Direct' features a wide selection of titles acquired from major international film festivals and offers them exclusively through Video on Demand.  IFC Productions is a feature film production company that provides financing for select independent film projects.  IFC Center is a three screen, state-of-the-art cinema with luxurious seating and HD digital and 35mm projection that shows art-house films in the heart of New York's Greenwich Village.  IFC Entertainment's companies are subsidiaries of Rainbow Media Holdings LLC.
About MPI Media GroupThe MPI Media Group is a leading distributor, licensor, and producer of films, home entertainment, historical footage and more. Founded in 1976, Chicago-based MPI Media Group remains one of the largest independent entertainment companies offering a compelling slate of the world's most respected cinema, documentaries, performances and television series. MPI's wholly owned subsidiaries include MPI Home Video, Dark Sky Films, and the WPA Film Library programs. In North America, product is released via the company's subsidiary labels; MPI Home Video and Dark Sky Films. www.mpimediagroup.com.

# # #
[amazon-product]B004O26LA8[/amazon-product]