Neil Young has finally announced an official release date of June 2 for his long-awaited Archives set on the official Neil Young website. The 10-disc Blu-ray set, being released day-and-date with the DVD and CD editions is currently available for pre-order on Young's website for $299.99, reduced from the previous Amazon.com pre-order price of $431. Amazon.com is currently taking pre-orders on the Blu-ray set for a price of $323.99
Additionally, fans who pre-order the set through Neilyoung.com will receive a free 45rpm single that contains two tracks by The Squires:  "Aurora" and"Mustang." They will also receive a Blu-ray preview copy of "Disc 0" before the street date.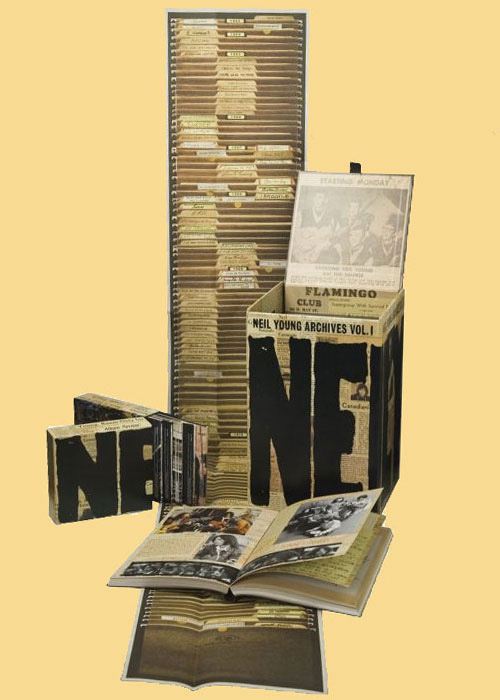 Features in Neil Young Archives Volume 1 include:
Audio in the Blu-ray edition is presented in ultra-high resolution 24-bit / 192 kHz stereo PCM state-of-the-art master quality sound, while audio in the DVD edition is presented in high resolution 24-bit / 96 kHz stereo PCM audiophile quality sound. The CD edition is presented in standard resolution 16-bit / 44 kHz stereo PCM CD quality sound.
Each of the 10 Blu-ray discs feature 1920×1080 high definition picture quality while the 10 DVD discs have 720×480 standard definition picture quality.
An interactive timeline feature, which presents an in-depth overview of Young's life and career, is in both the Blu-ray and DVD editions, The Timeline on the Blu-ray edition is enhanced with BD Live capability, which enables users to download additional content to their players or to external drives.
The Blu-ray and DVD editions are sold in a durable custom display box that houses a lavish 236-page full-color hardbound book that features additional archival materials, tapes database, and detailed descriptions of the music and artwork; a foldout Archives poster, a custom keeper for the 10 sleeved discs, and more.
Shop with Us for Blu-ray Titles at Amazon.com